The Benefits of Designing Healthier Buildings
Healthy material selection and design options
This course is no longer active
Sponsored by Armstrong Ceiling and Wall Solutions
Learning Objectives:
Discuss why healthier buildings are becoming a higher priority for all.
Understand how the interiors of buildings affect occupant health and well-being.
Explore how ceilings can have a positive impact on healthier interiors.
Describe new industry guidelines driving healthier buildings.
Credits:
This course is approved as a core course
Investing in healthier buildings is a key trend today, and it's poised to continue as an important focus in the design and construction industry. This trend stems from an increasing understanding of the connection between the indoor environment and human health over the past 20 years.
Achieving healthier buildings can be accomplished in different ways by different stakeholders in the process. Architects, interior designers, and contractors are perfectly positioned to listen to the needs of their clients and then design and specify building materials that achieve healthier goals. Building owners have a wealth of data that they can analyze to find specific business and financial benefits in healthier buildings. And the industry as a whole is improved when outside influences like public health professionals are brought in to increase public awareness and promote policy issues that result in healthier safer buildings.
This course demonstrates the benefits enjoyed by occupants and building owners when architects and designers have available options to help them create healthier buildings through design options and material specifications.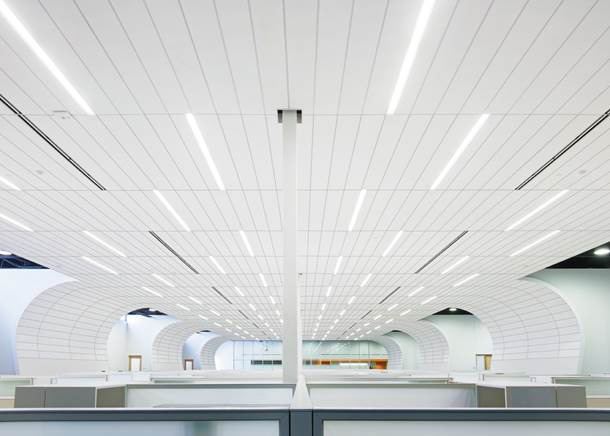 Photo courtesy of Armstrong Ceiling and Wall Solutions
Armstrong World Industries is a leader in the design and manufacture of innovative commercial ceiling and wall systems. At home, at work, in health-care facilities, classrooms, stores, and restaurants, Armstrong Ceiling & Wall Solutions offer interior options that help create healthy, sustainable spaces that protect people and cultivate well-being and comfort so they can be at their best.

Armstrong is committed to developing new and sustainable ceiling solutions, with design and performance possibilities that empower its customers to create beautiful, high-performance residential and commercial buildings. Armstrong continues to grow and prosper for the benefit of all its stakeholders. armstrongceilings.com/commercial


Originally published in June 2017
Notice