The artist Mary Miss and architects Marlon Blackwell, Kierantimberlake Associates, and Lake/Flato radically reinterpret site construction in three new projects
This course is no longer active
From Architectural Record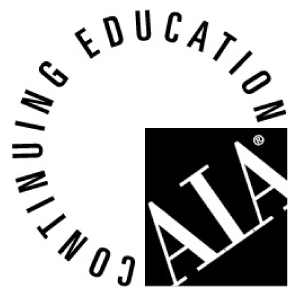 Continuing Education
Learning Objectives - After this course, you should be able to:
Explore projects categorized as site constructions.
Describe the concept of performance-based architecture in sustainable environments.
Explain how water is managed at various sites.
Credits:
The New York artist Mary Miss has proposed building a 1,500-foot bridge across a canal at a new 100-acre art and nature park for the Indianapolis Museum of Art. Miss is working with the New York structural engineer Guy Nordenson on developing the bridge as an innovative viewing device-a central platform for walking across, surrounded on either side with ha-ha's, or walkways depressed 42 inches that form a sort of moat, which visitors can occupy along the bridge's length. Imagine a "W" section through the bridge, with a wider center peak as the main path. The idea is to confront the viewer with nature, lessening the force of architecture by making such things as handrails effectively disappear.
"I'm trying to get people to notice what they take for granted in a landscape, to reveal multiple aspects of the site," Miss says. "The bridge seems to be a platform with no edges-I want you to feel free to see this place as you've never seen it before." In the 1970s, the art historian and critic Rosalind Krauss placed the work of artists like Miss in a new conceptual framework of practice, in an expanded field that included "site construction." For Krauss, these artists did not work in the conventions of sculpture, but in a category that existed between traditional notions of landscape, architecture, and sculpture.
An increasing number of architects and designers embrace this notion of site development-spanning between the traditional roles of architect and landscape architect-embedding a variety of interpretations of site conditions into a new performance-based architecture of sustainable principles. But an architect must be interested enough in this new scope of opportunity, in areas such as groundwater-recharge and wastewater-treatment design, since it falls outside traditional practice.
The site of the Indianapolis project lies within an elbow of the White River, which runs from north to south, looping around the western edge of the park. A 35-acre lake, the legacy of a quarry mined to build a nearby highway, occupies the park. A canal dating to the 19th century slices the site off from the main museum building on a bluff to the east. The new park lies in a 100-year floodplain, though the park's landscape architect, Ed Blake, wonders if the impact of global warming doesn't make such considerations for a site as utterly dynamic as this one a little bit useless. Blake's approach is not to keep water out, but to understand how it will travel.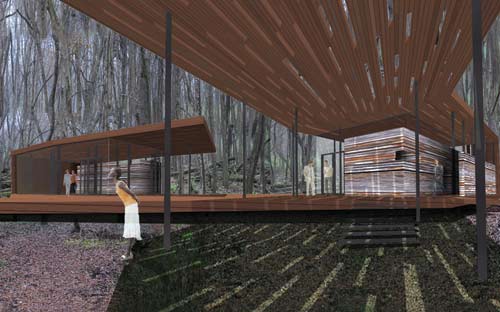 The proposed Interpretive Center at the Indianapolis Museum of Art.
Rendering: Courtesy Marlon Blackwell
 
"Because of flooding, you always have plants and soil coming into the site," says Blake, the principal of Hattiesburg, Mississippi−based Landscape Studio. "It's always in a perpetual state of disturbance." The trick for Miss and Blake, as well as the architect for two buildings on the site, Marlon Blackwell, AIA, is to implement designs that flexibly correspond to a man-made site colonized by the forces of nature, be they water or plant.
Of an artificial nature
Each designer has incorporated the site's inescapable presence of water into the proposed designs. Water sourced at the museum flows in a channel underneath Miss's path and bridge down to Blackwell's first structure, called the Experiential Center, which acts as a transitional boundary between architecture and the natural world with a rooftop pool around which visitors descend into a pavilion defined by a forest of columns. A rectangular aperturelike space 60 feet wide by 10 feet high meant for viewing the site's expanse defines one wall of this space. The entire structure sits on what Blackwell calls the "mount," a pile of vegetated debris left from previous construction; the mount will be more soundly reconstructed as the park develops.
Originally published in Architectural Record.
Notice