Chicago shows what's next and what's needed to meet the city's ambitious performance goals.
This course is no longer active
From GreenSource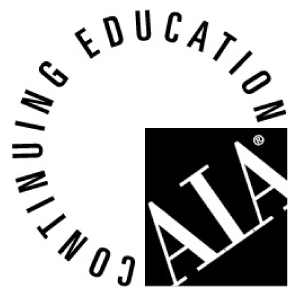 Continuing Education
Learning Objectives - After this course, you should be able to:
Discuss the significance of existing buildings in reducing emissions.
Understand the effectiveness of residential retrofits.
Describe the effectiveness of commercial retrofit measures.
Explain the key obstacles to an effective and efficient retrofit market.
Credits:
The building sector accounts for a whopping 40 percent of greenhouse gas emissions in the U.S., and consumes fully 70 percent of American electricity. While mandatory codes and voluntary checklists are raising the standard for the efficiency of new buildings, well over half of the buildings that will count towards Chicago 2020, PLANYC 2030, and the 2030 Challenge are already standing. So if we're to avoid Armageddon 2040, which would mean a lot for the world in 2050, it's time for green retrofitting, the Clark Kent of the building industry, to step into the phone booth.
Building and energy industry analysts are widely predicting a green retrofit boom. A recent report from McGraw-Hill Construction estimates green building now comprises 5 to 9 percent of the renovation market by value, and predicts this will grow to 20 to 30 percent by 2014, with dramatic growth continuing into the longer term. More conservatively, leading industrial market research firm SBI Energy predicts significant growth in green retrofits to 13 percent of the market by 2015, with green building practices in renovations emerging as the new normal in years beyond. Driving the retrofit surge are, on the public side, climate change, energy security, and economic stimulus, and on the private side, cost-benefit analysis and changing norms.
Chicago, a city of some 2.85 million and a selected participant in the Green Capital Global Challenge, provides some great examples-from single-family houses, through major commercial and institutional buildings, to the city itself-of what's possible and what's needed to meet these emerging imperatives.
The Chicago Climate Action Plan identifies the main sources of the city's greenhouse gas emissions as electricity and natural gas consumed by buildings (70 percent) and transportation (21 percent). The plan sets goals to reduce emissions and to adapt to climate changes already under way, and proposes to achieve these goals in ways that improve the city's economy and quality of life.
Click image to view Larger/Details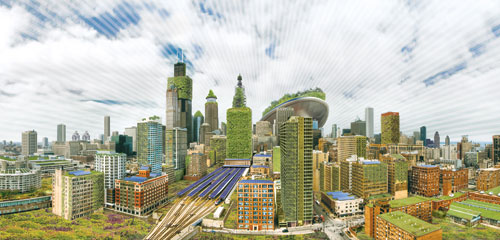 Illustration: Viktor Koen and Jonathan Michael Johnson
Originally published in GreenSource
Notice