The Pick of the Sustainable Crop
Through its annual awards program, AIA's Committee on the Environment applauds well-designed, high-performance buildings that reflect diverse places and purposes
This course is no longer active
From Architectural Record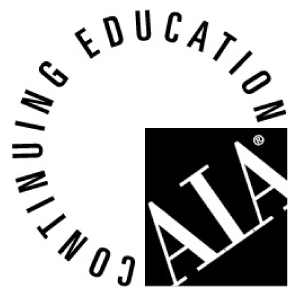 Continuing Education
Learning Objectives - After this course, you should be able to:
Describe unique sustainability characteristics in the case studies.
Explain what the COTE jurors are looking for in submissions.
Discuss why innovative approaches were used to address specific requirements in these projects.
Credits:
For the ninth year in a row, the AIA's Committee on the Environment (COTE) celebrated Earth Day by announcing the winners of its 2005 Top Ten Green Projects awards program. This year's recipients, which hail from disparate regions of the country, clearly illustrate that sustainable design can take many forms.
Two of the winners, for example, were adaptive-reuse projects: an interpretive center on a nature preserve in rural Pennsylvania (The Barn at Fallingwater by Bohlin Cywinski Jackson) and a glass foundry in a once-decaying urban neighborhood (Pittsburgh Glass Center by Davis Gardner Gannon Pope Architecture and Bruce Lindsey, AIA). Another was an unusual building type-a homeless shelter-within a central business district (Austin Resource Center for the Homeless, Austin, Texas, by LZT Architects).
According to juror Henry Siegel, FAIA, of Siegel & Strain Architects in Emeryville, California, "We went out of our way to look for buildings that are more urban or address atypical programs. We want to see diversity in this award, not just campus buildings and nature centers." While a plus, an unusual building type is not enough to earn top recognition in this program. COTE Top Ten buildings must demonstrate both good design and good performance. In fact, explains Mark Rylander, AIA, associate partner at William McDonough + Partners in Charlottesville, Virginia, and past chair of COTE, "You can have stellar metrics but not win an award if the jurors don't find the design compelling."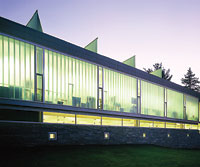 COTE-award-winner Polshek Partnership lessened the impact of the visual arts center at Sarah Lawrence College by placing one third of it underground.
Photography: © Richard Barnes/Polshek Partnership
But once aesthetics are satisfied, the really hard work begins. In addition to the typical package of drawings and photography submitted to more conventional design awards, the project teams must provide documentation that describes and supports the project's performance characteristics within the 10 measures, or categories, that underlie COTE's definition of sustainable design: land use, site ecology, community design and connection, water use, energy performance, energy security, materials and construction, light and air, bioclimatic design, and long life,loose fit.
Originally published in Architectural Record.
Notice