The Makings of a Great Subfloor
High performance panels stand out in strength, moisture resistance and sustainability
This course is no longer active
Sponsored by Huber Engineered Woods
Implications of Subfloor Characteristics
To fully understand the importance of a proper subfloor, it is important to examine the repercussions of certain issues, including moisture absorption, glues, and installation procedures.
Moisture Resistance: Why It Matters
Moisture that is absorbed by the subfloor during construction—even if it's later dried out when the home is enclosed—can set the stage for situations that are difficult to resolve. Moisture in subflooring can be problematic for a number of reasons, with long-term implications that can weaken the strength and stiffness of the panel, compromising the integrity of the entire flooring.
One of the biggest contributors to moisture problems is damage from snow and rain during construction. Exposure to these elements increases the risk of edge swell, thickness swell, and possible delamination in the subflooring. How severe these problems are depends on the type of subfloor used, with the intent being not to let moisture get a foothold in the wood to begin with. Edge swell, being one of the more common problems in traditional OSB due to excess moisture absorption, can increase the cost for installing finished flooring products because of increased sanding of the subfloor panels. Warping, cupping, and delamination are seen more in plywood and can require the replacement of subfloor panels in extreme cases. Larger projects and harsher climates can equate to long exposure times for subflooring and having a quality subfloor product that can handle these environments is key. high performance panels offering better moisture resistance fare better than traditional OSB and plywood, which are more prone to absorbing water and may require costly replacement. high performance panels offer exposure times up to 500 days and guarantee no sanding due to edge swell.

Another potential issue with continued exposure to the elements during construction is the effect this moisture can have on the structural strength and nail-holding properties of the subfloor panels. OSB and plywood that are designed to code minimum (PS 2) strength properties have the potential to drop below these code minimums after continued exposure to the elements. high performance panels are designed to provide strength values 16 to 28 percent higher than that of plywood and OSB, meaning that even after continued exposure, these panels will offer superior strength and stiffness, less sagging or bounce, and consistent performance for flooring applications. These panels have a built-in factor of safety to provide additional peace of mind, especially for projects that will be exposed for long periods of time.
Joe Vargo of Joe Vargo Construction LLC in Glenview, Illinois, has used high performance subflooring in more than 400 custom homes. In building a 12-bedroom, 12-bathroom home on Lake Michigan, he needed a floor that would outlast the rainstorms and Chicago winters. Knowing that the build would be exposed to the most extreme of elements for a long period of time, Vargo used high performance flooring. "For this particular build which was 17,000 square feet, we used an entire truckload of the product, which held up to the elements better than expected," he says. Jon Sasportas, Sasportas Co., Windsor, Connecticut, had a similar experience with harsh weather. "Last October I capped four foundations with high performance panels so we could work through the winter. Over 6 feet of snow and a few ice storms later we are now working on a smooth floor—just like the day it was installed," says Sasportas.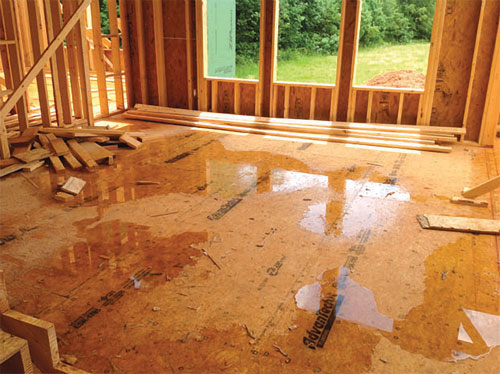 Water resistance on high performance panels defends against swelling, cupping, and delamination.
Subfloor Squeaks. Accounting for a major percentage of complaints from new homeowners, subfloor squeaks are a key cause of callbacks for many homebuilders, resulting in expensive, time-consuming repair. When the weight of the finished floor and the building's occupants are applied to the floor, nails that attach the sub-floor to the joists loosen and rub against the subfloor, causing the squeak. The primary reason for this is the change in moisture content of the lumber from installation to home occupancy. When sub-floor panels remain exposed to the elements at construction sites, they absorb moisture from precipitation or from absorption of moisture in the air. Moisture swells the panels, dislodging the nails. In an occupied home, as the subfloor dries to match the moisture level in the rest of the home, the subfloor shrinks slightly, dislodging the nails used to attach it to the floor joists, causing more nail-against-wood rubbing and audible squeaking.
While moisture from precipitation during construction is virtually unavoidable, certain steps can be taken to minimize the adverse affects on subflooring panels.
Standing Water. In some areas, frequent and lengthy rain storms result in standing water on the floor systems of buildings under construction. Although high performance subfloors will remain dimensionally stable in these conditions, it is best to remove standing water from the floor deck to expedite the drying process.
The use of tarps over the floor deck prior to rainfall may help in the prevention against accumulation of standing water. However, this option is only feasible if wall framing has not been erected.
It is best to use a tented tarp system, which provides air flow underneath the tarp and helps prevent water from collection under the tarp. This can be achieved by the use of temporary framing or blocking below the tarp to create positive drainage and promote air movement for drying under the tarp. Water trapped between the tarp and the decking may contribute to development of mold and mildew. It is best to remove tarps as soon as rainfall has ceased.
Originally published in Architectural Record
Originally published in January 2014
Notice