The Makings of a Great Subfloor
High performance panels stand out in strength, moisture resistance and sustainability
This course is no longer active
Sponsored by Huber Engineered Woods
Learning Objectives:
Identify four types of subfloor.
Describe the characteristics that make for a safe, sound, sustainable subfloor.
Explain the importance of Evaluation Service Report standards.
Detail the implications of excessive moisture in a subfloor.
Credits:
Probably no other element receives as much wear and tear in a building as flooring. What goes underneath the top flooring layer is critical in determining the performance and longevity of a building's entire flooring system. Used for structural and foundation support, subfloors ideally minimize moisture absorption and help prevent excessive movement, sagging, unequal heights, separation, or squeaking within the floor system. This article will offer a comparative analysis of the various types of subflooring available for single-family homes, focusing on the characteristics that determine a quality subfloor and their implications for long-term performance. Prevailing standards for each type of product will be discussed as will the basic principles of a sound subfloor in multifamily and light commercial projects.
Subflooring—What Is It?
Subflooring is the rough floor and, for single-family homes, typically the only layer between the decorative flooring and the joists. Subflooring is one of the fundamental elements of interiors. A stable, level subflooring is critical to the durability and longevity of the finished flooring materials. There are several types of subflooring available.
Plywood
Until the 1980s, tongue-and-grooved plywood was the predominant structural subfloor material used in homes. Plywood is fabricated from sheets of wood veneer layered at alternating 90-degree angles and then bonded together using special adhesives under heat and pressure. Cross-laminated and layered, plywood is stronger and not susceptible to the expansion and contraction that affects dimensional lumber. Typically, plywood is available in 4-foot x 8-foot sheets that are either 5/8 or 3/4 inches thick. The tongue and grooved sheets interlock to create a secure base for finished flooring. Squeaking caused by subfloor movement under the finished floor is a common homeowner complaint. To prevent subfloor movement, subfloor adhesive can be applied to the top of the floor joists before installing the subfloor.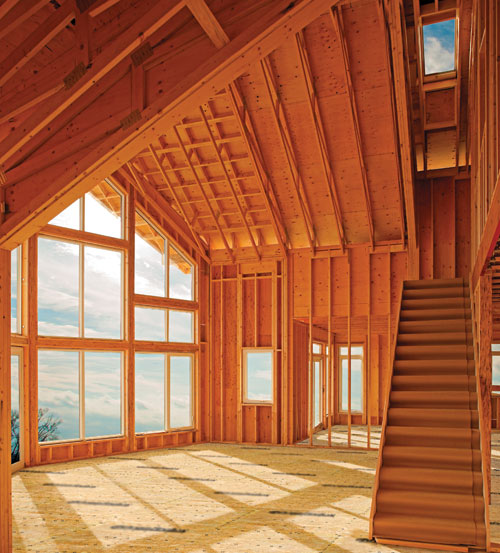 Subflooring is a critical structural element that can determine the performance and longevity of the entire flooring system.
Experts maintain that most hardwood flooring including engineered wood and laminates can be installed directly over 5/8-inch or 3/4-inch-thick plywood subfloors. Engineered or solid wood flooring less than 1/2 inch thick can be installed over a plywood subfloor. However, in the case of a weak subfloor that flexes up and down when walked on, an additional layer of 3/8-inch or 1/2-inch-thick plywood underlayment, glued and screwed down over the weaker subfloor, will add stability. Installing thinner wood flooring over an already weak or thin subfloor may cause the whole floor system to flex up and down when walked on.
Originally published in Architectural Record
Originally published in January 2014
Notice