The Hopes and Fears of Design-Build
This method of project delivery tempts some architects with the role of master builder while threatening to put others on par with the trades.
This course is no longer active
From Architectural Record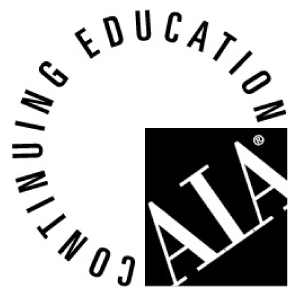 Continuing Education
Learning Objectives - After this course, you should be able to:
Explain the benefits of design-build projects for architects and clients.
Describe the differences between design-build and traditional project management methods.
Discuss reasons for the increased use of design-build.
Credits:
Whether architects like it or not, design-build is on the rise. According to the Design-Build Institute of America (DBIA), an association founded in 1993 to promote single-source project delivery within the design and construction community, about 40 percent of all nonresidential construction projects in both the public and private sector now use this approach, in contrast to fewer than 10 percent two decades ago. And, on average, the 98 companies responding to ZweigWhite Information Services for its 2005 Design/Build Survey of Design & Construction Firms indicate that, over the next five years, a larger percentage of their gross annual revenue will come from design-build projects. "Design-build is taking off," says Dorwin Thomas, AIA, the current chair of AIA's Design-Build Knowledge Community. He predicts that it will be the leading method of project delivery in North America by 2010.
Admittedly, many of these projects are not the kind that architects focus on. According to the same ZweigWhite survey, the responding firms were most likely to employ design-build in the market that includes industrial plants, refineries, and warehouses (48 percent of this work was reported to be done via design-build). But this is followed closely by commercial (46 percent), parking garages (44 percent), recreation (39 percent), and medical facilities (38 percent). And the list goes on to include hotels/multifamily residential (34 percent); schools, libraries, and museums (26 percent); and other public buildings (34 percent). "I used to think design-build was better for cookie-cutter types of projects, but you are now seeing more complex projects being done by design-build," observes Harold Adams, FAIA, chairman emeritus of RTKL Associates and the current chairman of DBIA-the first architect to assume that post.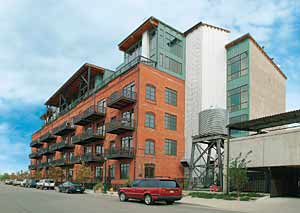 The Buchanan Yonushewski Group of Denver provided design, construction, and development services to expand and convert a local historic warehouse into the WaterTower Lofts.
Photography: © Fred Fuhrmeister
One contract instead of two
Simply put, design-build describes a method of project delivery in which the client holds only one contract with the entity that will design and build the structure in question. This is in contrast to the so-called traditional project delivery method known as "design-bid-build," in which the client holds two contracts: the first with the design firm that conceptualizes the project, generates the construction documents, assists the client in procuring a builder, and advocates on behalf of the client to ensure that the project is built according to the drawings and specifications; the second is with the builder. Architects who are proponents of design-build often liken it to the process that was common before the 18th century, when edifices were typically shaped by a "master builder" rather than by a splintered group of architects, engineers, and contractors. Other supporters point out that some forms of design-build have long been popular in other countries, such as Japan and France.
Opportunities for architects in design-build, however, were in the United States during the first half of the 20th century. The AIA's first Code of Ethics, adopted in 1909, forbade its members from participating in design-build projects due to a perceived conflict of interest in protecting the owner while at the same time profiting from the construction labor and materials. In addition, federal and state procurement laws were based solely on the design-bid-build method and therefore did not permit the use of a combined design-build contract.
Due to various and complex forces, the fate of design-build began to shift in the latter half of the century. AIA adopted a new Code of Ethics in 1986 that no longer forbade design-build; the federal government has gradually come to embrace the process; and-according to G. William Quatman, FAIA, a licensed architect and attorney with the law firm of Shughart Thomson & Kilroy in Kansas City, Missouri-currently all but six states have laws that permit some level of design-build for public projects.
Design-build proponents say these changes have occurred largely because, over the years, many more clients and industry members came to feel that the design-bid-build's enforced separation fostered conflicts among the various parties holding separate contracts with the client, thus fueling litigation and increasing overall costs. "Owners are fed up with design-bid-build," says Thomas. "They are demanding design-build because it saves time and money and reduces conflict."
The quality level offered by this method of delivery, however, remains a nagging concern to many. According to Adams, the federal government has embraced design-build because it believes that its detailed performance specs will ensure that its requirements will be met. But some clients still fear they will not get what they need if all the authority is placed within the hands of one design-build team. Adams contends, however, that all clients can get better quality design and products by having a contractor who knows construction techniques and installation costs on board from the start.
Originally published in Architectural Record.
Notice