Artists who use public space as their canvas often depend on structural experts to help them realize their visions.
Learning Objectives:
Describe the role of structural engineers in several recently completed, high-profile public art projects.
Describe the types of analyses engineers performed for these projects and identify some of the tools used for these analyses.
Explain some of the stresses each piece is subject to from wind, gravity, and other forces.
Define fundamental structural-engineering terms such as "creep" and "prestressed."
Credits:
This test is no longer available for credit
The artist toiling in solitude has long been a romantic ideal. But it rarely holds in reality, especially for those who work at the civic scale, making pieces that straddle the blurry boundary between art and architecture. These artists rarely work alone, typically relying on a host of collaborators to realize their visions, including studio assistants, fabricators, and even city officials. Frequently, they also need engineers—not only to ensure the works' structural soundness and the public's safety, but also to understand or refine the response of their pieces to the surrounding environment. Click here to read about it »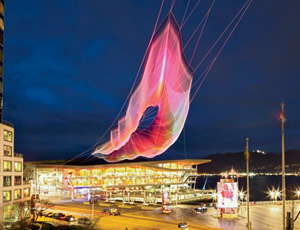 Photo © Ema Peter
Originally published in Architectural Record
Originally published in August 2014
Notice