Tall Buildings Push Limits by Stepping Up, Not Back
A number of structurally innovative towers defy convention, and gravity, by getting bigger as they get taller
This course is no longer active
From Architectural Record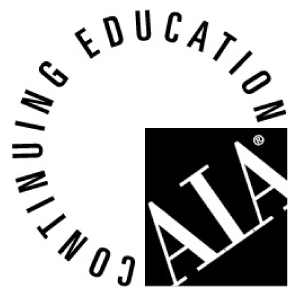 Continuing Education
Learning Objectives - After this course, you should be able to:
Describe current trends in the design of tall buildings.
Identify the various forces that act on buildings.
Describe various structural strategies used for cantilevers.
Describe the advantages of steel and concrete in structural design and their various applications.
Credits:
Since the dawn of the skyscraper, architects have been preoccupied with going higher. In the mid-to-late 19th century, advances in steel construction and elevator technology allowed buildings to soar into the air-usually going straight up, or sometimes tapering back a bit at the top. While some recently completed and still-under-construction buildings are currently vying for the title of "World's Tallest," these days-with less emphasis on achieving great heights-architects are exploring new directions.
One such architect, not surprisingly, is Rem Koolhaas. His Office for Metropolitan Architecture (OMA) has designed a striking-some might say audacious-residential tower for Manhattan's Flatiron district. When completed (current plans have the project moving forward), it will be OMA's first building in New York City, the setting for Koolhaas's 1978 classic book, Delirious New York. In it, Koolhaas celebrates the early-20th-century drawings of Hugh Ferriss, which illustrate the possibilities for skyscrapers following the landmark 1916 Zoning Law that created New York's pervasive setback buildings.
Koolhaas's building at 23 East 22nd Street also refers to Ferriss's work, though in an unexpected way. "This is a typical New York building, but turned on its head," says Jason Long, the project architect based in OMA's New York office. Growing out of a narrow lot, the building rises straight up for several stories, then swells at its midsection, tapering back again at the top. "The shape of the building derived from two acts of kindness," Long explains. The stepped condition of the cantilevering midsection allows sunlight to continue to reach the roof garden of the neighboring building. By tapering at the top, the building does not impede downtown views from inside One Madison Park, a much taller tower by the same developer, Slazer Enterprises, currently under construction on 23rd Street. (The two buildings will share an entrance lobby and amenities.)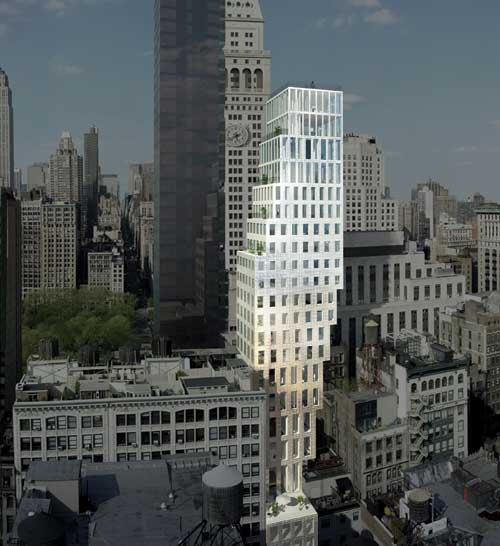 23 East 22nd Street grows out of its 33-foot-wide lot to cantilever more than 30 feet over its neighbors. One Madison Park, a glass tower by the same developer, is located just north of it.
Originally published in Architectural Record
Notice