A New Sustainable Rating System Aims to Protect and Regenerate the Ecological Capacity of Landscapes.
This course is no longer active
From Architectural Record and Greensource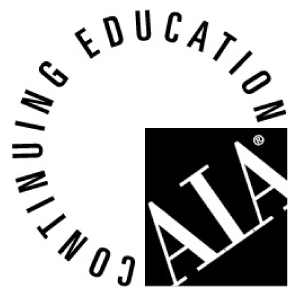 Continuing Education
Learning Objectives - After this course, you should be able to:
Explain the goals of the Sustainable Sites Initiative (SITES) and discuss why a rating system specifically tailored to landscapes is needed.
Outline the structure and requirements of the current version of SITES.
Explain the concept of ecosystem services and describe how a landscape can provide such services.
Discuss the strengths and weaknesses of the current version of SITES.
Credits:
The building industry's best-known sustainable rating system has always acknowledged that the design and construction of a man-made structure must consider the surroundings. The earliest versions of the U.S. Green Building Council's (USGBC) Leadership in Energy & Environmental Design (LEED) rating system included categories for sustainable sites and water efficiency at the level of an individual project–and its more recent and less narrowly focused rating system for neighborhood development has greatly expanded LEED's purview in the selection of building sites and enhanced its role in protecting local ecology. Still, the rating system's detailed requirements and recommendations for landscape strategies barely scratch the surface of what should be done to reverse the devastation that decades of poor design, construction, and maintenance practices have wrought on vital natural ecosystems, say many landscape architects.
While LEED has successfully increased the efficiency of buildings, observes Hunter Beckham, principal of SWT Design, a planning and landscape architecture firm in St. Louis, the rating system leaves out "many opportunities to address and improve the site."
Recognizing this omission, the Lady Bird Johnson Wildflower Center at the University of Texas in Austin hosted the Sustainable Sites Summit in fall 2005. Approximately 50 professionals, including landscape architects, civil engineers, government employees, scientists, and academics, attended the meeting, from which grew the Sustainable Sites Initiative. Referred to as SITES for short, the initiative is a highly ambitious effort to create voluntary national guidelines and performance benchmarks for the design, construction, and maintenance of landscapes with or without buildings.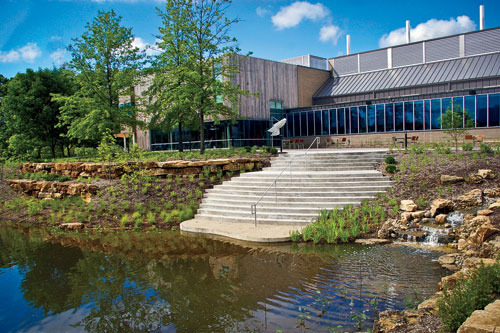 Novus International, an animal health and nutrition company headquartered in St. Charles, Missouri, earned a three-star rating from the SITES pilot program for its 9.7-acre campus renovation, completed in 2011. As part of the project, an interdisciplinary team led by SWT Design turned a barren retention pond (below) into an amenity that encourages staff interaction on terraced stairs (above) while supporting wildlife habitats.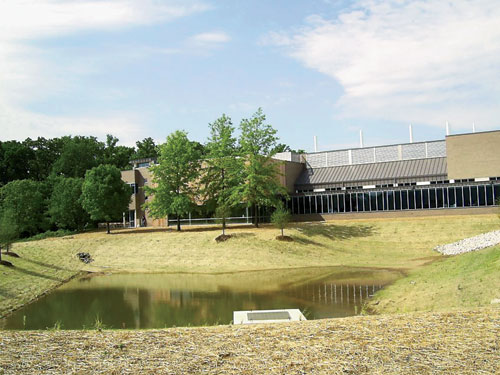 Photos © SWT Design
Originally published in Architectural Record and Greensource
Notice