Incentive programs and increased demand for building-integrated photovoltaic installations has pushed research and innovation at companies and universities.
This course is no longer active
From Architectural Record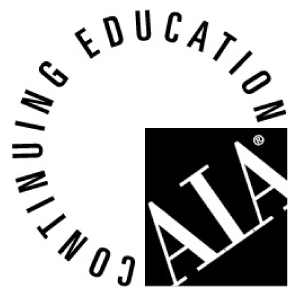 Continuing Education
Learning Objectives - After this course, you should be able to:
Describe new options to incorporate photovoltaics into buildings.
Discuss the various incentives for using photovoltaic technology.
Compare the benefits of different types of photovoltaic cells.
Credits:
The sun shines a little brighter in Aspen, Colorado. Since the city lies 7,945 feet above sea level, snow-covered mountains tend to reflect a dazzling light on clear winter days. While elevation certainly plays a role, the city expects its reliance on renewable resources like wind and hydroelectric-which accounts for 57 percent of its electricity production-to eliminate the dispersal of 42 million pounds of greenhouse gases from the atmosphere through 2010.
When the city selected Willis Pember, AIA, to design a public service and storage pavilion for its Wagner Park, the architect decided early on he would test the waters of Aspen's 2000 commitment to adopt green building initiatives.
"The City of Aspen likes to believe it was the first city in Colorado to produce its own electricity," Pember says. "So that myth was something we exploited to sell them on the idea of photovoltaics on the building." His final design, the Wagner Park Edge, incorporates a 3-kilowatt thin-film photovoltaic array sandwiched between two layers of glass mounted to a structural canopy blanketing the building. The array supplies the pavilion's needs while also contributing enough energy back into Aspen's electrical grid to power a typical single-family home for the year.
Although photovoltaics on buildings remains a curiosity for many architects, most people involved in the photovoltaics (PV) industry think projects like the Wagner Park Edge will become the rule in the near future. While the market for PVs has exploded, building owners expecting to see quick returns on investment still find the technology disappointing. As such, the additional benefit of energy production often follows as a bonus to the use of PVs as a highly visible sustainable billboard or as a path to points in the U.S. Green Building Council's LEED rating program.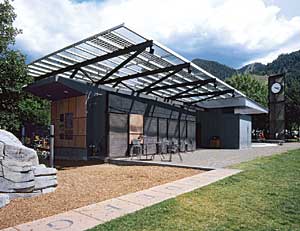 Aspen's Wagner Park Edge includes a glass-laminated photovoltaic installation as its sole power source (above and right). Photography: © Lone Pine pictures (top); Ajax Design (below)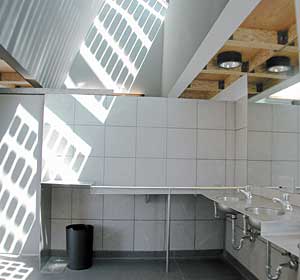 Steven Strong, of Solar Design Associates in Cambridge, Massachusetts, has experienced a surge in his energy consulting business in the past few years, owing to what he considers solar power's new "cool factor," a desire for more secure sources of power, and, especially, higher energy costs throughout the world. "Traditional economic analysis no longer applies; it's just that most people don't understand that yet," Strong says. "We're never going to return to the 1960s and 1970s where we had infinite amounts of cheap energy." Strong adds that the consideration of utility demand charges at peak periods of energy use, as well as the growing unreliability of the electrical grid, has led to an increased cost-effectiveness for PVs. "This is a glimpse of the future, and it's not an aberration."
The availability of subsidies, as either a tax credit or an energy rebate, still compels many a decision to incorporate PVs into a project. Solar consultants and researchers, however, argue for a larger view, positioning PVs as a significant component of an overall energy-efficiency design strategy. Behind the scenes, manufacturers and university and government research teams endeavor to develop new PV technology, seeking to find PV solutions that balance energy performance with aesthetic value-something lacking in many past solar installations. Since the PV industry shares silicon production with the semiconductor industry, all of this increased development occurs with the backdrop of a serious silicon supply shortage-though the industry considers it merely a hiccup. Regardless of the issues, the building PV industry in 2006 is positioning itself to expect rapid growth in demand and technology in the coming years.
Originally published in Architectural Record.
Notice