Digital fabrication comes into its own for creating precisely crafted, complex building envelopes, even on larger projects.
Learning Objectives:
Describe the advantages and challenges of digital fabrication versus traditional methods of construction.
Discuss the different fabrication methods used to create the the highly sculptural skins of the buildings examined in the article, describe the other components that make up these buildings' exterior envelopes, and explain the relationships between the facade elements and the buildings' primary structural systems.
Describe some of the physical properties of composite materials and explain how such materials can satisfy functional requirements for facades, including those for fire resistance.
Identify the various software programs used in digital design and fabrication and explain the roles of these tools in the projects discussed.
Credits:
This test is no longer available for credit
Digital fabrication has been employed in the production of everything from furniture and lighting to jewelry and cell phones, but its use for large-scale construction has been rare. While parametric design has been a mainstay of architectural practice for decades, the computer's role in the manufacturing process for architectural applications has been limited mostly to small building components or temporary pavilions. However, several recent facade projects—for a courthouse, a stadium, and one particularly high-profile museum expansion now under construction—are taking digital fabrication to a new level. These building skins are proving that the process can be a highly efficient and cost-effective option when translating complex computer-derived forms into well-executed, precision-built structures that can be produced locally. Click here to read about it »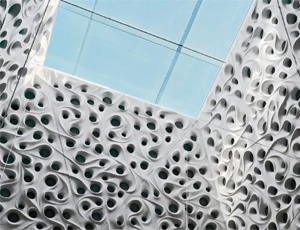 Photo: Tonatiuh Ambrosetti © Bundesamt für Bauten und Logistik BBL
Originally published in Architectural Record
Originally published in September 2014
Notice