Rooftops Slowly, but Steadily, Start to Sprout
Technology begins to take root on roofs in North America as new research supports claims of environmental benefits, and policies encouraging implementation multiply.
This course is no longer active
From Architectural Record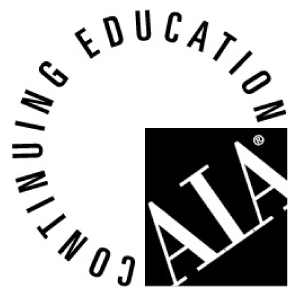 Continuing Education
Learning Objectives - After this course, you should be able to:
Identify the benefits of planted rooftops.
Describe the composition of planted rooftops.
Explain why the number of structures with planted rooftops is increasing.
Credits:
Planted material on top of buildings is hardly a new concept. From the fabled hanging gardens of Babylon to the vernacular sod-covered buildings of Scandinavia and the settlers of the American Great Plains to earth-sheltered architecture, vegetated roofs have many precedents.
Today, planted rooftops, while still far from common building practice in North America, are slowly gaining ground as a growing body of research supports the claim that green roofs are well suited for our climate. A properly installed green roof can reduce storm-water runoff, provide both heat and sound insulation, and create habitat for birds and insects. As part of a network of green roofs, it can mitigate urban heat-island effect. According to Green Roofs for Healthy Cities, a nonprofit industry association with the mission of promoting the technology, almost 2.5 million square feet of green roofs were planted in North America last year, a 72 percent increase from 2004.
Contemporary green roofs, also known as eco roofs, have their roots in German technology that is well developed after more than three decades of use. Although a number of systems are commercially available and a variety of combinations are possible, a green roof generally consists of planted material in a lightweight growing medium on top of a drainage and water-retention layer, a root barrier, and a waterproofing membrane.
Green roofs generally fall into two categories-either extensive or intensive. Extensive green roofs are lightweight, and may have as little as 3 or 4 inches of soil. They are usually planted with hardy, drought-resistant vegetation that requires little maintenance or irrigation.
With greater soil depth, intensive green roofs can support a wider variety of plant material, such as flowers, shrubs, or even small trees. These systems can be used to achieve a more landscaped, garden-like environment, but intensive green roofs may require maintenance such as watering, fertilization, or weeding. Designers also need to take into account the heavier roof loads that the deeper soil and more elaborate plantings will impose on the building's structural system.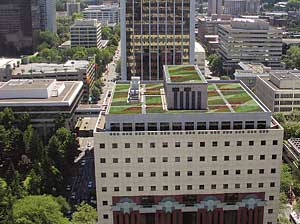 Michael Graves's Portland Building will soon have a green roof as the result of a local resolution passed earlier this year. Officials will monitor how effectively the installation mitigates storm-water runoff.
Rendering: Courtesy Macdonald Environmental Planning
Sticks and carrots
Green roofs are taking hold most firmly in jurisdictions with policies and incentives that encourage implementation. "About 75 percent of the market is regulatory driven, but I see this as changing over time," says Sandra McCullough, business team leader for Green Grid, a supplier of a modular planted roof system.
In Chicago, building owners have planted more square feet of green roofs than those in any other North American city for two years in a row, according to Green Roofs for Healthy Cities. A total of 2.5 million square feet of green roofs are planned, in construction, or installed, says Michael Berkshire, the city's green projects administrator.
Architectural Record
Notice