Robo Buildings: Pursuing the Interactive Envelope
In Recent projects, smarter building skins automatically control daylighting, ventilation, and more to benefit occupants and enhance sustainable design quality
This course is no longer active
From Architectural Record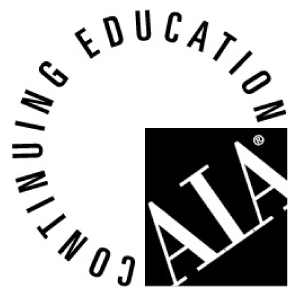 Continuing Education
Learning Objectives - After this course, you should be able to:
Describe interactive building envelopes.
Explain the current interest in active building skins.
Identify the application most responsible for interactive building support.
Credits:
In an article published in the cyber journalTechnoetic Arts last year, British architect-academics Stephen A. Gage and Will Thorne describe a hypothetical fleet of small robots they call "edge monkeys." Their function would be to patrol building facades, regulating energy usage and indoor conditions. Basic duties include closing unattended windows, checking thermostats, and adjusting blinds. But the machines would also "gesture meaningfully to internal occupants" when building users "are clearly wasting energy," and they are described as "intrinsically delightful and funny." The authors liken the relationship between edge monkey and human to that of P.G. Wodehouse's Jeeves and Wooster characters. "Jeeves's aim is always to modify Wooster's behavior so that it is more sensible," they write. "And we need all the persuasion we can get to modify our behavior before the planet is severely compromised."
Practicalities of microrobotics aside, this sci-fi-sounding scheme crystallizes the widespread concern informing many recent architectural projects. Increasingly, architects would like to automate their building envelopes rather than leave energy-efficient operation to chance (or harried maintenance engineers). As a result, the critical interface between the interior and the elements is getting more attention-and more animated.
Thanks largely to innovators from Europe, buildings are wearing more smarts and moving parts. The lion's share use double-skin construction as well, in which inner and outer glass walls are separated by a ventilated cavity that often contains solar shading. Hundreds of double-glass or interactive envelopes appeared in Germany and Austria in the 1990s. In the United States, such projects are novelties, despite the existence here of an early example that debuted during the early 1980s oil crisis: Cannon's Occidental Chemical Center in Buffalo, New York, introduced a double-wall facade containing automated operable louvers.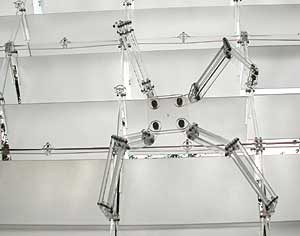 "Edge monkeys" are robots that would close windows, check thermostats, adjust blinds, and "gesture meaningfully to internal occupants" when they are clearly wasting energy.
Photography: Courtesy Stephen GGage and Will Thorne
Back then, the idea was an anomaly. Today, activating the skin is in vogue, note critics and proponents alike. From the "robotecture" labs at top architecture schools to interactive art installations like James Carpenter's Podium Light Wall for New York's 7 World Trade Center, aesthetics and technology are converging in unlikely places. Nonetheless, the mainstream drivers for interactive envelopes are sustainability and stringent energy codes. Another is heightened interest in "Wooster"-the end user. "The costs can't be justified strictly on the basis of energy savings," points out Eleanor S. Lee, a scientist and architect in the Building Technologies Program at Lawrence Berkeley National Laboratory (LBNL), Berkeley, California. "But these systems will be used increasingly for occupant satisfaction, including thermal comfort, acoustical performance, and access to fresh air."
While fashionable and possibly advantageous, the adoption of high-tech envelopes has been slow. Skeptical architects worry that operable components are magnets for value-engineering. Or they foresee them being unplugged and later stripped off their buildings due to poor performance or deficient maintenance. Other firms cite client interests, noting such high-profile failures as the broken actuators on the sun-control diaphragms cladding Jean Nouvel's 1988 Institute du Monde Arabe in Paris. "Culturally, we have little confidence in what we're doing, and in systems integration for these hybrids," says Volker Hartkopf, director of the Center for Building Performance and Diagnostics at Carnegie Mellon University, Pittsburgh. "Yes, these things can break, but so can fans, dampers, thermostats, and so many other things we take for granted."
Originally published in Architectural Record.
Notice