Learning Objectives:
Explain the strategies deployed to bring mid-20th-century buildings at Oberlin College, Arizona State University, and Boston University into compliance with current codes and performance expectations.
Describe the structural modifications and other changes made to these buildings to meet their owners'' programmatic needs.
Discuss the acoustical challenges posed by the project at Oberlin College and describe the design team''s solutions.
Discuss how the buildings were adapted without sacrificing their character-defining midcentury features.
Credits:
This test is no longer available for credit
This group of articles examines the renovation and restoration of mid-20th-century buildings on three U.S. college campuses. It explains how the project teams preserved the buildings' key character-defining elements while bringing the aging structures into compliance with current codes, meeting occupants' expectations for human comfort, and satisfying their programmatic requirements.
For credit, read all of the stories below and take the test.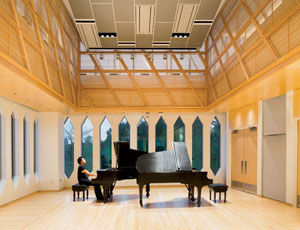 Photo by Kevin G. Reeves; Oberlin College, Bibbins Hall; Westlake Reed Leskosky
Manzanita Hall at Arizona State University
Studio MA
Diamonds are Forever: A beloved '60s dormitory—once the tallest building in Arizona—was adapted to the needs of today's plugged-in students

Photo by Bill Timmerman

Oberlin College, Bibbins Hall
Westlake Reed Leskosky
American Gothic: Westlake Reed Leskosky raises the roof in its overhaul of a music building by Minoru Yamasaki.

Photo by Kevin G. Reeves

Boston University Law School Renovation & Expansion
Bruner/Cott & Associates
Sert Re-Asserted: A renovation and expansion of a midcentury academic tower restores a master's legacy.

Photo by Richard Mandelkorn
Originally published in Architectural Record.
Originally published in November 2014
Notice