Quenching the Built Environment's Thirst for Water
Designers deploy synergistic strategies to decrease demand and find new sources of supply
This course is no longer active
From Architectural Record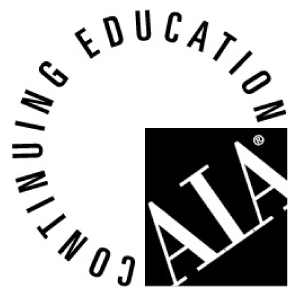 Continuing Education
Learning Objectives - After this course, you should be able to:
Identify strategies for conserving water.
Identify sources of nonpotable water and methods for treating it.
Discuss the various uses for nonpotable water.
Explain the relationship between energy and water consumption.
Credits:
Not so long ago, water conservation took a back seat to energy efficiency in the world of green building. But that seems to be changing as designers, building owners, and the public become increasingly aware of pressures on freshwater supplies.
Perhaps this is due to the news of dwindling reservoirs, water rights wars, and limits on use that appear in the media with alarming frequency. California is in its third consecutive year of a drought that has hit the state's agricultural industry particularly hard and has prompted many districts to impose water restrictions. For the Southwest as a region, some long-term predictions are especially sobering: Lake Mead, which supplies water to millions of people, has a 50 percent chance of running dry by 2021, according to a recent study from the Scripps Institution of Oceanography. In the Southeast, the drought conditions of the past few years have eased, but Georgia is still in the midst of a two-decade-long battle with Alabama and Florida over Lake Lanier, a reservoir built primarily for hydropower generation and flood control that is now the source for almost all of metro Atlanta's water supply.
An intimate link
Conservation is especially critical in water-stressed parts of the country, but regions not prone to shortages can also benefit from its methods. One reason is the often overlooked connection between water use and energy production. Studies quantifying the relationship between the two resources are limited, but according to an estimate by the Electrical Power Research Institute, about 4 percent of power generation is used for moving and treating water and wastewater nationwide. Water use also has a corresponding tie to greenhouse-gas production. The River Network, a nonprofit organization focused on preserving freshwater sources, calculates that the carbon dioxide associated with moving, treating, and heating water is 290 million metric tons annually, or about 5 percent of U.S. carbon emissions.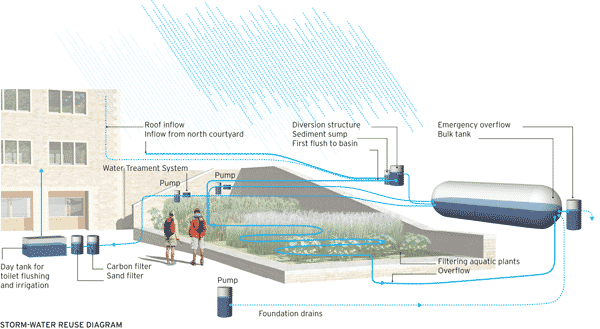 Kroon Hall at Yale University has a storm-water treatment and reuse system that collects runoff from the building�s roof and green spaces and directs it to irrigations and toilet flushing. The system, along with water-conserving plumbing fixtures, is expected to save 500,000 gallons of water each year.
 
Electricity production is also highly dependent on water. Thermoelectric power plants (those that rely on fossil fuels, biomass, or nuclear energy) withdraw about 25 gallons of freshwater for every kilowatt of electricity generated, according to the U.S. Department of Energy.
In buildings, plumbing-fixture selection is an important component of water efficiency. And trends like the growing rigor of the popular rating system, the U.S. Green Building Council's Leadership in Energy and Environmental Design (LEED), are pushing design teams to choose fixtures that consume less water. Before the latest version of the rating system launched in late April, projects could earn one point toward certification by reducing indoor water use by 20 percent when compared to baseline fixture requirements. But under the new system, this savings level becomes a prerequisite: Projects earn no points for satisfying this performance minimum, but those that do not comply are ineligible for certification. In addition, the baseline for some fixture types has become more stringent. For example, allowable flow rates for lavatory faucets in public buildings have decreased from 2.5 gallons per minute (gpm) to 0.5 gpm.
Fixture selection is, of course, only one part of the water conservation picture. Project teams should also consider other methods for reducing demand, including specifying water-efficient appliances and other process equipment, and designing landscapes that are less dependent on irrigation. But after chipping away at demand, architects and their consultants should examine the water supply: Buildings in North America typically rely on only the highest-quality water for all applications, including drinking, bathing, irrigation, and flushing toilets. However, where regulations allow, water that may not meet potable standards can be substituted for some of these uses.
Water and the land
Especially in nonarid climates, an obvious alternative source is the water that falls from the sky. And combining rainwater collection and reuse strategies with low-impact development techniques, such as green roofs, permeable pavement, and rain gardens, can help resolve storm-water-control problems, points out Stephen Benz, a civil engineer and principal at Sasaki in Watertown, Massachusetts. By considering these issues in tandem, "you end up with good synergy between rainwater and storm-water solutions," he says.
Originally published in Architectural Record
Notice