Museum design teams juggle the sometimes-competing demands for preservation of collections, human comfort, and energy conservation.
This course is no longer active
From Architectural Record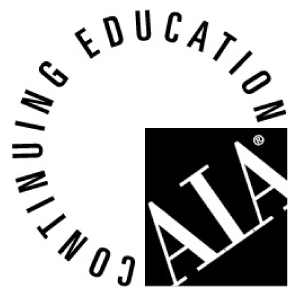 Continuing Education
Learning Objectives - After this course, you should be able to:
Outline the environmental conditions considered optimum for conservation of museum collections.
Describe architectural and mechanical strategies for achieving these conditions.
Identify energy-saving strategies appropriate for museums.
Describe simulation methods that consultants use to optimize climate-control, energy-performance, and daylighting.
Credits:
A Museum is inherently an energy hog. Prolonging the life of artwork and cultural artifacts requires a consistent interior environment–generally one maintained at 70 degrees Fahrenheit with 50 percent relative humidity–regardless of the season or weather. These requirements result in large energy loads, especially for humidifying and dehumidifying outdoor air.
Designing a high-performing museum requires state-of-the-art HVAC equipment, to be sure, but passive strategies such as building orientation and a thermally efficient envelope, detailed and well-executed, are at least as important. "It isn't about configuring the right mechanical system, but about designing the right building," says Adam Trojanowski, principal at Altieri Sebor Wieber. Trojanowski's firm is mechanical engineer to Tod Williams Billie Tsien Architects for the Barnes Collection–the museum set to open in downtown Philadelphia in May that will house the highly regarded collection of Impressionist and early-Modern paintings amassed by the late Dr. Albert C. Barnes. Until last summer, the collection had been on display on the Barnes estate in Merion, a Philadelphia suburb.
The new 93,000-square-foot Barnes includes a shoebox-shaped permanent exhibition pavilion, as well as an L-shaped wing for conservation labs, offices, and visitor amenities like a gift shop and café. Together, the two volumes define an interior court, topped with an etched-glass canopy, or "lightbox," that allows controlled and diffuse daylight into adjacent spaces.
On track for LEED-Platinum certification, the museum is designed to exceed the performance of the 2007 version of the energy standard ASHRAE 90.1 by an impressive 43 percent. Some of the strategies that contribute to these savings include ventilation-air heat recovery, demand-control ventilation, and rooftop photovoltaic panels that are expected to supply more than 7 percent of the building's electricity. But more than half of the anticipated energy savings can be attributed to the thermal properties of the envelope, along with the inclusion of overhangs and other shading devices that help control heat gain, says Trojanowski. At the Barnes, the galleries' exterior walls have a limestone rainscreen-skin with bronze fins and stainless-steel reveals, rigid insulation with an adhered air-and-vapor barrier, and a grout-filled block wall. The whole assembly, including a plywood and sheetrock interior stud wall, is as thick as 40 inches in some locations. The windows are set back from the limestone skin–a detail that helps limit direct-sunlight penetration and emphasizes the facade's "beefiness" and "heft," giving the building a sense of permanence, says Williams/Tsien senior associate Philip Ryan. But the assembly's depth and composition also provide sound thermal performance, with an R-value of 15. (The R-value is a measure of a material's ability to retard or resist heat transfer.)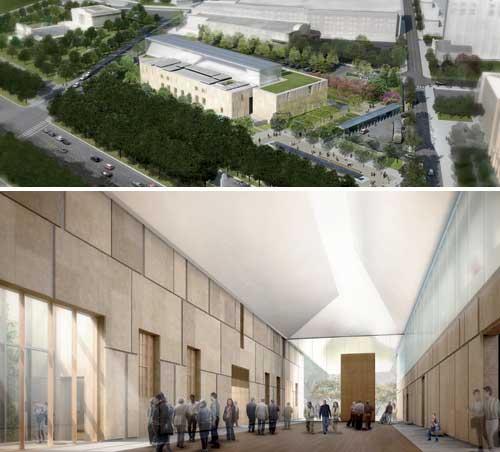 Lightbox: At the new Philadelphia home for the Barnes Collection, a court (bottom) covered with an etched-glass canopy is defined by a shoeboxlike gallery pavilion and an L-shaped wing (top). The configuration allows designers to take advantage of indirect daylight for gallery illumination.
Renderings courtesy the Barnes Foundation
Originally published in Architectural Record
Notice