Two hospitals in very different settings rely on similar strategies to create environments for healing.
This course is no longer active
From Architectural Record
Learning Objectives:
Define the term "biophilia."
Discuss the potential therapeutic effects of incorporating biophilic elements in health-care facilities.
Outline the history of scientific research relating to biophilia.
Describe the biophilic elements incorporated into two current examples of health-care facilities and discuss how these elements are integrated with the buildings' structural, mechanical, and envelope systems.
Credits:
The word "biophilia" is increasingly bruited about in debates on the design of health-care facilities. Although the term sounds like an incurable physical ailment, it actually means "love of life or living systems." First used by social psychologist Erich Fromm in the mid-1960s, the word was popularized by biologist Edward O. Wilson in his 1984 book of the same name, referring to humans' innate attraction to nature. Biophilic architecture accordingly embraces nature or natural elements to improve occupants' physical and mental health, increase productivity, and enhance overall well-being.
Not surprisingly, the study of these therapeutic effects has its own history. The same year that Wilson's book came out, Roger Ulrich published the first rigorous study of the relationship between health outcomes and physical surroundings. Ulrich, co–founding director of the Center for Health Systems & Design at Texas A&M University, reviewed records for two groups of patients recovering from gallbladder surgery in a suburban-Philadelphia hospital. One set recovered in rooms that overlooked a small stand of deciduous trees, while the other set occupied rooms that looked out onto a brick wall. Ulrich found that the patients with views had shorter postoperative hospital stays, took fewer and less potent analgesics, and were less likely to develop complications.
Since that groundbreaking study, at least 50 others have been published that demonstrate a link between biophilic features—such as daylighting and views of nature—and faster recovery rates, decreased dependency on medication, and reduced stress for both family members and staff, according to Terrapin Bright Green, an environmental-consulting and strategic-planning firm. Terrapin recently published its own study, The Economics of Biophilia. The white paper assigns financial value to productivity and human health benefits garnered by incorporating nature into a variety of building types, including schools, offices, retail spaces, and hospitals. For example, by correlating current data on the average per diem expense of inpatient care with the results of Ulrich's 1984 study, the paper concludes that deployment of biophilic strategies in health-care facilities nationwide could reduce the average cost of a postsurgery hospital stay by about $2,000 and save Americans more than $93 million each year. The objective was not to pinpoint exact industry savings, says Terrapin partner Bill Browning; "instead, we wanted to provide a sense of their order of magnitude."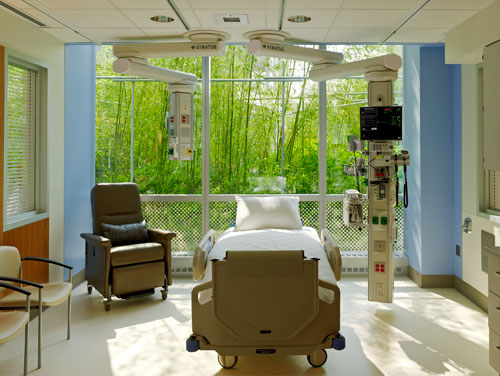 A number of the patient rooms in Massachusetts General Hospital's Lunder Building look out onto a bamboo garden.
Photo © Frank Oudeman
Originally published in Architectural Record
Originally published in August 2012
Notice