An integrated facade strategy helps designers create more comfortable and better-performing glass buildings.
This course is no longer active
From Architectural Record
Learning Objectives:
Explain what a double-skin curtain wall is.
Identify the components of a double-skin curtain wall.
Discuss the advantages and disadvantages of double-skin systems.
Discuss how double-skin systems can be deployed with other building systems to improve performance.
Credits:
At least since Modernism emerged in the early 20th century, and perhaps as early as the mid-19th century, when Joseph Paxton built the Crystal Palace in London, architects have been fascinated with glass. They've exploited the material's properties to make buildings that almost disappear, to create a glowing effect at night, and to enhance connectivity with the outdoors. And of course, many have chosen to clad their structures in glass because of its associations with openness and honesty. But a mostly transparent building can be at odds with sustainability. Depending on how it is designed and built, an all-glass-clad structure is prone to heat gains and losses, resulting in interiors that are too hot or too cold and creating the need for bigger mechanical systems.
One response to the competing demands of energy efficiency and transparency is a double-skin facade - a cladding assembly made up of two surfaces or walls of glass separated by an air cavity ventilated either by mechanical or natural means. This intervening air space, which acts like a climatic buffer, often encloses shading devices and can be as narrow as a few inches, but is typically 3 or more feet deep to allow access for maintenance. In cold seasons, the air within the cavity can be distributed to the building to help fulfill heating needs, and in warm weather it can be vented to lessen cooling loads.
The approach does have drawbacks, including the loss of usable floor space and the cost of an extra skin and its supporting structure. A double wall also adds a level of complexity requiring a whole building approach that closely coordinates several disciplines, including mechanical and structural engineering, thermal analysis, and lighting design.
The just-completed 400,000-square-foot, $85 million expansion of the Frankfurt, Germany, headquarters of KfW Bankengruppe is one project that is the product of this kind of tight integration. Berlin-based Sauerbruch Hutton won the commission in 2004 with a proposal for a 184-foot-tall glass-clad building that includes a 10-floor office tower, shaped like an airfoil in plan, on top of a curvy four-story podium.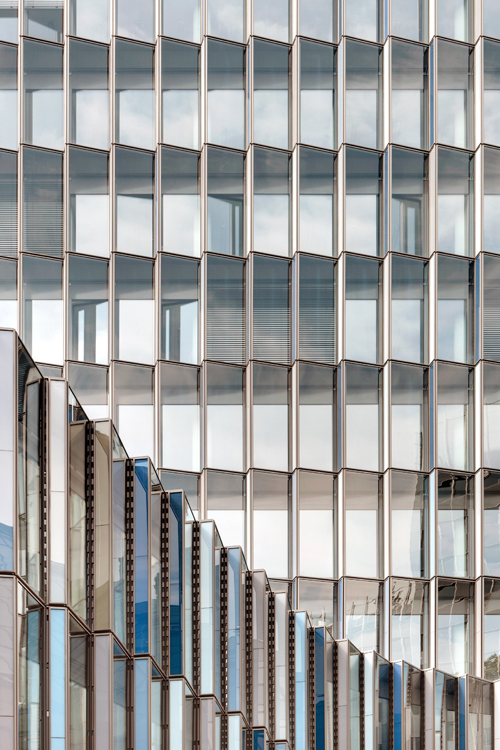 The new KfW building in Frankfurt, Germany has a double-wall facade with a sawtooth-shaped outer skin.
Photo © Jan Bitter
Originally published in Architectural Record
Notice