Loblolly House: In Stock and Ready to Ship
KieranTimberlake Associates fabricates the loblolly house in a warehouse, setting up a new supply chain and establishing a base to revolutionize the firm's future production.
This course is no longer active
From Architectural Record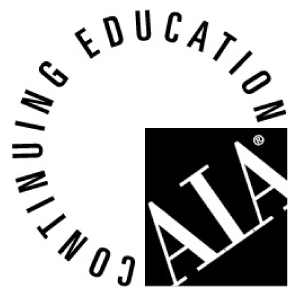 Continuing Education
Learning Objectives - After this course, you should be able to:
Discuss approaches to prefabricated housing.
Describe the component approach to house building.
Compare component process building to standard house building.
Credits:
Of all the names to give a house, only an architect would settle on the knotty word loblolly. Never mind that the house's spectacular site spills onto the wide-open Chesapeake Bay, with a rough cyclopean wall of coastal riprap keeping the water averted; the architects were instead inspired by the pine trees blanketing the grounds, which have the fortune of possessing an unforgettably boisterous vernacular name.
An unlikelier setting-Taylor's Island, Maryland-for an experiment in prefabricated housing perhaps could not be found, but the glorious site for Philadelphia-based KieranTimberlake Associates' Loblolly House is intended to serve just this purpose. Although years in planning, at press time the three-bedroom, two-bath, 2,200-square-foot house lacked only a few finishes and final landscaping after an on-site construction period of less than a month.
"We didn't know fully what we were going to get into with this project," says Steve Kieran, FAIA. "But we knew we wanted this to be a complete realization of a way to build more like the automotive or aviation industry." Kieran, along with James Timberlake, FAIA, laid out a fundamental philosophy of architecture production in their 2003 book, Refabricating Architecture (published by McGraw-Hill), which focused on building supply chains, prefabrication processes, and rediscovering the role of the architect as a master builder capable of singularly overseeing all aspects of design and construction. Both architects view Loblolly, designed as a second home for Kieran's family, as an opportunity to test the theories of the book without needing to convince a client to pay the bill.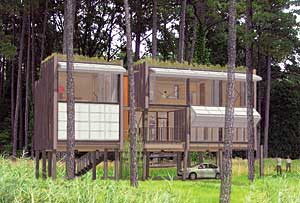 KieranTimberlake's Loblolly House mimics the surrounding pine trees in its raised structure.
Images: Courtesy KieranTimberlake Associates, except as noted
Refabricating history
Failed prefabricated, or modular, housing projects pepper the history of modern architecture. Although early Modern architects embraced the spirit of the mechanized world, the buildings they designed mostly reflected the spirit of the age (think of the mechanized surface aesthetic of early European Modernism) more than they physically provided its solutions. In the realm of residential design, Buckminster Fuller's 1927 Dymaxion House-the first and perhaps reigning champion of humbling attempts at universal prefabrication-remains a touchstone for architects anxious to incorporate the streamlined production techniques and one-size-fits-all mentality of manufacturing into a building industry that has remained relatively unchanged in the past hundred years. Writing in Arts Magazine in October 1963, Reyner Banham called the Dymaxion a "radically new environment for domestic living" that parlayed Fuller's penchant for technological "hot-rodding" into a design concept the world needed: an energy-efficient, mass-producible modular house suitable for any site. Among the other few successes, Carl Strandlund's 1947 Lustron House-prefab steel homes with exterior porcelain-enamel-coated panel cladding-achieved some acceptance, with nearly 2,500 built prior to the developer's 1950 bankruptcy. While other stunted projects come to mind-Albert Frey's 1930 Aluminaire House or Matti Suuronen's wacky, bubblelike 1968 Futuro Houses-interest in Modern prefab residences waned until a resurgence in the 1990s spurred in part by the public's rediscovery of Midcentury Modern design, digital and technical advances in mass-fabrication techniques, and the promotional effects of consumer publishing, most notably the cheerleading Dwell magazine.
Originally published in Architectural Record.
Notice