How Is LEED Faring After Five Years in Use?
The best-known rating system for green buildings in the United States, LEED struggles with its own rapid rise in popularity
This course is no longer active
From Architectural Record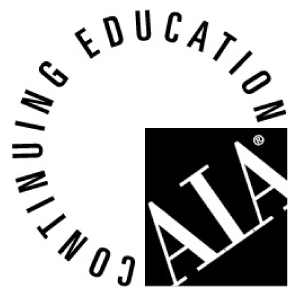 Continuing Education
Learning Objectives - After this course, you should be able to:
Describe the changes that USGBC has instituted for LEED in the past five years.
Discuss the criticisms of the LEED rating system.
Identify issues in LEED scheduled for change.
Credits:
A There is no question that Leadership in Energy and Environmental Design (LEED), the green-building rating system developed by the U.S. Green Building Council (USGBC), has been a success. After all, its original mission was one of market transformation. "In my professional career, no other tool has been as powerful in encouraging designers and builders to look at the environmental performance of buildings," says Bob Berkebile, FAIA, principal of BNIM Architects in Kansas City, Missouri, founding chairman of AIA Committee on the Environment (COTE), and former board member of USGBC.
Today, LEED has virtually become a household word. More and more projects have been registered, and LEED ratings increasingly find their way into marketing brochures distributed by developers, building owners, architects, and contractors. Accredited professionals proudly add "LEED" to their titles, and most significantly, numerous federal agencies and state and local governments require some form of LEED certification. Green architecture is no longer a fringe phenomenon.
Despite the fact that LEED has been-and remains-a critical tool in making this necessary transformation, it's far from perfect. Recent assessments of LEED from various sources have pointed out some of its more glaring flaws. This doesn't surprise many of its original developers. Referring to that pivotal moment when the decision was made to release a sustainable measurement tool that would address commercial office buildings, Berkebile recalls that the USGBC volunteers "knew that it was clumsy and limited, and many wanted to wait until it could be put on more scientific footing, but more wanted to get something out quickly." Berkebile continues, "What was shocking was that many agencies and cities so quickly embraced it as their tool, not realizing that it was not regional, did not do life-cycle analysis, and was focused on corporate buildings."
The ABCs of LEED
In the early 1990s, many facets of the building sector appeared skeptical-if not outright hostile-about the green movement. The construction industry, like a tanker cruising in one direction, was not in a position to quickly or easily turn 180-degrees. For example, some building-product manufacturers, unprepared for questions regarding the environmental impact of their materials, were fearful of releasing proprietary information. And contractors, accustomed to certain business practices, saw no financial incentives in changing their ways. Although scientific evidence suggested that standard construction processes contributed to environmental degradation, no one was able to clearly quantify which methods were worse or which alternatives were better. The industry was still groping for a widely accepted definition and measurement of green building. Many sought a safe forum within which the different facets could consider the economical, environmental, and social costs and benefits generated by various design and construction options and could forge a path through the many unknowns to establish a workable, positive action plan.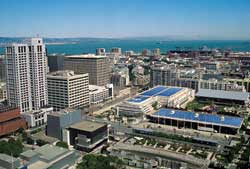 The roof of the Moscone Convention Center in San Francisco supports 30,000 square feet of photovoltaic panels (installed by PowerLight Corporation), a technology encouraged by LEED.
Photography: Courtesy PowerLight Corporation
The USGBC was formed in 1993 as a coalition of a handful of building-related organizations to serve this role. By 1995, staff and volunteers began to develop a digital measuring tool for sustainable buildings.Version 1.0 of LEED for New Construction (LEED-NC) was piloted in 1999, and version 2.0 publicly launched in March 2000. Since then, about 1,900 projects have registered to use LEED-NC, and another 200 have been certified under it.
Originally published in Architectural Record.
Notice