Flights of Fancy in Long-Span Design
New airport terminals feature breathtaking roof structures, which solve functional challenges while delighting harried travelers.
This course is no longer active
From Architectural Record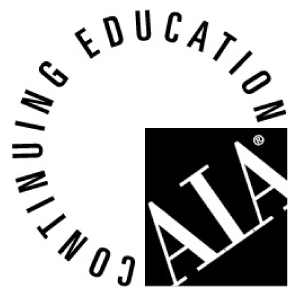 Continuing Education
Learning Objectives - After this course, you should be able to:
Define the term "long-span roof."
Describe various types of long-span roof structures.
Discuss how long-span roofs are appropriate for airports.
Credits:
Over the years, airport design has become inextricably linked to crystal-clear wayfinding, expansive views, and abundant daylight. Nothing seems to satisfy-or express-these characteristics as elegantly and vividly as do long-span roofs. By minimizing the number of vertical supports and maximizing opportunities for skylights and other daylighting strategies, such vast structures permit passengers to see clearly where they have come from and where they are going. Meanwhile, the soaring volumes and undulating shapes made possible by their inherent geometries can help lift the spirits of most any weary traveler, even before leaving the ground.
While a roof is essentially the means to keep out the elements for most buildings, it is often the defining architectural feature of an airport terminal. "Airports require big-scale solutions," explains Adolfo Preus, an architect with the firm Studio Lamela in Madrid. A long-span roof can help facilitate the flow of circulation amid its complex internal programming; provide flexibility in an industry whose use patterns have been known to fluctuate relatively quickly in a short period of time; echo the large dimensions and aerodynamic shapes of a terminal's primary focal point-the aircraft; and generate the scale and excitement befitting the primary ports of entry into our cities and countries.
A long-span roof structure can typically be found in the terminal's departure hall. "Departure halls are treated as the prime space in the airport," observes Michael Meschino, senior associate in the Toronto office of the engineering firm Halcrow Yolles. "It's where our clients particularly want daylight, fine details, and grand dimensions." Passengers, after all, spend the most time in airports in preparation for a trip. Some terminals may capitalize on long-span structures in other sections as well. In the new terminal at Lester B. Pearson International Airport in Toronto, for example, the architects used a second long-span roof to cap the terminal's international hammerhead-the large element at the end of one of the piers dedicated as the waiting area for passengers going abroad. And at the new terminal for Barajas Airport in Madrid, the same long-span roof module was applied consistently to multiple segments.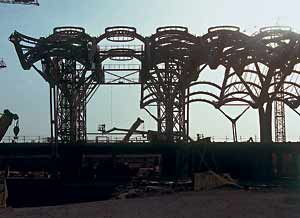 At Terminal 4 at Barajas Airport in Madrid (above), designed by Richard Rogers and Estudio Lamela, the same long-span roof module was applied consistently to multiple segments.
Photography: Courtesy Richard Rogers Partnership
Long-span roofs also raise other, nonstructural issues. The creation of such an expansive interior volume-most of which is far from the pedestrian level-raises the question of how to economically condition the space. Architects also have to consider maintenance requirements when deciding where and how to install mechanical, lighting, and communication systems within such large vertical dimensions.
Despite-or because of-all the possible variations and concerns in long-span roof structures, Steven Cook, AIA, principal architect at Murphy/Jahn, was able to express most succinctly the one recommendation shared by all architects working in this specialty: "Make sure you have a good engineer."
Originally published in Architectural Record.
Notice