Courting Nature in Design
The love of nature can be nurtured through architecture that conservers energy and creates healthy interiors
This course is no longer active
From GreenSource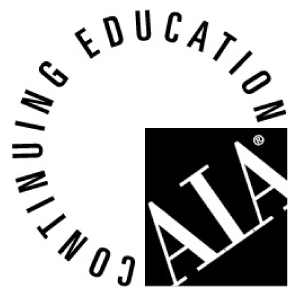 Continuing Education
Learning Objectives - After this course, you should be able to:
Describe the benefits of nature contact in design.
Explain strategies for integrating biophilia and sustainability.
Discuss approaches to biophilic design for several building types.
Credits:
Before there was architecture, ancient humans were immersed in nature, on which they were directly dependent for food, water, and shelter-in short, basic survival. In the millennia since then, we've developed more convenient, comfortable means for obtaining these basics, but we haven't evolved away from a psychological dependence on the natural world, an affinity known as "biophilia." Evidence demonstrates benefits in physical and mental health attributable to contact with nature. Sustainable design can be biophilic, and vice versa, because both relate to natural systems and materials.
The term "biophilia" was coined in the 1980s by Edward O. Wilson, professor emeritus of Organismic and Evolutionary Biology at Harvard University. More recently, Stephen R. Kellert, professor of Forestry & Environmental Studies at Yale, has coauthored, with Judith Heerwagen and Martin Mador, Â Biophilic Design: The Theory, Science, and Practice of Bringing Buildings to Life. These authors urge architects to do what they can to incorporate nature in the design of buildings.
Biophilic design might include, for instance: daylighting and natural ventilation; organic forms and natural materials; visual diversity and views to nature; and access to plants, both inside and out. These features are closely tied to familiar ideas of energy conservation and renewable materials. A vegetated roof, for example, which limits ambient heat build-up and reduces stormwater runoff, can also provide an urban garden and views of nature. Natural ventilation can reduce cooling loads and air-moving equipment, while also providing fresh air. Carefully shaded glazing provides heat and light, without overheating or glare, while bestowing on interior spaces the subtle diurnal changes in the color and quality of light. Thermally massive walls combined with glazing that selectively filters heat and light for passive solar design can mimic the often-cited biophilic amenity of "prospect and refuge." This harkens back to early humans on the African savanna who felt sheltered at the forest's edge, while seeing prey in the distance. What was once a matter of survival, prospect and refuge now produces a sensation of comfort and security. If this sensation is absent, as in buildings without views of nature, anxiety can result.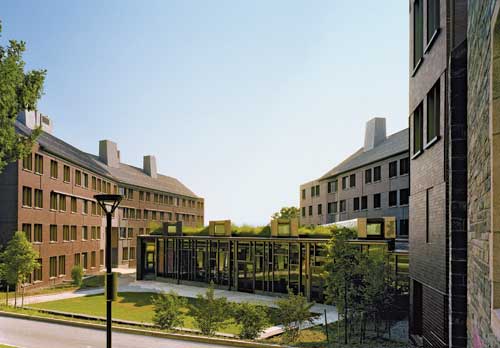 Vegetated roofs on student pavilions at Cornell University redefine the concept of "college green."
Photo © Barry Halkin
 
Documented benefits of biophilic design include improved learning by students, greater productivity in workers, and faster healing by patients. Understandably, it is these measurable benefits, rather than a general sense of well-being (also a benefit) that tends to motivate architects and their clients. Kellert and researchers at the Rocky Mountain Institute are developing more such documentation, hoping to inspire clients to commission architecture that recaptures qualities of the savanna-without, of course, the danger and discomfort.
Originally published in GreenSource
Notice