Bracing for Climate Change
As signs of a warming planet become more evident, architects and engineers are exploring ways to create more resilient buildings and infrastructure.
This course is no longer active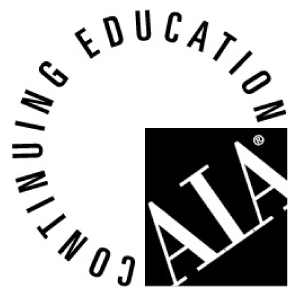 Continuing Education
Learning Objectives - After this course, you should be able to:
Understand the basic "hard" and "soft" methods of protecting against storm surges and flooding.
Explain methods of stormwater management at both the city and building site scales.
Discuss the importance of resilience and its relationship to green building.
Understand the role of insurance, codes and zoning in adapting building practices in disaster prone areas.
Credits:
Katrina, Irene, and Sandy.
A decade ago, these names would have rolled off the tongue like a trio of benevolent sisters. But today they resonate as bellwethers of a challenging new paradigm. No individual storm can be attributed to climate change, but the increased frequency of extreme events and rising global temperatures leave little doubt that we need a new set of tools for adapting to a shifting climate. Reducing greenhouse-gas emissions remains essential in addressing the ultimate impact of climate change, but it's clear that the conversation is expanding to include making the built environment more resilient.
A painful wake-up call for New York City, Sandy set off a debate on how to protect the city from future storms. Many, including New York Governor Andrew Cuomo, are calling for "hard" infrastructure solutions such as seawalls and other engineered surge-protection structures. London's Thames Barrier, for example, has been deployed 119 times since its completion in 1982. Walls and levees are expensive and, as in the case of New Orleans, sometimes come with the fortresslike effect of separating a city and its residents from the experience of water.
Sea-level rise is exacerbating the problem of more frequent and severe storms. In the last century the sea level has risen about 10 inches on the New York waterfront. If projections about the impact of melting land-based Arctic ice are correct, sea levels could rise over 36 inches by 2080, according to the New York State Department of Environmental Conservation. With a large portion of the city less than 6 feet above the high-tide level, any increase in sea level will significantly worsen flooding from storm surges.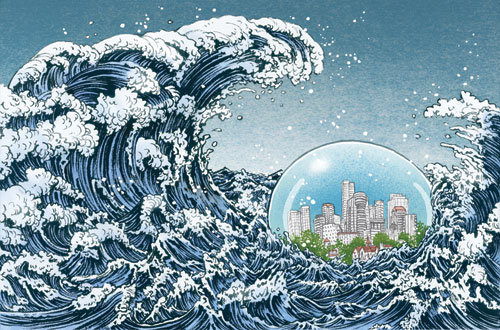 Illustration by Yuko Shimizu
Originally published in GreenSource.
Notice