BIM Promotes Sustainability
Practitioners are finding paths to green through interoperable software
This course is no longer active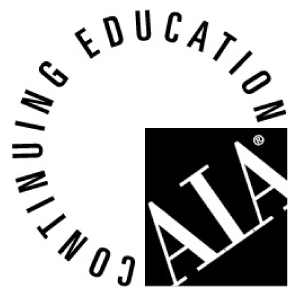 Continuing Education
Learning Objectives - After this course, you should be able to:
Describe building- information modeling (BIM).
Explain strategies for applying BIM to promote sustainability.
Discuss uses of BIM at different phases of a building's life cycle.
Understand how BIM relates to green "best practices" within your own discipline.
Credits:
Construction was about to begin on the restoration and addition for historic Grant School, in Washington, D.C. The contractor had nearly finished the time-consuming coordination of mechanical, electrical, and plumbing trades. Then work ground to a halt. Local legislation had just passed requiring all public buildings to achieve LEED certification. Already underway, Grant School was exempt from the requirement, but the Office of Public Education Facilities Modernization was eager to demonstrate their commitment to green.
Back to the drawing board? Not quite. The so-called "School without Walls" had been designed by Ehrenkrantz Eckstut & Kuhn (EE&K) Architects using "building information modeling" (BIM). So, modifications to the design-upgrading mechanical systems and acoustics to LEED for Schools standards-were relatively straightforward. EE&K principal Sean O'Donnell, AIA, explains that the historic wood-batten ceilings were preserved, but their backing changed from reflective plaster to absorptive ceiling tiles. The project already featured daylighting, reuse of an existing building, and proximity to public transit, earning LEED points. O'Donnell recalls: "The whole team of architects, builders, and an acoustical consultant sat around a table with the LEED checklist to figure out what we'd have to do. After a few weeks, we concluded we could at least get the project certified, and there'd be only a modest impact on schedule and budget. The owner was comfortable with the changes that would fulfill their goals."
Without the flexibility of BIM, the rework would have taken much longer and its cost might have been prohibitive. Now the high school is on track for completion in late 2009. Dwayne Sellars, BIM manager for Turner Construction, was responsible for coordinating the MEP trades. When a quieter acoustical environment called for larger ducts and more transfer grilles, fitting in all the equipment became more difficult. Sellars reports the rework took about six weeks, including the time spent with the architects and completing the coordination. "There would have been a greater time delay had we not had the modeling." Because of such efficiencies, in fact, Turner has begun using models even when the architect doesn't because they reveal conflicts between systems that are often discovered only in the field, resulting in fewer change orders.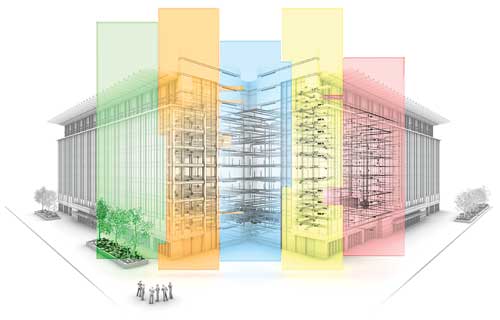 An integrated design team works on one building, but each team member sees it through a different lens: architectural, structural, mechanical, or electrical.
Illustration by Bryan Christie Design
Originally published in GreenSource
Notice