A New Era for Fire Protection and Life Safety
While NIST awaits public comments about its investigation into the Causes of the collapse of the World Trade Center Towers, tall Buildings Continue to Rise
This course is no longer active
From Architectural Record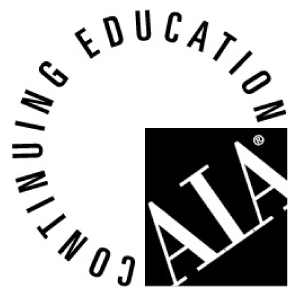 Continuing Education
Learning Objectives - After this course, you should be able to:
Discuss increasing construction and design requirements for high-rise buildings.
Explain the concept of three rings of defense for high-rise buildings.
Describe methods of redundancy and diversity for defense of buildings.
Credits:
On June 23, the National Institute of Standards and Technology (NIST) released a 10,000-page report on the collapse of the World Trade Center (WTC) on September 11, 2001, now starkly referred to in shorthand as 9/11. The report (available atwtc.nist.gov) was conducted over three years under the authority of the National Construction Safety Team (NCST) Act, which had been signed into law on October 1, 2002.
According to the report's executive summary, the goals of the investigation were to examine the building construction, materials, and the technical conditions that contributed to the chain of events resulting from the collision of two commercial airliners into the WTC Twin Towers. The investigation yielded a plethora of recommendations for improvements in the way buildings are designed, constructed, maintained, and inhabited, as well as suggestions for revisions to current codes, standards, and practices. Thirty recommendations are divided into the following eight groups: increased structural integrity, enhanced fire resistance of structures, new methods for fire-resistance design of structures, active fire protection, improved building evacuation, improved emergency response, improved procedures and practices, and education and training.
While these recommendations will greatly influence the course of building-code revisions for decades to come, NIST is a nonregulatory agency of the U.S. Department of Commerce with no statutory authority to assign fault or negligence or mandate code revisions. Its main mission is fact-finding, in order to improve the safety and structural integrity of all buildings. "NIST's recommendations do not contain specific language regarding proposed code or law changes, but rather areas where code, product, or policy development changes should be made or considered," explains James Quiter, ArupFire principal. Quiter chairs the High Rise Building Safety Advisory Committee, formed by the National Fire Protection Agency (NFPA) to review the report with NIST officials and formulate responses. In addition, various structural-engineering organizations, the American Institute of Architects, the Society of Fire Protection Engineers, and others have formed committees to look at and respond to the report. Several of the major engineering firms, including Arup, have also formed in-house review groups to coordinate official responses to the report.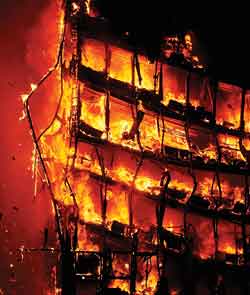 Photography: © AP Photo/Alvaro Hernandez
The overall impact of the report remains to be seen. There are some recommendations, which, if taken to their fullest extent, could have substantial ramifications for tall-building design. Several recommendations have already been implemented independently. There are still others that will need to wait for further development of new products, but as Skidmore, Owings and Merrill's (SOM) technical architecture partner, Carl Galioto, FAIA, predicts, the issuance of the report may spur that development.
In the meantime, tall buildings continue to rise. There are 96 high-rise buildings under construction in New York City, according to Emporis, an information provider with a focus on high-rise buildings (12 floors and more). Until the codes change to reflect the NIST recommendations, decisions about how far a project should go beyond complying with existing codes is left to the architects, engineers, and owners who design and pay for them. Safety issues notwithstanding, their choices continue to be influenced by economics, building use, location, and in the case of post-9/11 New York, the public profile of the building.
Originally published in Architectural Record.
Notice