Seeds of Change: Architects and landscape architects are helping create new growing strategies to combat climate change, protect fragile ecosystems, and feed burgeoning populations.
Architectural Record
Although still tiny, vertical farming is the fastest-growing sector in U.S. agriculture. A projected compound annual growth rate (CAGR) of more than 20 percent from 2020 to 2026 is expected to bring sales to around $10 billion a year. And while significant numbers of start-ups in the capital-intensive sector have failed—as indicated by the track record of several initiatives profiled in this magazine eight years ago (RECORD, August 2013)—experts say that's an inevitable aspect of an emerging technology.
Among the growing number of enterprises going strong, however, is Vertical Harvest, the first vertical hydroponic greenhouse in North America. Cofounded by architect Nona Yehia, principal at GYDE Architects, the company began operations in 2016 in Jackson Hole, Wyoming. Jackson is a rural town, but it performs like a city in relevant ways: 97 percent of its developable land is already in use, and, with a four-month growing season, 98 percent of its food is imported. Inspired by Despommier's work, the need for a local food supply, and the opportunity to provide meaningful work for community members with intellectual and physical challenges, Yehia designed a three-story greenhouse for a 30-by-100-foot municipally owned lot next to a parking garage. "The town councilor who showed us the property thought we'd put up a plastic hoop structure to extend the growing season a couple of months, employ a few people, and call it a day," recalls Yehia. But she and her business partners wanted to grow as much food as possible, to employ as many people as possible, and to do both year-round. "That's where the idea to grow up came from," she says.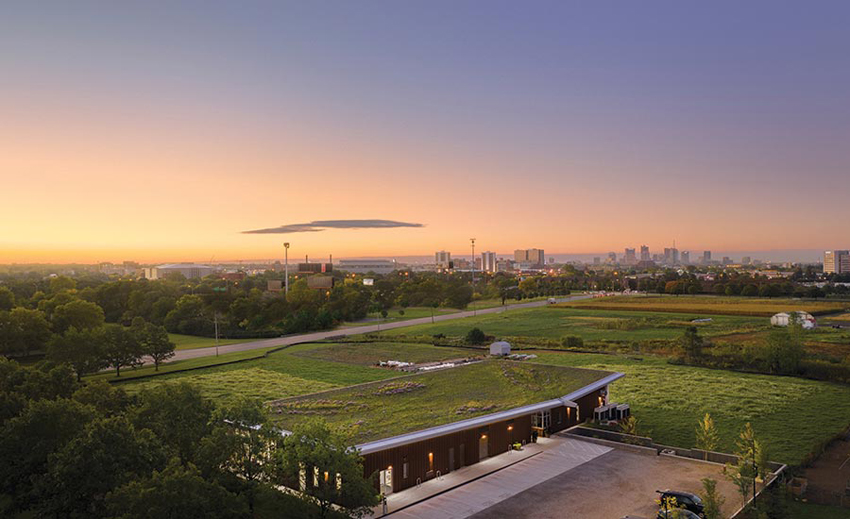 PHOTOGRAPHY: © BRAD FEINKNOPF
A HUB for teaching, research, and community engagement, located within sight of downtown Columbus and designed by Erdy McHenry Architecture, supports Ohio State's CEA efforts.
With a footprint of a tenth of an acre, the greenhouse produces as much food as would a 10-acre conventional farm. It employs 30 people, more than half of whom have a disability. And it's profitable. "It would have been easier as a nonprofit," Yehia says, "but we were committed to creating a replicable model that is not about charity: it's about empowerment."
After five years of operation, Vertical Harvest is ready to expand. Construction is scheduled to start this year on a second location that incorporates affordable housing and municipal parking in Westbrooke, Maine. The new 70,000-square-foot greenhouse is expected to provide the equivalent of 50 full-time jobs and to produce 1.3 million pounds of produce a year, supplying hospitals, corporate cafeterias, schools, chefs, restaurants, and caterers, as well as individual customers. "These ecosystems can put out a lot of food," says Yehia. "Making sure you have customers who can buy at scale is as essential to success as growing plans."
Vertical Harvest intends to build up to 15 farms in the next five years, with agreements already in place for projects in Philadelphia and Harrisburg, Pennsylvania, and Chicago, and discussion is under way for five other locations. Like the Wyoming and Maine projects, they will integrate social value and community engagement with their agricultural mission. "It's the perfect intersection to show what architecture can achieve in its social role in our communities," Yehia says. And while she has run Vertical Harvest as designer, entrepreneur, and urban farmer, it's entirely possible for architects to advocate for urban agriculture in their more usual role as prime consultants, coordinating the work of other experts.
As CEA picks up speed, the time may not be far off when every municipality will incorporate vertical farming into its civic infrastructure, valued the way public libraries and recreation centers are. "It should be something that we all expect to see when we go to cities," Yehia says: "infrastructure that grows food and futures, and bolsters the sustainability of the community."
Supplemental Material:
Artificial Lights to Make Plants Grow, SLICE, November, 2020.
| | |
| --- | --- |
| | Architectural Record is the #1 source for design news, architect continuing education, and info on sustainability, houses, projects, and architectural products. |
Originally published in Architectural Record
Originally published in April 2021
Notice