An all-electric movement charges ahead in the race to reduce carbon emissions
Architectural Record
This test is no longer available for credit
Electrification fans say that such remarkable emissions reductions don't mean that architects can ignore efficiency. "I worship at the church of the envelope," jokes Barthol­omy. A highly insulated enclosure is critical for improving heat pump performance and containing costs, he explains. That, along with other sustainable-design fundamentals, such as proper solar orientation, daylighting, and the optimal configuration of mechanical systems, will prevent the overbuilding of renewable-generation capacity.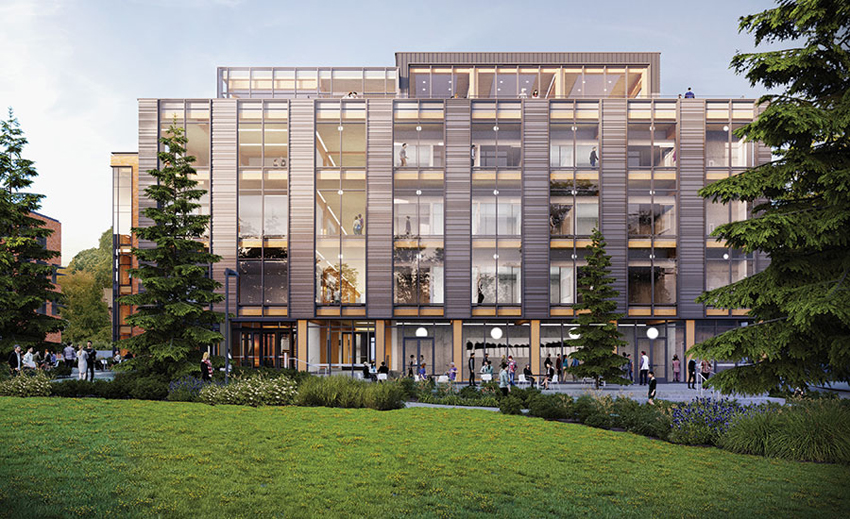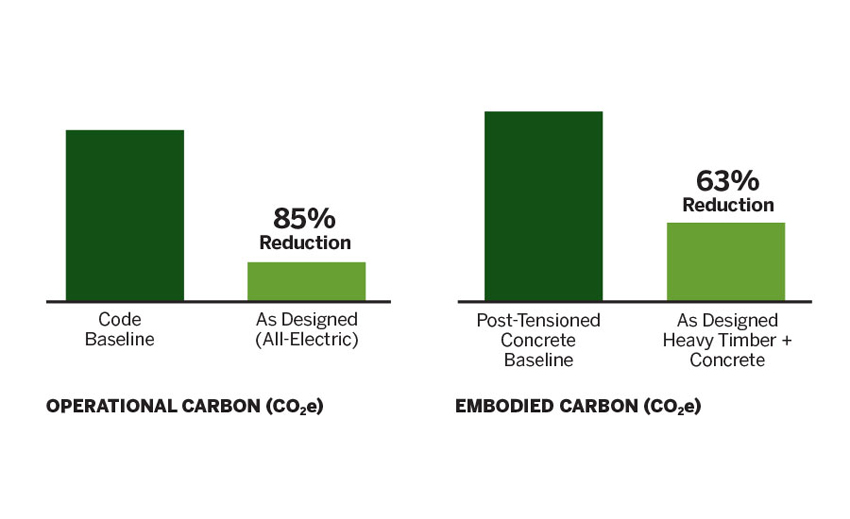 IMAGES: COURTESY LMN ARCHITECTS
BY FORGOING a connection to the central steam plant and using mass timber, LMN Architects has cut carbon emissions substantially in its design for a building at the University of Washington's business school.
Efficiency was definitely top of mind for Boston-based architecture firms William Rawn Associates and Arrowstreet when designing the recently completed King Open/Cambridge Street Upper Schools and Com­munity Com­plex, in Cambridge, Massachu­setts—the first all-electric, net zero emissions school in the state. The 270,000-square-foot development, which includes two public schools, a community library, and district administrative offices, has a 3,600-panel, 1.3 mW photovoltaic system on its roofs and window light shelves, as well as ground-source heat pumps with 197 geothermal wells for radiant heating and cooling. Nevertheless, many other tightly coordinated measures informed by extensive energy modeling were required. To reach the design target of using 43 percent less energy than a typical school in the region, the buildings include thermally robust envelopes, with R-28 brick and terra-cotta wall sections, and R-40 roofs; a lighting scheme that prioritizes daylight over electric illumination; and displacement ventilation tempered by the radiant system. The architects also engaged the users as part of the design process to help them understand occupants' needs while lowering the complex's emissions profile. Samuel Lasky, a Rawn Associates principal, cites shared staff workrooms, equipped with ­fridges and coffee makers, as one product of this process. The idea is that the rooms will deter teachers from bringing their own power-hungry appliances into their classrooms. "Hopefully, these spaces also provide an opportunity to run into a colleague and have a useful conversation," he adds.
Architects are increasingly aware that operations are not a building's only source of carbon emissions. They are paying closer attention to embodied carbon, the carbon emitted during construction and the manufacturing and transport of materials. Seattle-based LMN Architects, in designing Found­ers Hall, an 85,000-square-foot academic building for the business school at the Univer­sity of Washington, now under construction, convinced the client not to hook up to the university's gas-fired central steam plant and to go all-electric. That approach, and additional strategies such as naturally ventilating the building's offices, is expected to reduce operational carbon by 85 percent compared with a building that complies with Seattle's already stringent code. But, on top of that, its mass-timber structure is also a significant source of emissions savings, reducing embodied carbon by 63 percent when compared to using post-tensioned concrete, according to LMN's calculations.
To shrink the emissions profiles of buildings will take all the tricks that design and construction professionals, clients, and regulators have up their sleeves. And to take full advantage of the all-electric trend, they will need to do more than swap out one set of appliances for another. Success will entail additional renewable-generation capacity, improved energy-storage options, and innovations in grid-friendly technologies so that utilities can better manage demand. We will also need equitable funding mechanisms so that low-income communities, who often bear the brunt of the climate crisis, can reap the rewards of an electrify-everything movement.
Significantly, such financing must address the retrofit market, since, as Urban Green's Mandyck points out, much of our current building stock will be here for a very long time: in New York, 90 percent of the structures that will exist in 2050 are already standing. If we don't confront that challenge soon, he says, we will run out of ways to reduce emissions. "Our carbon footprint will already be baked in."
Supplemental Materials
Going Electric: Retrofitting NYC's Multifamily Buildings, Urban Green Council, April 2020. (Through page 11)
| | |
| --- | --- |
| | Architectural Record is the #1 source for design news, architect continuing education, and info on sustainability, houses, projects, and architectural products. |
Originally published in Architectural Record
Originally published in December 2020
Notice