An all-electric movement charges ahead in the race to reduce carbon emissions
Architectural Record
Learning Objectives:
Explain how electrification reduces the carbon emissions profile of the built environment.
Describe current policy and regulations that incentivize or require all-electric construction.
Explain what a heat pump is and how it works.
Describe strategies for optimizing energy efficiency in all-electric buildings.
Credits:
This course can be self-reported to the AIBC, as per their CE Guidelines.
This course is approved as a Structured Course
This course can be self-reported to the AANB, as per their CE Guidelines
Approved for structured learning
Approved for Core Learning
This course can be self-reported to the NLAA
Course may qualify for Learning Hours with NWTAA
Course eligible for OAA Learning Hours
This course is approved as a core course
This course can be self-reported for Learning Units to the Architectural Institute of British Columbia
This test is no longer available for credit
View course on architecturalrecord.com »
EHDD is a California firm with a long history in deep-green design, and several net zero energy buildings—such as the David and Lucile Packard Foundation in Los Altos, California, and the Exploratorium, on San Francisco's Embarcadero—in its portfolio. But one-off projects like these, says principal Scott Shell, can't provide a remedy at the speed and scale we need to tackle the climate emergency. "We need a solution for a majority of buildings, not just for exceptional buildings."
Shell and many others see potential in a trend known as electrification, a term that describes substituting oil- and gas-burning equipment with electric systems for space- and water-heating, and using all-electric technologies for cooking. By transitioning from burning fossil fuels on-site and instead relying on the grid, we can significantly reduce greenhouse-gas emissions, since electricity is increasingly being generated from carbon-free resources like wind and solar energy.
States and cities—many of which have ambitious climate targets—are propelling this movement forward. The first to act was Berkeley, California. In July 2019 it banned gas connections to new small and midsize residential buildings. Since then, similar policies have been sweeping that state, with 38 additional jurisdictions adopting regulations that either prohibit or discourage gas infrastructure in new construction. Some California cities are already broadening the scope of regulations adopted only a few months earlier. For instance, in San Francisco, the Board of Supervisors adopted two ordinances in January 2020—one that bans gas connections in new or significantly renovated municipal facilities, and a second one that sets a higher energy-performance bar for buildings that opt to include gas infrastructure. Now officials there have approved legislation that will prevent the city from issuing building permits for any new construction with gas hookups, starting in June 2021.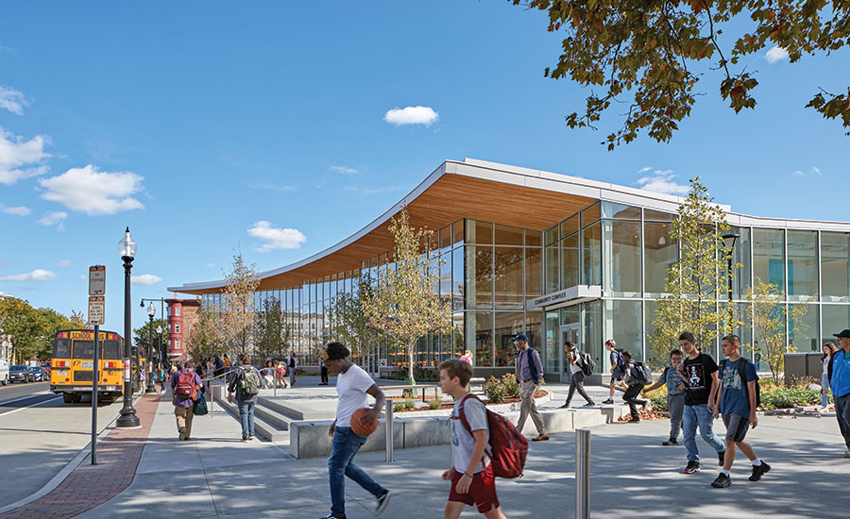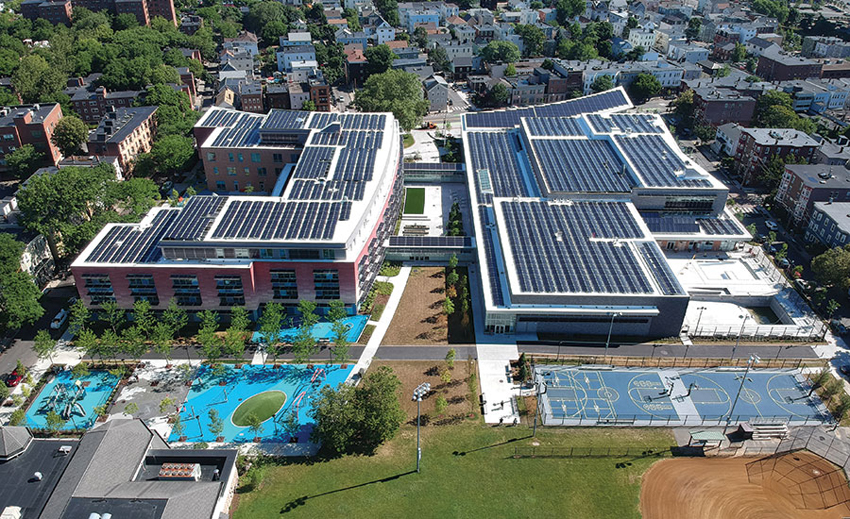 PHOTOGRAPHY: © ROBERT BENSON (TOP); SOPHIA PANOVA (BOTTOM)
THE KING OPEN/Cambridge Street Upper Schools and Community Complex (top and bottom), has been designed by William Rawn Associates with Arrowstreet as the first all-electric, net zero emissions school in Massachusetts.
The flurry of activity is not limited to California. Building-electrification policies have been proliferating elsewhere, including Brookline, Massachusetts, where, in Novem­ber 2019, Town Meeting members overwhelmingly approved a bylaw to prohibit oil and gas infrastructure in new buildings and significant renovation projects. Though the Massachu­setts attorney general has struck down the measure for being in conflict with state laws, a coalition of electrification proponents, including AIA Massachusetts, is now recommending legislative action at the state level. Mean­while, officials in Seattle are in the final stages of adopting a code that eliminates gas space-heating in new commercial buildings and gas water-heating for new hotels and multifamily buildings taller than three stories. An executive order, signed by the mayor, is already in place that prevents new municipal buildings from using fossil fuels for space- and water-heating or cooking. And in Washing­ton, D.C., the district's Department of Energy & Environment has laid out an electrification timetable that ends gas hookups in new construction or major renovations by 2026. It also requires that replacement heat and hot-water systems be electric by 2035, and calls for residential construction, both new and existing, to be all-electric by 2050.
Originally published in Architectural Record
Originally published in December 2020
Notice