The Green Market Reaches Critical Mass
A New Survey Finds a Growing Commitment to Green
This course is no longer active
Advertorial course provided by Architects and Product Manufacturers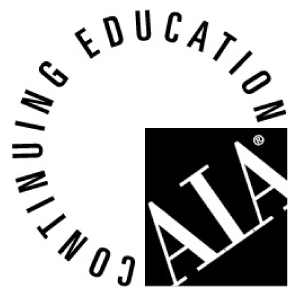 Continuing Education
Learning Objectives - After this course, you should be able to:
Have an increased understanding of the expanding green market and its different sectors.
Find sources of research findings on building energy conservation, productivity and efficiency.
Appreciate the importance of informed selection and specification of green products and materials.
Credits:
As green building grows, so green products multiply. Since the PNC Financial Services' Firstside Center in Pittsburgh became the first U.S. Green Building Council's (USGBC) Leadership in Energy and Environment (LEEDâ"¢ ) certified building in 2000, projects have ranged from the Phillip Merrill Environmental Center, Chesapeake Bay Foundation, by the SmithGroup to New York's Coney Island's recently renovated Stillwell Avenue subway station in Brooklyn, a solar-powered train terminal. In five years, 285 projects have been LEED certified and 2,164 buildings registered.
But, as one architect remarked recently, "green isn't what it used to be when people thought it meant only solar panels."
Whole companies are even going green. One large construction company, for example, has made a corporate-wide commitment to green building. Aside from greening its construction practices and building internal expertise, it is also sponsoring a series of green building meetings promoting sustainable design and construction in education.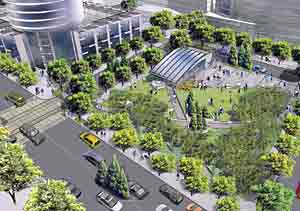 Lloyd Crossing Sustainable Urban Design Plan, Mithun
Source: 2005 COTE/AIA Green Project Awards
The American Institute of Architects' national and state chapters have green agendas and project awards programs. The AIA Committee on the Environment (COTE) recognizes projects that address issues such as energy and water conservation and sustainable or renewable products and construction materials.
The Eastern Sierra Residence in Gardnerville, NV, by Arkin Tilt Architects, one of the 2005 COTE Green Project winners, for example, contains structural insulated panels insulated concrete forms and Forest Stewardship Council (FSC)-certified wood.
This year the AIA launched its Sustainable Design Assessment Teams (SDAT) community assistance program, which brings a team of volunteer professionals to work with community decision-makers and stakeholders to help them develop a vision and framework for a sustainable future. In October 2005, AIA board member and charter president of GreeningUSA Peter J. Arsenault, AIA, NCARB, LEED-AP, Principal, Peter J. Arsenault, Architect, who led a SDAT team in Northampton, MA, reports that the team examined a range of issues, including energy use and efficiency. He also notes that private developers of small and large projects see the benefits of green building because of the increase in value and the philosophy of providing a better product.
Originally published in Architectural Record.
Notice