Architects' Widening View of Windows: Technical Advances Elevate the Role of Fenestration
This course is no longer active
Advertorial course provided by Andersen Windows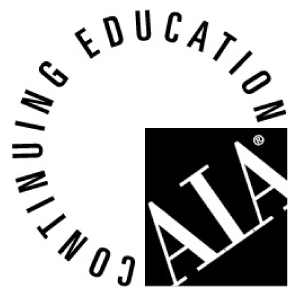 Continuing Education
Learning Objectives - After this course, you should be able to:
Trace the evolution of windows and design and how our culture is shaped and reflected by the use and design of windows
Understand the importance of taking a holistic approach to fenestration design to consider the historical, social, and cultural context
Understand how technological advancements redefine what is possible in design and integration of the window components
Credits:
"The history of architecture is the history of the struggle for the window," Le Corbusier, the master of modernism, said in 1929. If Le Corbusier were alive today, he would find that struggle rages on, with the design and performance of the contemporary window reaching far beyond his imagination. Now instead of considering a window as an opening in a wall for light or ventilation or view, an architect is driven to consider the use of glazing as a defining factor in building design and performance. It's a much more daunting and complicated task - but ultimately a more challenging and rewarding one.
A recent exhibition entitled "Picture This" at the National Building Museum in Washington, D.C., put it this way: "Windows now go well beyond being simple devices that let in light and air. Today they function as integral components of complex building envelopes, selectively filtering aspects of the larger environment. As manufacturers have developed new technologies to improve visibility, security, and comfort, windows have become elements of sophisticated systems that control light, ventilation, moisture, dust, sound, and even infrared and ultraviolet light."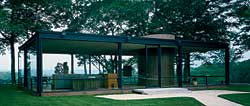 Philip Johnson's Glass House.
Photograph © Richard Payne, FAIA
Most architects are familiar with the state-of-the-art contemporary window. What needs to be pondered is that no other building component has had such a significant impact on design - exterior form, perception of space, relation to exterior space, building performance, exterior and interior detail. The most obvious may be appearance. "The shape, character, and construction of the window have an enormous effect not only on how our buildings work and how it is to live in them, but also how they look," said Howard Decker, curator at the National Building Museum. "Technological development has been a very significant factor in the 20th century dialogue between the window and architecture and now we can make a window look like anything. The question is: what should a window look like?"
Manufacturers today offer architects more options for window design than ever before to address what a window may look like as well as what it can do - infinite degrees of transparency, dozens of framing and opening choices, insulating alternatives, and security features. Thermally, windows compete with insulated walls in terms of the ability to reduce heating and cooling loads. So, in essence, the window has been dissolved into the wall and visa versa.
Originally published in Architectural Record.
Notice