Getting on Board with Building Information Modeling
Using 3-D modeling to integrate the design and construction process
This course is no longer active
Advertorial course provided by American Institute of Steel Construction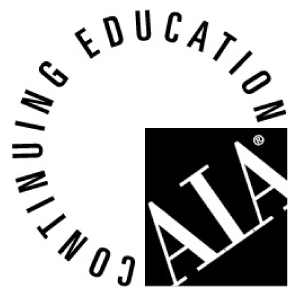 Continuing Education
Learning Objectives - After this course, you should be able to:
Apply Building Information Modeling (BIM) to a building project.
Understand the major benefits of BIM.
Recognize how BIM enables an integrated project team to deliver a project that is completed faster, is less expensive, of higher quality, and safer than those developed with traditional delivery systems.
Learn how collaborating with the structural steel industry can provide design professionals with valuable information and best practices when applying BIM to projects.
Credits:
"If you want to survive, you're going to change; if you don't you're going to perish,"
- 2005 Pritzker Prize Laureate, Thom Mayne, FAIA, referring to Building Information Modeling at the 2005 AIA Convention
Architects are increasingly adopting Building Information Modeling (BIM) as standard practice, and rising to the challenge of "change or perish." The sentiment echoing throughout the building design and construction industry is that the days of two-dimensional (2-D) drawing are numbered. BIM allows for more collaborative, integrated design-construction teams that provide value to owners and design professionals.
Like computer-aided design (CAD) in the 1970's, BIM−the process of using three-dimensional (3-D) modeling technology for creating, communicating, and reviewing building information−is the next step in the evolution of the design and construction process. BIM offers a better way of delivering projects in a collaborative and less fragmented fashion that blurs the line between design and construction. With BIM, the project is designed and virtually constructed during the design phase, which allows construction to proceed more quickly in the field, reducing overall project costs, and enabling the building to begin operation sooner. The result is a benefit to owners, and the project team.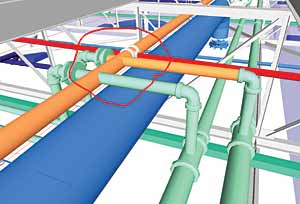 The 3-D model of General Motors' new engine plant allowed A/E firm Ghafari Associates and design team members to digitally detect and correct interferences between building components early in design.
Photo credit: Ghafari Associates
"BIM is about sharing better information, earlier in the process, and broadly," says Daniel Friedman, FAIA, director of school of architecture, University of Illinois at Chicago. He says BIM holds the potential for immediate quantity surveys, identification of conflicts and omissions, fewer change orders, project delays, and cost overruns, and more clearly defined and shared accountability, risk, and reward.
"BIM will change the distribution of labor in the design phases," says Carl Galioto, FAIA, partner, Skidmore, Owings & Merrill (SOM), New York. "When done correctly, the labor is front-loaded earlier in the design process, during the schematic and design development phases, and less in construction documents."
Originally published in Architectural Record.
Notice