Reaching the Roof: Specifying Fixed Access Aluminum Ladders for Safety and Efficiency
Installed in virtually every commercial structure, fixed access aluminum ladders are a necessary feature for maintaining both building equipment and occupant safety.
Sponsored by ALACO Ladder Company
Learning Objectives:
Summarize code standards for fixed access ladders that ensure the health, safety, and welfare of users.
Discuss the safety and code compliance aspects of different types of fixed access ladders.
Identify uses and applications of fixed access ladders.
Evaluate design features and materials required for safe fabrication and installation.
Credits:
This course can be self-reported to the AIBC, as per their CE Guidelines.
This course is approved as a Structured Course
This course can be self-reported to the AANB, as per their CE Guidelines
Approved for structured learning
Approved for Core Learning
This course can be self-reported to the NLAA
Course may qualify for Learning Hours with NWTAA
Course eligible for OAA Learning Hours
This course is approved as a core course
This course can be self-reported for Learning Units to the Architectural Institute of British Columbia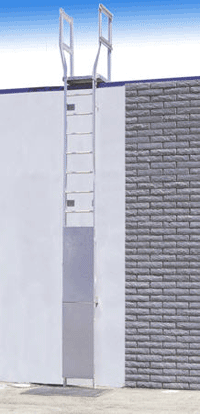 Configuration shown: platform over parapet
Ladders have always occupied an iconic role in art and allegory. They are a metaphor for moving upwards, whether to heaven or a cliff-face dwelling. Cave artists translated the metaphor literally when they painted unmistakable images of ladders, as did stone masons who carved angels gracing ladders on medieval cathedrals.
Today, we prefer to think of them as tools for reaching roofs and upper stories, broadly categorized as portable ladders or fixed access ladders. A portable ladder, as the name implies, refers to those ladders, which can be carried. A fixed access ladder is a ladder which is permanently attached to a structure either at one or both ends.
Fixed access ladders are found in virtually every commercial building, most often required by building codes as a means of reaching equipment located on the roof. Yet a fixed access ladder, being relatively small and often an afterthought to the design and construction of an entire building, is sometimes ignored and its design left to the last moment or hurriedly specified in response to urging from the building inspector. Unfortunately, uninformed specification, inadequate communication with fixed ladder manufacturers and lack of knowledge regarding code compliance can and often does lead to faulty ladder installations with potentially dangerous results. A knowledge of ladder materials and construction, code compliance and safety issues, plus the ability to evaluate site requirements and interpret manufacturers specifications are therefore all critical.
Ladder Materials and Construction
Materials
Traditionally constructed from wood, ladders were heavy and time consuming to fabricate on site. The introduction of aluminum and mass produced steel in the 19th century not only transformed the way ladders could be constructed, but radically opened up manufacturing possibilities for fixed ladders. While an improvement over wood, steel has similar disadvantages. However aesthetically desirable for an urban loft ladder, it is, like wood, heavy, costly to ship, requires considerable manpower and equipment to install and is subject to rust and corrosion.
Aluminum, on the other hand, is lightweight, flexible, can be engineered to precise conditions off site, is not subject to rust and corrosion and is the ideal material for the construction of fixed access ladders and their numerous industrial and commercial applications. Structural aluminum is supplied in various grades, which affect the strength, sturdiness, thickness and width of ladder components. Ladder manufacturers most commonly select grades 6063-T5 and 6061-T6.
Aluminum alloy 6063 grades are mostly used in extruded shapes for architecture, particularly window frames, door frames, and roofs. Aluminum alloy 6061 is used in aircraft structures, yachts, and automotive parts, depending on the temper, or heat treatment, of the material. In functional terms, aluminum alloy 6061-T6 is 119 percent stronger than the more commonly used 6063-T5 extrusions and therefore offers enhanced safety and longer life. It is also 58 percent harder which provides more resistance to scratches and abrasions.
Other materials: steel, stainless steel, and fiberglass, to name a few that are available. Each has specific features that may be required for any particular installation.
Originally published in December 2013
Notice