The Health and Design Benefits of Accessing Daylight and Views with Dynamic Glass
A closer look at how electrochromic glass provides healthy, productive, and controlled daylight exposure without compromising energy performance
Sponsored by SageGlass
Learning Objectives:
Describe why access to daylight and views in the built environment positively impact the health and productivity of building occupants, and understand how thermal and visual discomfort from uncontrolled sunlight admission can completely negate those positive benefits.
Recognize the challenge that exists between having enough glazed area on the building envelope to achieve sufficient daylight penetration and views for occupants, and not over-lighting or over-heating the space, compromising both human comfort and building energy performance.
Understand the performance of electrochromic glass and the ways in which it can offer a solution that enables designers to use more glass in the building envelope to achieve the needed daylight sufficiency and views, without impacting energy efficiency goals, occupant comfort, or architectural design aesthetics.
Explain how to use appropriate zoning and control to provide the optimum balance of glare control, daylight admission, good light color rendering, and energy performance.
Analyze the cost-benefit of this dynamic sun management solution in terms of up-front costs and payback on human factors, as well as energy.
Credits:
Daylight has a powerful effect on human health. Not only are our bodies designed to synthesize sunlight into vitamin D that aids bone growth and helps fight certain diseases, but important internal systems that regulate our physical, mental, and behavioral well-being are evolutionarily programmed and maintained by exposure to daylight. Disrupting the natural circadian rhythms of the body, which take their primary cues from the daily cycle of daylight and darkness, has been associated with increased risk for a cardiovascular event, obesity, diabetes, and neurological problems such as depression. Unfortunately, these are prevalent health issues today. Heart disease is the leading cause of death in the United States and diabetes is regularly within the top ten. The Centers for Disease Control and Prevention describe obesity as common, serious, and costly, identifying more than one-third of United States adults as obese. A study published in the February 2015 issue of the Journal of Clinical Psychiatry found that depression in the United States "is the leading cause of disability for people aged 15-44, resulting in almost 400 million disability days per year."
Here is one more interesting statistic to add to the heap: Americans spend approximately ninety percent of their time indoors. It seems likely that for most people, in most buildings, time inside is spent under fluorescent lighting with limited access to daylight. Although the topic of incorporating daylight and views into buildings has been gaining momentum for some time, the practice of bringing a considerable amount of daylight into the built environment and managing it effectively is not yet commonplace.
This article will explore the health and productivity benefits of incorporating daylight and views into a building. It will introduce a potent glazing solution that enables architects to design more freely with glass, providing access to daylight and views, while preventing glare and unwanted solar heat gain from entering the space and negatively impacting the comfort and energy performance of the building.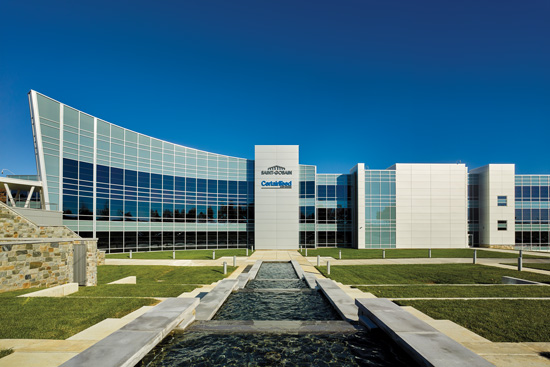 Photo ©Jeffrey Totaro 2015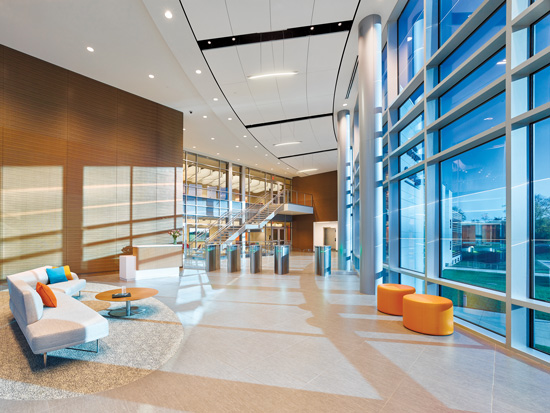 Photo ©Jeffrey Totaro 2015
Saint-Gobain North America used electrochromic glazing to help achieve points under both the Indoor Environmental Quality (IEQ) and Energy and Atmosphere credits in its quest to achieve LEED Platinum certification in its new headquarters building in Malvern, Pennsylvania. The company's goal was to provide a comfortable, well-day-lit environment to support the health and well-being of its employees without compromising energy performance and in line with its corporate sustainable habitat strategy.
Originally published in Architectural Record
Notice