Health-Care Surfaces: Marrying Function with Design
How cutting-edge surfacing products create hygiene, durability, and beauty in hospitals, health-care facilities, and pediatrician offices
Sponsored by Formica Group
This test is no longer available for credit
A Tone of Serenity Needed in Health-Care Design
A patient's state of mind, in addition to the wonders of modern medicine, is a critical factor in their return to health.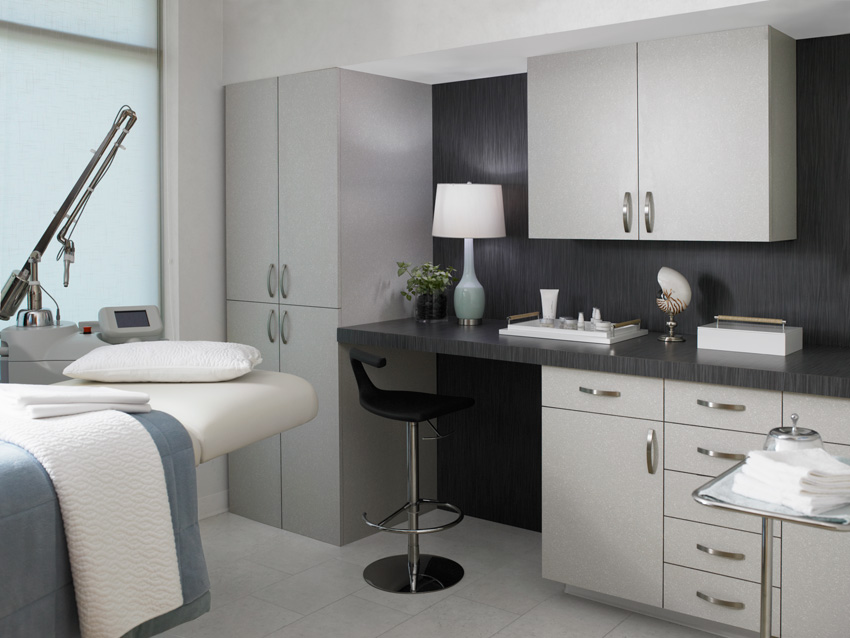 An examination and procedure room filled with calming colors and attractive materials elevates the mood of patients.
News reports have brought the topic of design in health-care settings to the public's attention. A CNN article titled "Hospital designs that are changing the way you're cared for" states:
"While the health-care system in America is in a state of crisis, the hospitals, care centers, and research facilities that make up the industry—in the States and abroad—have never looked better. Gone are the days of sterile spaces, shared rooms, and buildings that could be confused for corporate offices. Instead, we've seen a new class of hospitals that are more like hotels, with private rooms, gardens, and art installations."6
Consider the essential role of design in health care. Hospitals are continually striving to take the anxiety and stress out of their environments so patients, families, and staff can focus on care and healing. For architects and designers, this means it's essential to create a tone of serenity with attention to safety, hygiene, efficiency, and quality. Patient rooms, nurses' workstations, lobbies, waiting areas, cafeterias, restrooms, and more can be designed to reduce stress through the use of calming colors, antimicrobial surfaces, and soft patterns that support both the patients' and families' environments and the hospital's brand and reputation. With the right specification of surfaces, a health-care design can achieve the perfect balance between utility and beauty.
According to Rebecca Donner, principal at Inner Design Studio in Brentwood, Tennessee, neutral palettes continue to drive design with brighter colors used in accent elements, such as walls.
"Things have really lightened up, and neutrals are popular as they are incredibly timeless," Donner says, citing color schemes that include cream, beige, and a range of greys as well as lighter wood grains. "Environmental-inspired design continually shows how natural light supports healing, and today's lighter designs work with this."
Amy Higgins, director of interior design and associate at HMN Architects, in Overland Park, Kansas, is also using a wide range of warm earth-tone palettes for health-care clients that seek to avoid overly trendy looks and want to remind patients and family members of home.
"Children's hospitals tend to be very colorful, while adult hospitals are increasingly moving toward a hospitality or spa-like feel," she says. "When it comes to wood grains, warmer grays are making their way into more spaces as an alternate to brown and yellow hues."
Regarding material selection, project leaders at hospitals, clinics, and medical office buildings ask about durability, sustainability, and infection control. "Controlling infection is always at the top of the list for hospitals," Donner stresses. "Environmental services teams need to be able to maintain clean surfaces easily. The surfaces we use have to undergo stringent cleaning, often with bleach."
Selecting durable, nonporous surfaces for countertops and casework is key to this. Donner noted that in addition to cleanliness, many of her clients are focused on sustainable materials because they know it's important for the environment and simply "the right thing to do."
Durability across all elements rings true for Higgins as well. She says that her health-care clients leverage a lot of solid surfaces with antimicrobial properties for high-traffic countertops such as nurses' stations, reception desks, and patient rooms. With round-the-clock usage, these typically require frequent cleaning and may be exposed to water.
"Our goal is to take a product and make it as durable as we can," she says, adding that this includes custom casework packages where the firm uses laminates for cabinetry in a variety of spaces, such as waiting areas, public spaces, and patient rooms. "We often work within a value-engineering framework that requires balancing cost with longevity. It's important that we (designers) and hospital staff make the right material-selection decisions during the project so down the road their surfaces stand the test of time."
Now that we've observed an ideal patient room, let's look at the areas of a health-care environment that need both superior function and a pleasing aesthetic.
Specifying for Health-Care Facilities: Space by Space
Various spaces in a health-care facility call for different kinds of surfacing materials. Walls need to be extra durable against impacts, while laboratory counters need to resist the growth of microbes. And for intake countertops, fingerprints are a major problem to be solved.
In each case, the solution is likely a high-pressure laminate (HPL) product, or a solid surface product. The functional attributes of each type of product—antimicrobial factors, durability, cleanability, etc.—may not be evident to the casual observer. But variations in colors and patterns from different manufacturers will be disconcerting. Therefore it is advised that surface products used are sourced from one manufacturer, if possible, whose patterns and colors coordinate across various product lines. This is preferable to a scattershot approach to specification from a variety of sources.
What Are High-Pressure Laminates?
It helps to understand what HPLs are and how they are made. HPLs consist of layers of specially selected papers impregnated with thermosetting resins and bonded together under heat and very high pressure. The resulting HPL is a homogeneous, high-density sheet that is used for a wide variety of surfacing applications.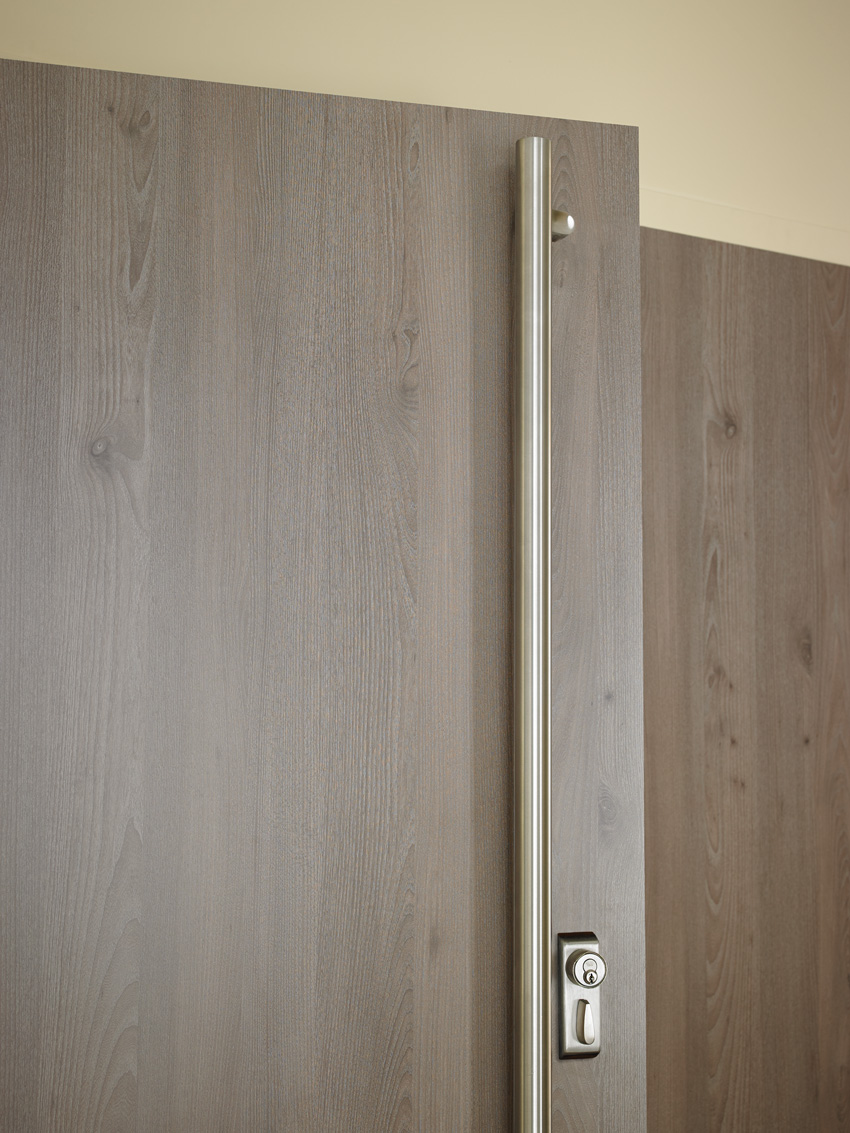 High-pressure laminates are resistant to impact, wear, heat, and staining. They perform well in demanding environments where hygiene and cleanability are important.
HPLs are highly resistant to impact, wear, heat and staining and provide a hygienic, durable, and easily maintained surfacing solution for the most demanding of environments. They can be fabricated to produce curved surfaces which, with their absence of visible seams, will eliminate joints on internal and external angles in which dirt, liquids, mold, bacteria, viruses, and other contaminants can accumulate.
Also, the wide variety of sheet sizes offered enables surfaces to be designed and manufactured with the minimum number of joints or seams. This is especially applicable in environments where a hygienic, cleanable surface with minimal seams and crevices (offering minimal harbor for germs) is desirable.
The inherent physical properties of HPLs help meet the strictest of cleaning and maintenance regimes, without the need for further additives or treatments. Because the surface is completely sealed, quality decorative laminates are impervious to liquids and are very easy to clean and maintain. Laminate surfaces are best kept clean simply by using water and mild detergent. Non-scratch liquids or creams are recommended for stubborn stains.
HPL is inert and does not support microbial growth. As an example, independent testing on a leading manufacturer's laminate for antimicrobial activity and efficacy demonstrated an inert control surface (no chemical reaction) after 24 hours of incubation for all of the tested organisms: Staphylococcus aureus, Escherichia coli, Candida albicans, and Aspergillus brasiliensis.
Today's laminates come in vibrant upbeat hues, nature-inspired tones, and well-chosen neutrals that go with everything, including modest budgets. A designer can mix and match solids, wood grains, graphic patterns, or stone looks to achieve a project's goals.
Laminates come in various grades for various applications. The two most common laminate grades for health-care settings are Grade 12 HGP (horizontal postforming) and Grade 20 VGP (vertical postforming).
Grade 12/HGS (horizontal general purpose) is intended for application to interior horizontal or vertical surfaces where design, appearance, quality, durability, resistance to stain, and resistance to heat from ordinary sources are important considerations.
Grade 20/VGP is intended for application to interior vertical surfaces where design, appearance, quality, durability, resistance to stain, and resistance to heat from ordinary sources are important considerations.
Originally published in Architectural Record
Originally published in February 2019
Notice