Decorative protection panels bring style, durability, resiliency, and safety to commercial settings
Sponsored by Formica Group
Fiber- or Fiberglass-Reinforced Plastic (FRP)
For lower budget projects, the specifier's attention might go straight to fiber-reinforced or fiberglass-reinforced plastic (FRP). The price is very low, sometimes 75 percent lower than higher-quality products. The impact resistance is a strong positive factor. It is often used in back-of-house service areas.
On the down side, the design selection of FRP panels tends to be quite limited. And while the impact resistance is good, the relatively soft surface will be easy to scratch, mar, and scuff.
Installation of FRP may require more expertise, as the product radiates imperfections in the substrate, and extra layers of mud may be required on the drywall.
Decorative Protection Wall Panels with a Fiberglass Core
Decorative protection wall panels with an entire fiberglass core are a next-level version of high-pressure laminate, or HPL, which is considered to be one of the most durable decorative surface materials and is available with special performance properties, including chemical, fire, and wear resistance. While traditional HPL is based on a very strong layer of Kraft paper (whose name is taken from the German word Kraft, which means force in that language), the newest generation of HPL for wall protection has a fiberglass core. Fiberglass is a reinforced plastic material composed of woven material embedded with glass fibers randomly laid across each other and held together with a binding substance. Fiberglass is combined with resin to form an exceptionally strong and durable composite.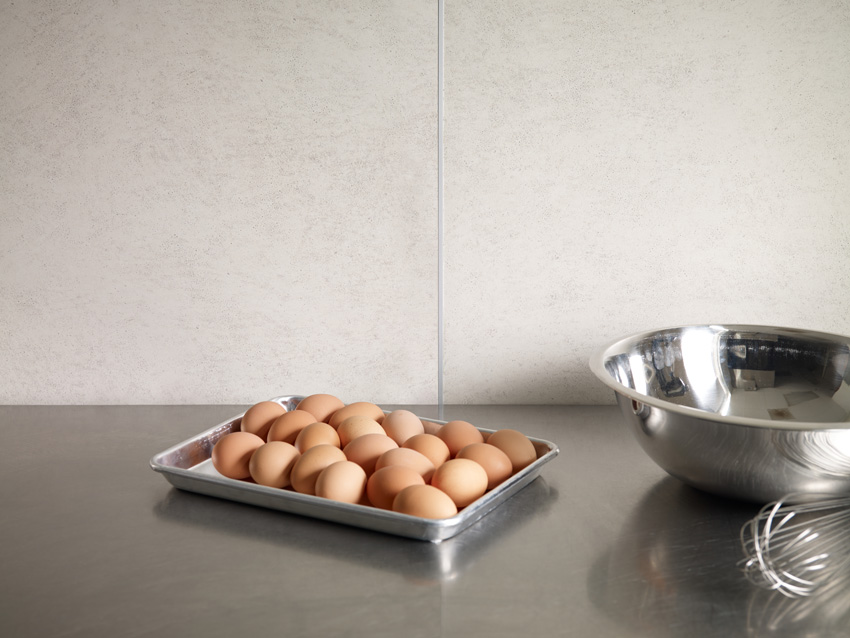 The fiberglass core makes the new generation of decorative protection wall panels extremely resilient.
Decorative protection wall panels with an entire fiberglass core have a Class A fire rating. This makes them ideal for such applications as elevators. They are extremely impact resistant and dimensionally stable. They are scratch, stain, and chemical resistant. They are also, thanks to the fiberglass core, water resistant and easy to clean. They are likely to be available in the manufacturer's full palette of colors to coordinate with other laminate and solid-surface products.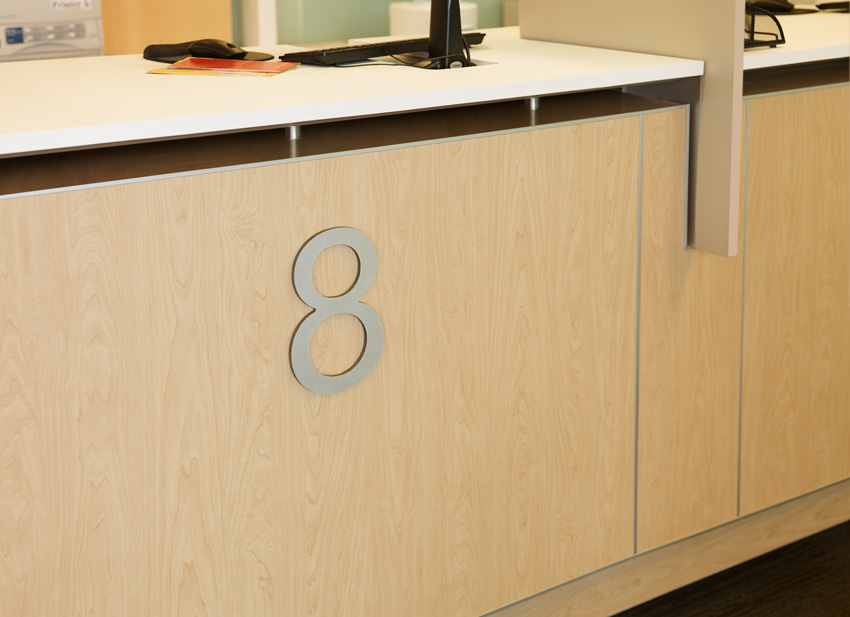 The decorative protection panels can be applied to so many substrates, thus giving the designer and contractor more flexibility.
Decorative protection panels can be applied to a variety of substrates, including:
Level 3 finished or painted drywall
Non-painted drywall and gypsum board
Plywood
Above-grade brick and concrete block
Above-grade poured concrete
MDF or particleboard
Inorganic reinforced cement board, also referred to as IRCB or HardieBacker®
Nonporous material such as tile or metal
For the best and smoothest covering to poured concrete, the wall should be furred out with furring strips or studs and covered with drywall, gypsum board, or cement board. The panels are attached to the wall with adhesive that covers 100 percent of the panel back for trouble free adhesion.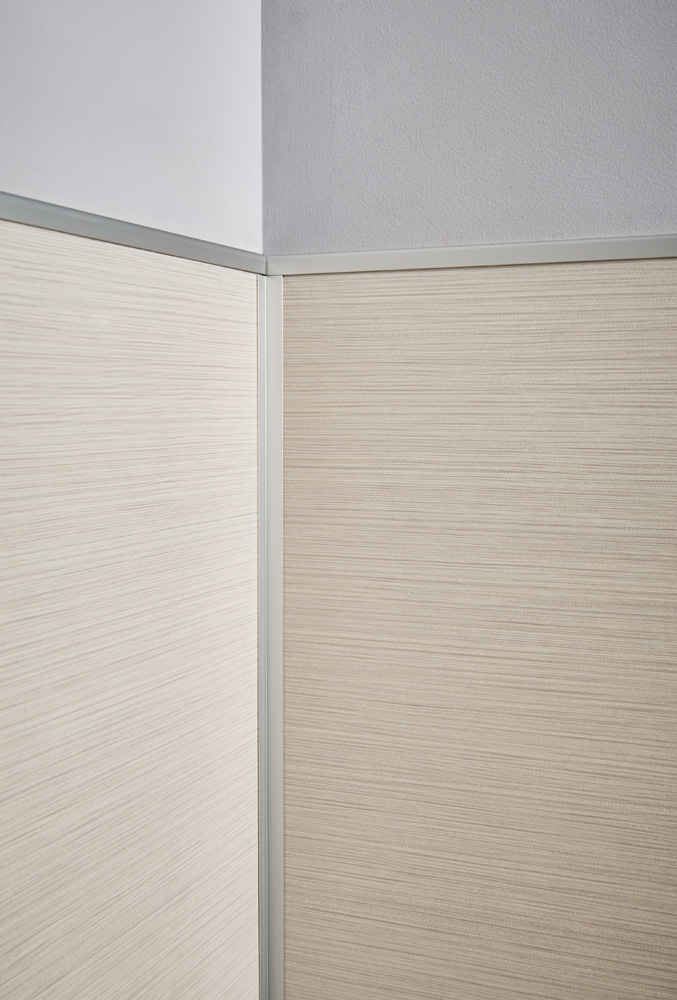 Seam treatments include anodized aluminum trims in both clear and a variety of colors. Another option is color-coordinated 100 percent silicone caulk.
Decorative protection panels are installed using a selection of seam treatments. Depending on the manufacturer, choices may include a variety of anodized aluminum trims with such profiles as inside corner, outside corner, division bar, end cap, and corner guard. The profiles may be available in such anodized colors including clear, champagne, light bronze, dark bronze, and black. Another seam treatment option would be to use color-coordinated 100 percent silicone caulk.
Testing, Standards, and Certifications for Protective Wall Panels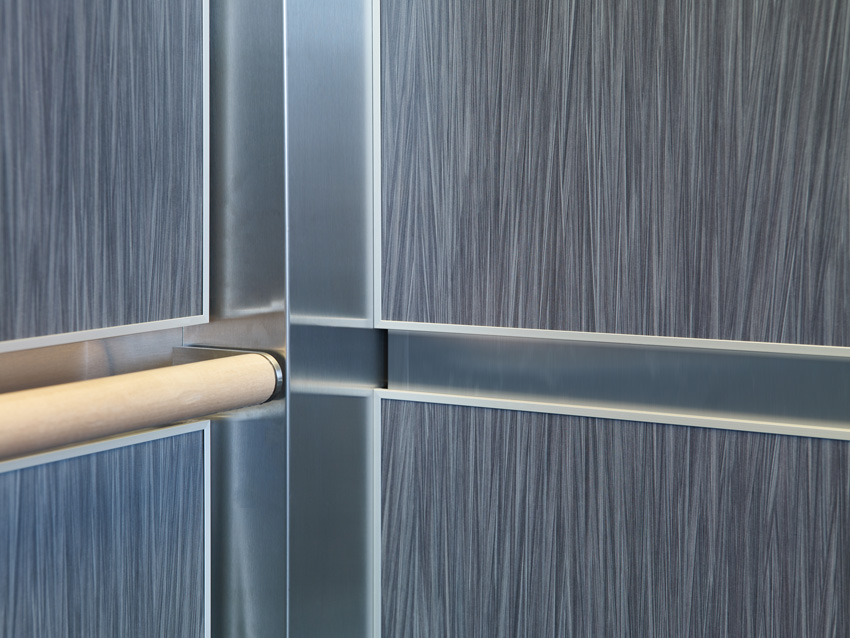 Protection panels must be tested and verified according to strength, fire rating, etc. to be used in commercial applications.
Decorative protection panels must be tested and verified by third-party labs to ensure the protection desired. Following are some testing procedures and results to consider for decorative protection panels.
ANSI/NEMA LD 3-2005
This standard was developed by the American National Standards Institute (ANSI) and the National Electrical Manufacturers Association (NEMA). This standard tests HPL for thickness, performance properties, and appearance.
For best results, specify a product with a "Pass" rating.
Barcol Hardness Test: ASTM D2583-13a
This is the Standard Test Method for Indentation Hardness of Rigid Plastics by Means of a Barcol Impressor. Test Procedure. The specimen is placed under the indentor of the Barcol hardness tester, and a uniform pressure is applied to the specimen until the dial indication reaches a maximum. The depth of the penetration is converted into absolute Barcol numbers.
Barcol hardness is measured on a scale from 0 to 100. Examples of hardness include:
35: Polystyrene panels
30–40: Plastic swimming pool liner
35: Boat repair gel coat
36.5: Fiberglass
50: Protruded polyester
65: Solid surface
72: Decorative protection panels with a fiberglass core
For best results in specifying decorative protection panels, choose a product with a high Barcol hardness rating (www.barcol-impressor.com/examples.htm).
Originally published in January 2020
Notice