Decorative protection panels bring style, durability, resiliency, and safety to commercial settings
Sponsored by Formica Group
Learning Objectives:
Discuss the need for durable, decorative panels for commercial, retail, health care, education, food service, and other settings.
Describe types of wall-protection products and their strengths and weaknesses.
Review testing, standards, and certifications for protective wall panels.
Identify the testing, standards, and certifications of high-tech laminate panels with a fiberglass core.
List a variety of other laminate choices for vertical surfaces, including metal laminates, writable laminates, and custom laminates.
Credits:
This course can be self-reported to the AIBC, as per their CE Guidelines.
This course is approved as a Structured Course
This course can be self-reported to the AANB, as per their CE Guidelines
Approved for structured learning
Approved for Core Learning
This course can be self-reported to the NLAA
Course may qualify for Learning Hours with NWTAA
Course eligible for OAA Learning Hours
This course is approved as a core course
This course can be self-reported for Learning Units to the Architectural Institute of British Columbia
This test is no longer available for credit
Hard Walls for Challenging Commercial Settings
While design and aesthetics serve as hallmarks for superior projects, another factor is becoming increasingly vital in commercial spaces: durability. If the decor is not durable—if the paint peels or walls become dented within a short time—the project cannot be called a success, and it will not reflect well on the designers and builders. For many projects, the missing puzzle piece for stylish durability is decorative protection panels on vertical surfaces.
"Today's commercial spaces need to be strong enough to stand up to the rigors of daily use, while also providing an inviting and beautiful decor," says Renee Hytry Derrington, global design lead at Formica Corporation. "With decorative protection panels, there is no trade-off between aesthetics and durability. It offers the highest level of fire protection and supreme durability, while allowing design professionals to create interiors that reflect the latest color and design trends."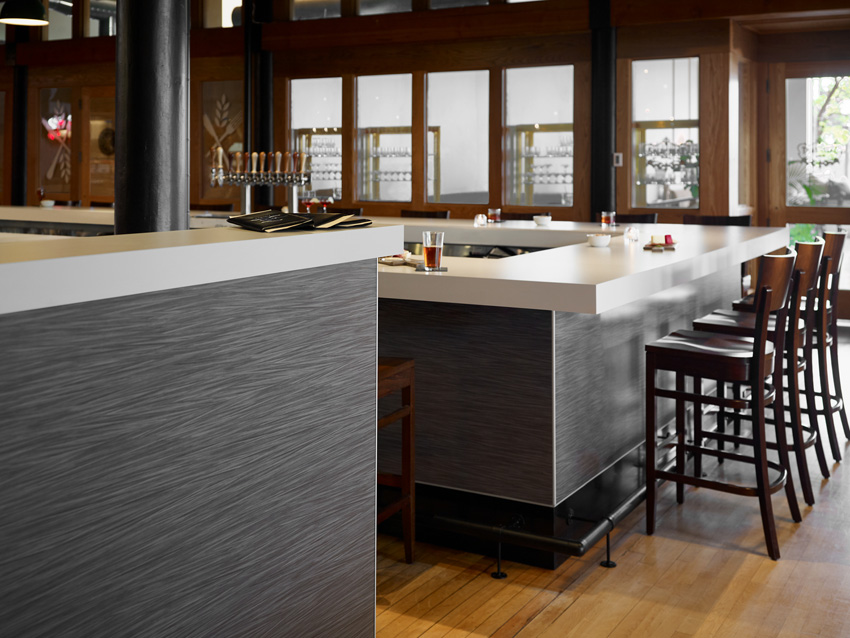 All images courtesy of Formica Group
Next-generation decorative protection panels on vertical surfaces are made durable with a fiberglass core and available in a full range of colors and patterns.
Durability is certainly a concern of architects and others in the design and build industry. In a survey of educational courses hosted by Architectural Record, nearly 150 of them focus in part on durability.
Application for Durable Vertical Surfaces
Many commercial settings benefit from durable vertical surfaces.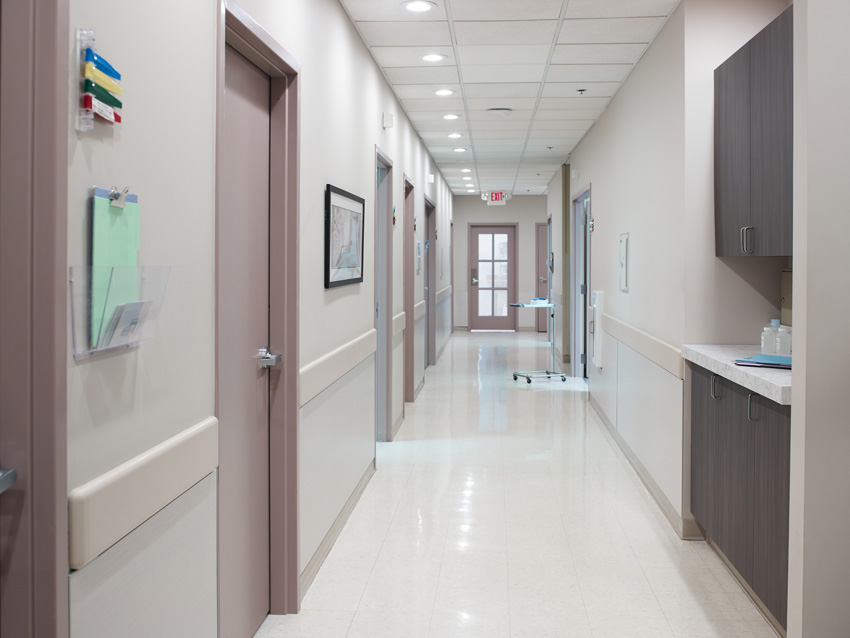 Health-care applications include corridors, nurses' stations, entrance areas, waiting rooms, patient rooms, labs, and procedure rooms.
Health-care facilities present many challenges for the designer. Consider the traditional hospital hallway or corridor. In a typical day in a busy facility, patients on gurneys might be rushed along the corridor into emergency surgery. Large hospital beds connected to IV stands might be moved along the corridor. Nurses with carts move up and down the hallways.
It is easy to imagine the walls getting bumped into many times a day. Thus, the walls must not only be cleanable but also durable.
And consider the multitudes of people coming in and out of the facility every day, including patients arriving and being discharged, family members and visitors, delivery people, plus doctors, nurses, and other staff members. Hardworking and easy-to-clean surfaces are necessary in these settings.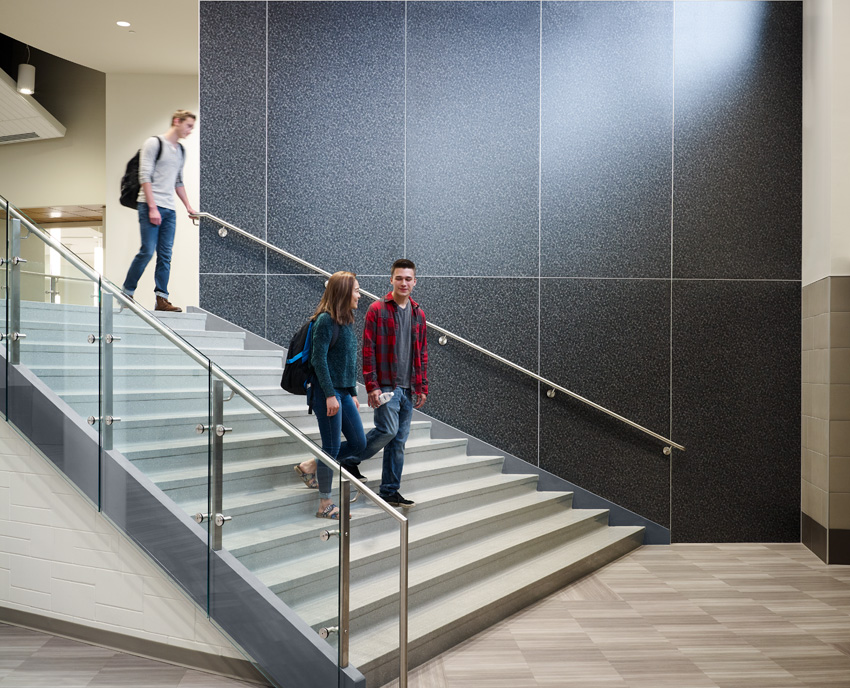 Education applications include dorm rooms, corridors, gyms, daycare centers, restrooms, and locker rooms.
Much is asked of today's students. Being cautious and careful around the decor should not be a priority. Rather, the decor should accommodate the activity of students. Consider the use by students of dorm rooms, classrooms, cafeterias, corridors, gyms, daycare centers and restrooms. Each could benefit from durable and stylish vertical surfaces.

Hospitality applications include transaction counters, back of house, drink and trash areas, grocery cart areas, and displays.
Hospitality venues get a lot of rigorous use in the fast-paced industry. Meals must be cooked and served quickly, and customers and staff alike are moving quickly. The walls must be durable to take such use and retain their appearance.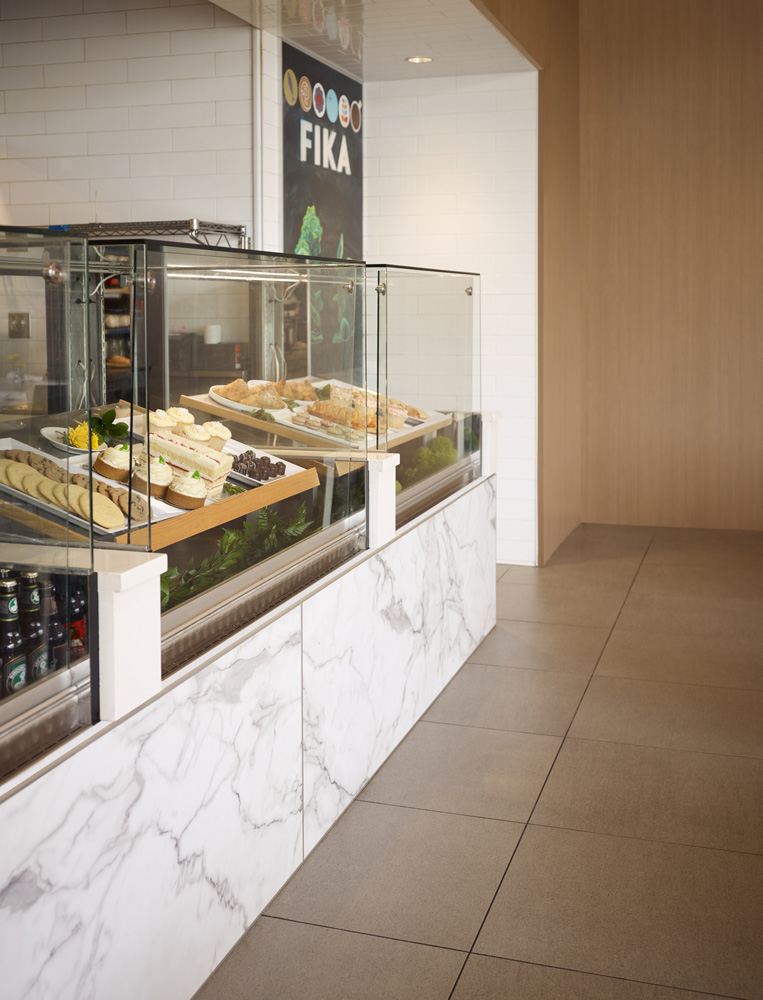 Counter fronts are frequently exposed to impact from shoes and carts. Specifying a durable vertical surface that is easy to clean could be the starting point of your next design.
Retail venues tend to be open long hours and may be busier than ever. Imagine the impacts from high traffic to which transaction counter fronts, drink stations, and back-of-house prep areas may be exposed. The ability to specify a stylish, durable vertical surface that is easy to clean could be the starting point of many design projects.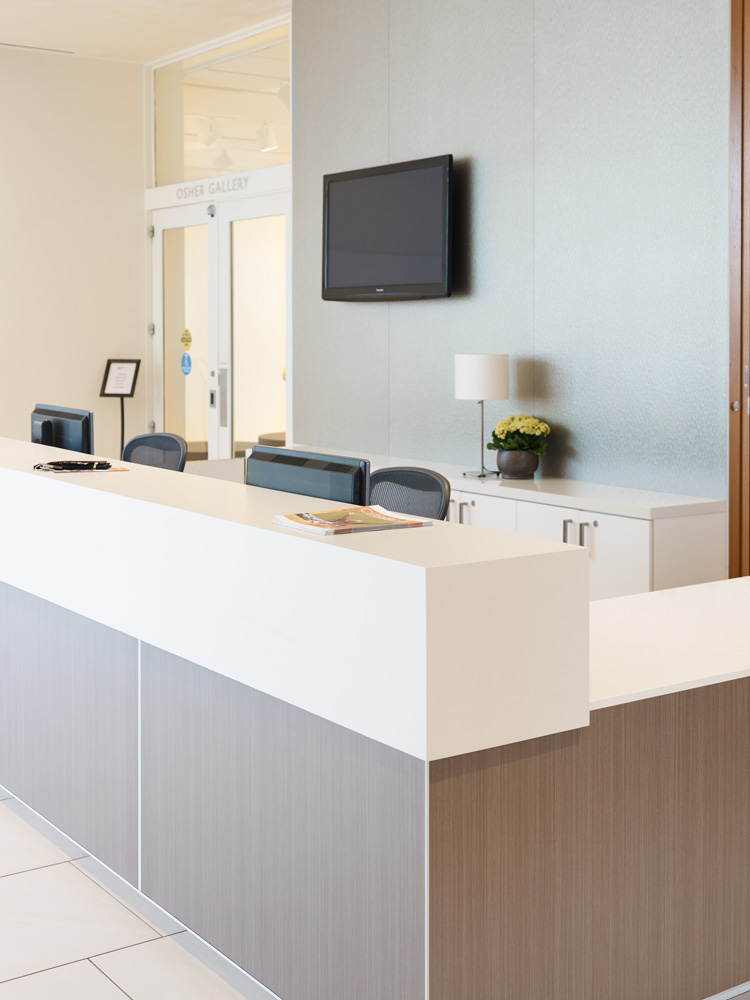 Office applications include break rooms, reception areas, foyer columns, partitions, and elevators.
In an office setting, break rooms and reception areas endure high traffic and use. A painted vertical surface that may hold up in the company president's luxurious office may not hold up where staff members cook and enjoy meals, and waiting rooms where clients and sometimes children are received. Those vertical surfaces require a different type of treatment.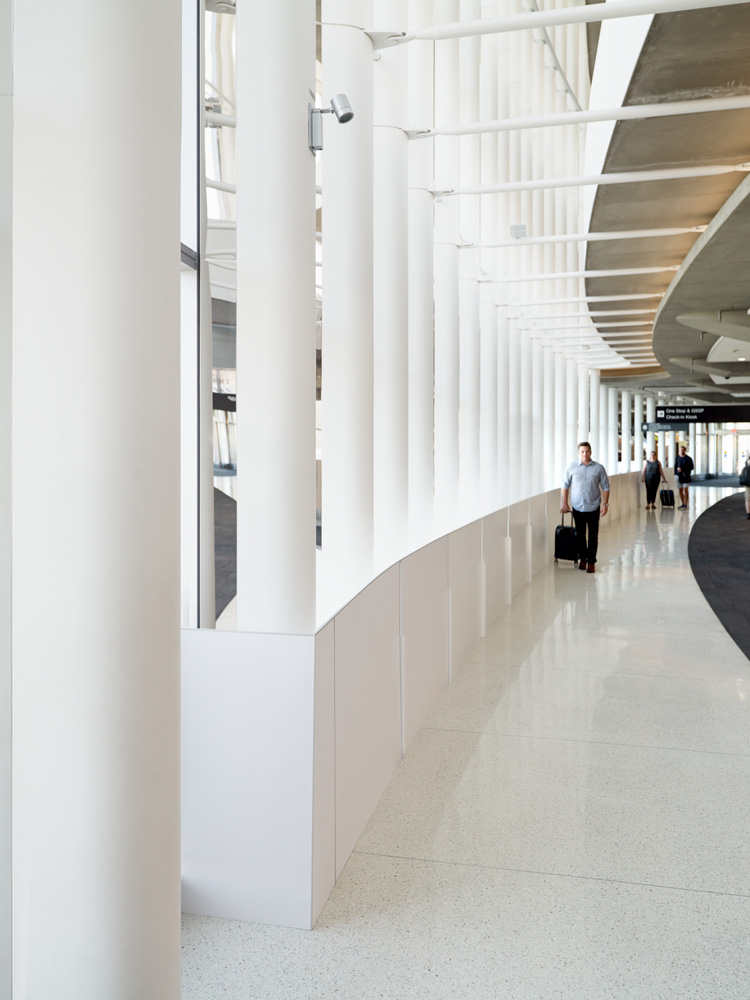 A busy airport with travelers and their luggage is a perfect application for durable wall-protection panels.
When a monumental building such as a museum or government center is designed and built, the anticipation may be that hundreds or thousands of people will visit each day. The building's grand stairwells and wide corridors must not just be of sufficient size to accommodate the crowds, but their surfaces must also be of sufficient strength to withstand the hustle, bustle, handprints, and contact that will surely occur. While granite or marble may seem appropriate, the budget and structural strength may not allow for the same materials that built the ancient pyramids. Instead, the designer may specify a hardworking and durable laminate that looks like stone at a fraction of the cost and weight.
Other applications include airports and mass transit applications, such as wainscoting, jet ways, and corridors. It would be hard to imagine a commercial setting more challenging to vertical surfaces than a busy airport or mass transit hub with travelers and their luggage rushing to catch a flight, train, or bus. Or they may be sitting around on a layover or waiting for a late connection. In these cases, a stylish and impact-resistant wainscoting can keep the facility looking fresh longer.
Durable and stylish vertical surfaces can be considered for an almost unlimited number of other settings, from elevators to recreation vehicles, ambulances, and stairwells. Any vertical surface that will come into contact with human activity has the potential for a specification of durable wall protection.
Wall Panels to Coordinate with Horizontal Laminate Surfaces
Unlike durable materials of the past, the new generation of decorative protection panels are not limited to either beige or white. They can be specified in dozens or hundreds of colors and patterns that reflect the latest trending and classic tones.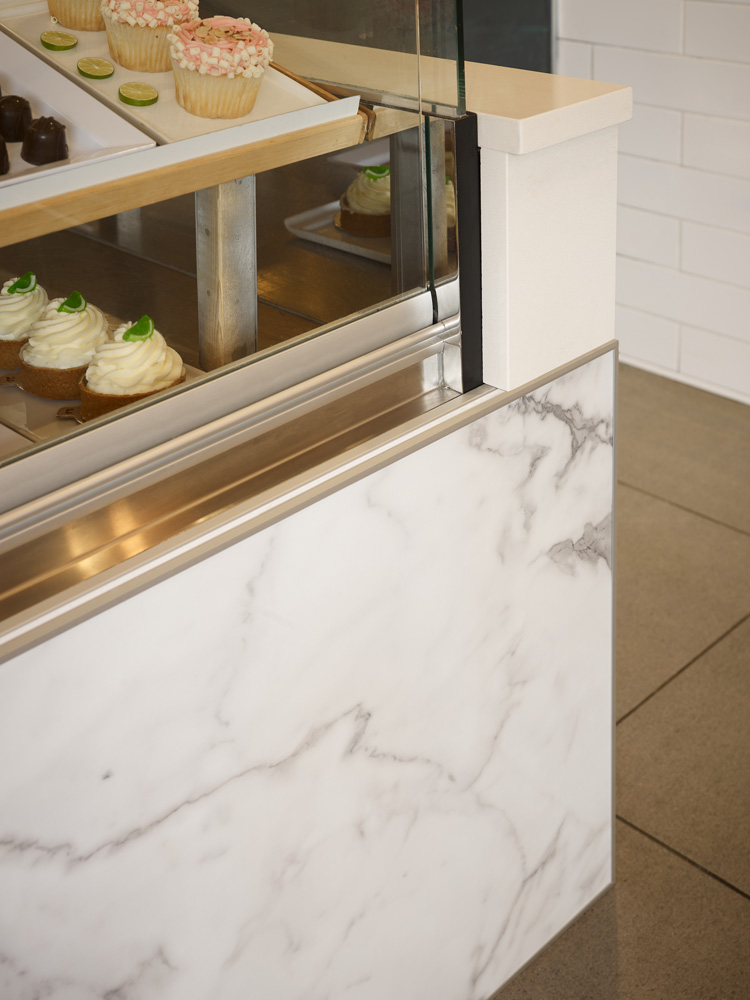 Stylish wall-protection panels can match or coordinate with adjacent surfaces to enhance the overall design aesthetic.
Consider hard walls coordinating with adjacent countertops. This scenario could occur in vast array of settings, from a medical examining room to a classroom or restaurant counter. Notice in these examples the coordination of colors and patterns, which is achieved by specifying both products from the same manufacturer.
Or consider a durable backsplash coordinating with an adjacent countertop. It is easy to picture this scenario in a commercial office break room, restaurant service area, or hotel lobby coffee service. With correct specification, the high-performing protective backsplash can coordinate perfectly with the countertop.
Originally published in January 2020
Notice