Acrylic Foam Structural Glazing Tape: A New Bonding Alternative
A durable, high-performance glazing option for curtain wall construction
This course is no longer active
Advertorial course provided by 3M
Learning Objectives:
Discuss the requirements for structural glazing for curtain wall construction.
Explain the benefits and features of acrylic foam structural glazing tape for structural glazing systems.
Describe performance testing of acrylic foam structural glazing tape for structural glazing.
Compare and contrast structural glazing building practices around the world.
Credits:
This course may qualify for continuing education through the FBPE.
This course may qualify for continuing education through the NYSED. For further information, please visit the NYSED website at
http://www.op.nysed.gov/prof/pels/peceques.htm
.
On the market since 1980, acrylic foam tape is found in a multitude of applications in a cross section of industries around the globe. But it has only recently become available in the U.S. as an effective alternative to structural silicone and spacer tape for commercial curtain wall applications. Available outside of the U.S. since 1990 for structural glazing, it has been used in over 3,000 curtain wall projects in South America, India, Europe, and Asia. As architects, curtain wall fabricators and contractors discover its features and analyze potential production cost and time savings, acrylic foam structural glazing tape for structural glazing should become a viable choice for specifiers of curtain wall glazing systems.
Acrylic foam tape is two-sided, pressure-sensitive, closed-cell acrylic foam. Used within and outside the construction industry, it is designed to bond to a wide range of substrates including most metals, glass, many plastics, composites, sealed wood, paints, and powder coatings. Suitable for both indoor and outdoor applications, it typically replaces liquid adhesives, spot welds, screws, rivets, and other mechanical fasteners. Its many applications range from fastening panels to horse trailers in order to achieve durability and a smooth surface, for attaching flex electronic circuit boards and bonding ceiling panels to suspension frames at Chicago's O'Hare Airport.
In the early 1980's, applications broadened in the commercial construction industry to include permanent bonding and sealing of architectural metal panels to a variety of surfaces including frames, stiffener attachments, I-beams, and metal cladding. Among the many applications from Australia to Brazil and the U.S. to the United Arab Emirates, are high profile examples where acrylic foam tape replaced screws, rivets, welds, and silicones. One is the Frank Gehry-designed Walt Disney Concert Hall in Los Angeles, completed in 2003, where the stainless steel panels were bonded by tape to stiffeners and aluminum framework. Another U.S. application is on the $355 million Dearborn Center in Chicago, IL, completed in 2003, and designed by Ricardo Bofill Taller de Arquitectura of Spain and DeStefano & Partners Ltd. of Chicago. Considered to be one of the most technologically advanced buildings in the world at the time, acrylic foam tape was used to bond stiffeners to the exterior metal trim cladding.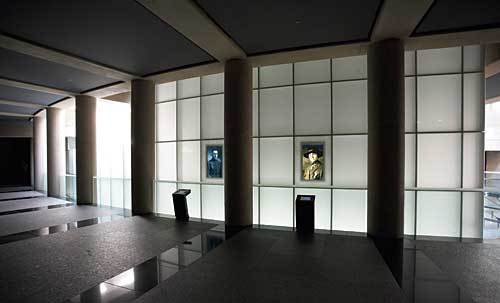 Liberty Memorial Museum, Kansas City, MO. Architect: ASAI Architecture, 2006. Structural glazing with acrylic foam tape conforms with the interior luminous white drum curtain wall.
Courtesy of 3M
Examples on other continents include Skidmore, Owings & Merrill's Adelaide Convention Center in South Australia, opened in 2001, where acrylic foam tape bonded aluminum composite panels to a galvanized frame. In Dubai, U.A.E., aluminum composite panels of W.S. Atkins & Partners-designed Burj Al Arab Hotel, opened in 1999, were bonded by acrylic foam tape to the framework to resist high wind loads in this harsh and warm environment.
Acrylic Foam Tape as Bonding System for Curtain Walls
Glazed curtain walls are one of the most commonly used fenestration systems for commercial buildings. Fabricated on site or delivered pre-assembled, glazed curtain walls are classified by how they are built. This is in contrast to windows, which are classified by how they operate. In addition to different construction methods, curtain walls are also distinguished by both the glass selected and the glazing system used for weatherproofing and to hold the glass in place.
Glazing systems support the glass in the frame and seal the dissimilar materials from the weather. Structural glazing is a system of bonding glass to a building's structural framing members utilizing a high strength, high performance product (conventionally, silicone sealant) specifically designed and tested for structural glazing. In structural glazing applications, dynamic wind loads are transferred from the glass, by the structural glazing product, to the perimeter structural support.
Structural glazing is conventionally achieved by using a spacer adhesive tape to hold the insulated glass unit off the frame. Structural-grade silicone sealant is then shot into the space between the frame and glass. The dimensions of the spacer tape govern the thickness of the silicone to be used, and are calculated according to wind load requirements. Common spacer tape dimensions are 1/4 inch thick by 1/2 inch wide.
Acrylic foam structural glazing tape replaces both spacer tape and structural silicone for structural glazing. A single product comprising a solid adhesive construction, it serves as the primary bonding agent and a secondary sealing agent. Spacer tape is sometimes referred to as "structural glazing tape" and should not be confused with acrylic foam structural glazing tape.
Notice