Sustainable Buildings on Demand
Originally engineered to solve the problems of relocatable or temporary shelter, tensioned membrane structures are now a sustainable choice for permanent, habitable structures, providing fast, energy-efficient and affordable building solutions.
Take the test online
Safety and Security
Clients may be concerned by the ephemeral appearance of a tensioned membrane structure and the possible vandalism from piercing the envelope. Tensioned membrane structures have been sighted in some of the most populated regions of North America and there have been virtually no reports of vandalism or break-ins. The architectural membrane is made of a rip stop construction that prevents tearing or puncturing of the membrane. Most graffiti can be easily removed from the coated membrane surfaces. Used as prison dormitories, the buildings are as secure as most conventional building types.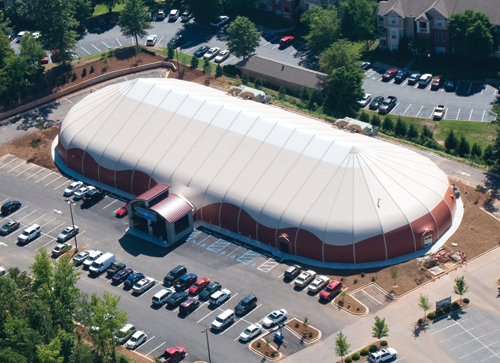 Aerial view of the Redemption World Outreach Center
Photo: Sprung Instant Structures, Inc.
The Bottom Line
Design professionals have many choices to make for their clients that include a multitude of options, from speed of construction, to the delivery of a "wow" factor on a limited budget. As architect David Simpson states, "After four years, the building still works well for the client." He continues to be amazed that a building that looks so large on the inside seems much smaller on the outside and fits the scale of the community so well.
Next generation membranes like Kynar and comprehensive insulation packages are what has propelled these type of structures into "lifetime" building markets after 30 years. Similar to re-roofing a conventional building, a new membrane can be installed to provide another 30-year cycle.
As an alternative to large box buildings, or smaller buildings, used as clubhouses, restaurants, or additions, the choice of these vaulted, and expressive, tensioned membrane structures makes design sense. Interiors can be configured independent of the overall structure, allowing for great flexibility for use, renovations and re-use. They can be constructed for approximately 35 to 50 percent less than the cost of a conventional structure, with similar aesthetic qualities and high-rated performance requirements.
Tensioned membrane structures are eligible for many green building rating systems particularly for their high performance values. These structures can be a sustainable choice as an addition to the design professional's building portfolio.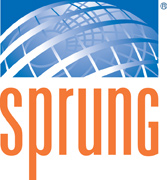 Sprung Structures engineered high-performance, tensioned membrane structures are designed to provide innovative, cost-effective building solutions for interim and permanent applications. www.sprung.com
Originally published in Architectural Record
Take the test online