Strategies for More Sustainable Exterior Solutions
From growing walls to glowing glass, professionals can choose sustainability through the use of exterior building products that will help conserve water resources, manage living systems and daylgiht.
Sponsored by Formulated Solutions LLC, greenscreen®, IRONSMITH, Jockimo Inc., Kim Lighting, SOIL RETENTION, YKK AP America Inc.
Celeste Allen Novak AIA, LEED AP
This test is no longer available for credit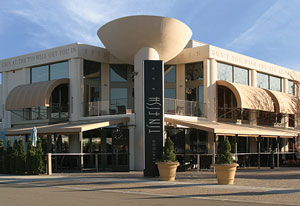 The Tin Fish restaurant in Clinton Township, Michigan designed by Ron and Roman LLC uses a cementitious thinset exterior surface system on the exterior walls.
Photo courtesy of Formulated Solutions LLC
Exterior surfaces −a new material that can reduce the use of fossil fuels
Thermal comfort is one of the main reasons humans build shelters. The exterior façade needs to manage moisture, insulate and temper the climate from the outdoors to the inside. Within this framework there are many building systems that contribute to successful thermal cladding. Cement-based, thin exterior surfacing systems provide a material alternative that reduces the product-cycle environmental impact while improving performance and increasing thermal comfort.
Typical of all exterior insulating finishing systems (EIFS), this system is comprised of a base coat, primer, and a 1/8-inch finish coat. In a one-coat stucco wall system, the finish and primer are applied over the stucco base. Unlike acrylic finishes, cementitious products are not petroleum-based. According to a compilation of three University studies,6 the initial embodied energy of this cementitious product is an order of magnitude (10 times) less than that of acrylic surfacing. Cementitious thinset exterior surfacing systems are a new class of building material providing:
Long-term microbial resistance
corrosion resistance
chalk resistance
increased color retention as a result of its resistance to UV degradation
fire retardation
For all exterior claddings, professionals need to be knowledgeable about wall construction details, including vapor and weather barriers, flashing and drainage channels. Both acrylic EIFS and thin cementitious exterior surfacing systems provide good thermal barriers but the difference between the two is in the properties of cement that have environmental advantages over the petroleum based, acrylic, EIFS finishes. Cement provides both permeability and hydrophobicity.
As measured by a third party testing agency,7 the permeability of concrete thin set exterior wall surface has 3.3 to 4.2 times more water vapor transmission than the acrylic based EIFS products sampled.
Permeability is expressed in grains of water vapor/hour/ square foot at a known differential vapor pressure. Materials are classified by both the commercial and residential codes in several classifications and a class 3 vapor permeable material has a perm rate greater than 10 perms recommended for use in all climates.8 The higher the perms the faster water vapor will pass through or allow the wall to breathe, which eliminates mold in the building wall system. Vapor membranes used as part of a well constructed wall system have perm rates above 58. Combined with a cement thin set exterior surface, also with a high perm rate, this integrated wall system can provide a healthy solution for the prevention of mold or bacterial growth in hot humid climates without adding harmful biocides. Cement thin set finishes have also been tested for hydrophobicity and demonstrate a documented ability to shed water while allowing water vapor to escape from the wall system.
Other sustainable aspects of this new product are that it has zero volatile organic compounds (VOCs) that can be harmful to human health. This product is cement based and can be finished in numerous colors. Surfaces can be applied that are either uniform in appearance or mottled for a more natural, old-world appearance. The product is part of a sustainable construction process. It is delivered in bags and ordered by weight. When mixed with water, this stucco − like wet application is applied to the surface by trowel and will not leach harmful waste products into the soil. The weight for shipping is less than the acrylic EIFS system and may be eligible for regional credits in LEED® V3 depending on site location. Unlike acrylics, this product is supplied in easily disposable paper bags, there is limited waste on site, and the powdered product can be stored in unheated enclosures, without damaging its effectiveness.
This surface cladding has also been tested for durability and is formulated with a polymer modification to give greater elasticity and flexibility. This modification allows the cement to resist cracking from thermal changes and building vibrations in accordance with ICC specifications for use in both EIFS and one coat stucco applications.
Cementitious thinset exterior surfacing systems are extremely flexible. The illustration as shown was prepared as it would be on a job site. The base coat was applied to a flat sheet of foam; mesh was added and covered by more base coat and allowed to dry overnight. Then the finish coat was applied. The whole assembly was then bent into an inverted "U" without any sign of cracking. Flexible, permeable and durable, this exterior product allows the professional to select a wall system based on both its performance as well as its sustainable properties.
Originally published in Architectural Record