Greening the Government: Sustainable Building Solutions for New Public Programs
Buyer's Guide
Excel Dryer, Inc.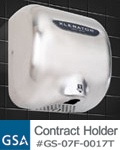 XLERATOR® hand dryer, The New Industry Standard, dries hands completely in 10- 15 seconds and uses 80 percent less energy than conventional dryers. XLERATOR represents a 95% cost savings versus paper towels and eliminates their maintenance while improving restroom hygiene. XLERATOR is the only hand dryer that is MADE IN USA Certified®, working in compliance with the Buy American Act and meets American Recovery and Reinvestment Act (ARRA) guidelines for cost savings, energy efficiency and LEED credits.
Guardian Industries Corp.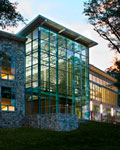 Guardian SunGuard Advanced Architectural Glass performance products offer a variety of appearance and light transmission options with outstanding solar energy control. The SunGuard SuperNeutral product line delivers high light transmittance while reducing solar heat gain. Their neutral appearance is the most similar to clear uncoated glass.