Pergolas: The Perfect Complement to Any Outdoor Room
Providing shelter and protection while allowing users to enjoy sunshine, cool breezes, and nature
August 2021
Sponsored by Walpole Outdoors

Continuing Education
Use the following learning objectives to focus your study while reading this month's Continuing Education article.
Learning Objectives - After reading this article, you will be able to:
Identify the current trends driving the increased popularity of outdoor rooms in residential and nonresidential applications, particularly pergolas.
Evaluate the pros and cons of wood, aluminum, fiberglass, and solid cellular vinyl for pergolas.
Discuss pergola design options, including attached versus detached, pergola placement, massing and proportion, and beam spacing.
Review a variety of noteworthy solid cellular vinyl pergola design and installation projects as presented in case studies.
Highly desirable features in homes, mixed-use properties, corporate and educational campuses, public grounds, and more, outdoor dwellings continue to grow in popularity.
In 2018, U.S. consumers spent $25 billion on outdoor living, according to the Cleveland-based market research firm The Freedonia Group. Additionally, the National Association of Home Builders' most recent "What Homeowners Really Want" survey found that the percentage of homeowners rating a patio as essential or desirable increased from 73 percent to 87 percent over the past 15 years.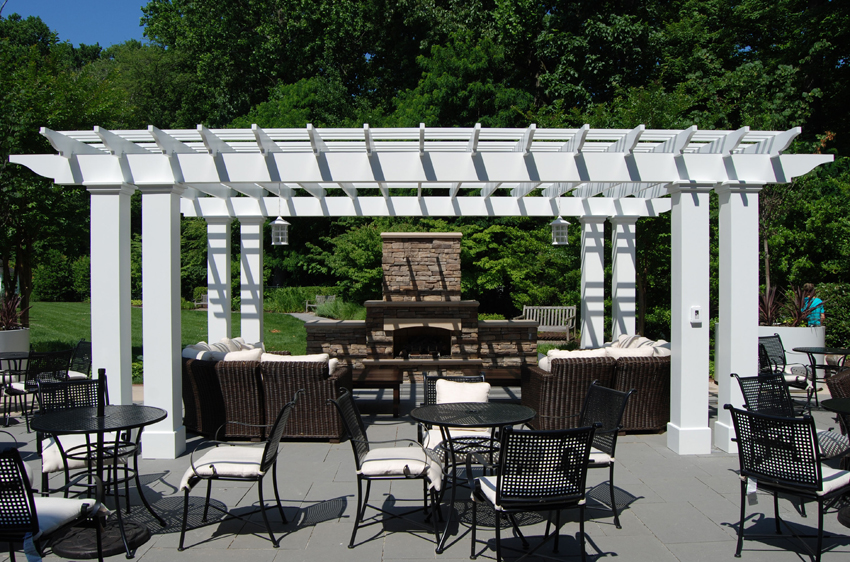 All photos courtesy of Walpole Outdoors
Crafted in solid cellular vinyl with columns, beams, and curved end cuts, this 12-foot x 25-foot pergola is an outdoor gathering spot at a 55-plus community in Maryland.
"Outdoor living spaces, rooms, and areas are extremely valuable and important to both homeowners and commercial properties alike," confirms Joshua Gillow, owner, MasterPLAN Outdoor Living, Brodheadsville, Pennsylvania. "In just the past 20 years, outdoor living has transformed from something we might want to something we simply must have."
As part of a larger sustainability and health and wellness trend that is largely shaping today's architectural designs, homeowners and organizations are embracing outdoor spaces as natural extensions of the built environment. This trend recognizes the deep affinity humans have for natural environments. Whether as employees on break, multifamily owners and tenants socializing, or friends meeting for a cup of coffee, people look for sunlight and comfortable, open spaces.
Describing outdoor living spaces as perfect places to enjoy the many sensory pleasures of nature like daylight, fresh air, breezes, smells, and birds chirping, Mark DuBois, AIA, LEED AP, NCARB, owner, Studio DuBois, New York City, says these designs can contribute to people's physical and emotional well-being.
"Getting outside provides a break from the glow of our computer monitors and flat-screen TVs, and the sun offers welcome relief from the fluorescent and LED lighting we bathe in most of the time," agrees Joshua Zinder, AIA, NCARB, LEED AP, managing partner, JZA+D, Princeton, New Jersey. "Outdoor dining and exterior rooms and collaboration spaces will continue to be in high demand."
"The benefits of being outside for recreation, meetings, dining, and all other aspects of life are unmeasurable," adds Dan Berger with the design-build landscaping company Land Plan in Pleasanton, California.
And now that COVID-19 restrictions are largely limiting movement, the value of outdoor rooms has taken on all new meaning. "There is a tremendous amount of research on the physical and emotional health benefits of being out in nature," states Sarah Carrier, Ph.D., associate professor of science education, North Carolina State University in Raleigh-Durham. "Simply being outside helps relieve stress, and this is something we can all use right now."
As an important strategy for boosting employee morale and well-being, appealing outdoor areas are contributing to recruitment and retention. For condominiums, outdoor rooms are a great marketing tool for developers looking to stand out amongst the competition as residents seek properties with outdoor kitchens, barbecue pits, large flat-screen TVs, fireplaces, etc.
Daniel Lobitz, partner, Robert A.M. Stern Architects, New York, looks to create a variety of private and shared outdoor spaces. "People long for fresh air and perhaps even more so in a time of pandemic," he says. "In conceiving a full program of outdoor spaces of various scales and proportions, we try to provide some areas that are covered and can be used in inclement weather, and other spaces that are open to the sky, such as pergolas that offer moderate enclosure, a sense of privacy, and some shade while also allowing sunlight to peek through."
For homeowners, developed backyard spaces increase property value and create greater livable space without adding on to the home's square footage from a building department/taxable perspective.
Another driver boosting outdoor amenities and designs is social media, suggests Duane Draughon, VizX Design Studios, Lisle, Illinois. From Houzz to Instagram to Facebook, individuals are showcasing their unique outdoor designs and experiences to a very interested audience. People often undertake projects inspired by the things they are seeing online and attempt to recreate them in their own backyards.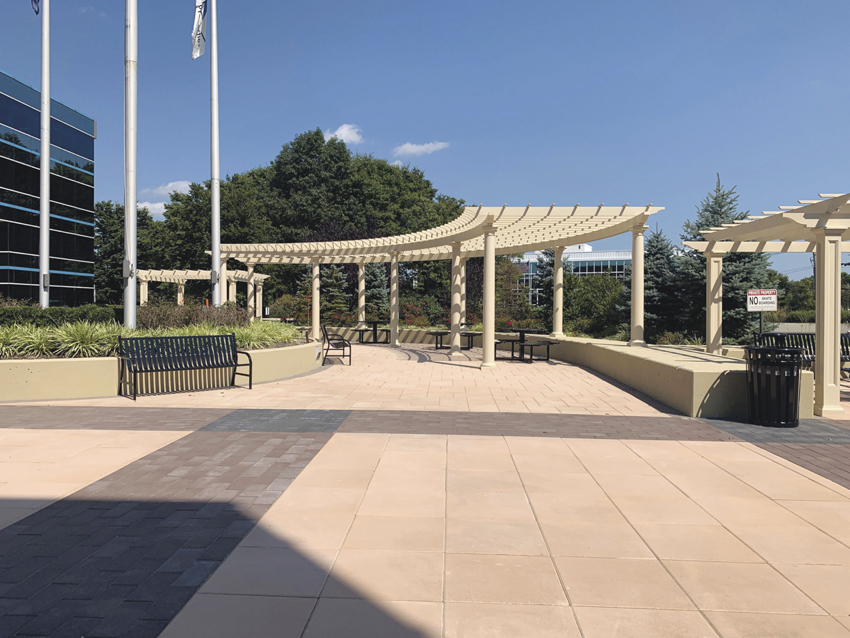 A radius solid cellular vinyl pergola measuring more than 60 feet long with 10 10-inch round tapered columns and heavy carrying beams is a popular destination for Bank of America employees on break at their Melville, New York, location.
Pergolas
While a montage of landscaping products is available to create these outdoor living environments, pergolas in particular play a unique role in optimizing these spaces.
Of the thousands of projects that Berger has worked on in his 40-plus-year career, the majority have incorporated pergolas.
In fact, the "2017 U.S. Houzz Landscape Trends Study" reported that of 86 percent of homeowners who did work on the structural elements in their outdoor areas, 24 percent updated their gazebos or pergolas.
"Pergolas are enormously appealing because they create the 'walls' and 'ceiling' of outdoor rooms," DuBois explains. "They give us some of the protection and shelter that we expect from indoor spaces—the sense that we are in a safe, well-defined place—while allowing us to experience all the delights of being outdoors."
Originating all the way back to the times of Ancient Egypt, China, Rome, and Greece, pergolas were traditionally used for shelter and aesthetics, and for growing grape vines. The structure gained more prominence during the Italian Renaissance in the 17th century and earned its Latin name "pergula," which means "projecting eave." Alison Terry, a Fullerton, California-based landscape architect, explains that at that time, the pergolas were used as covered walkways for resting in the shade when walking through the gardens that were cultivated all over the country. "The traditional sense of a pergola is a linear overhead structure directing you from one space to another space," she says.
"It was a perfect adaptation for enjoying warmth and sun and air, but with screening from the harshest sun and winds," Lobitz adds.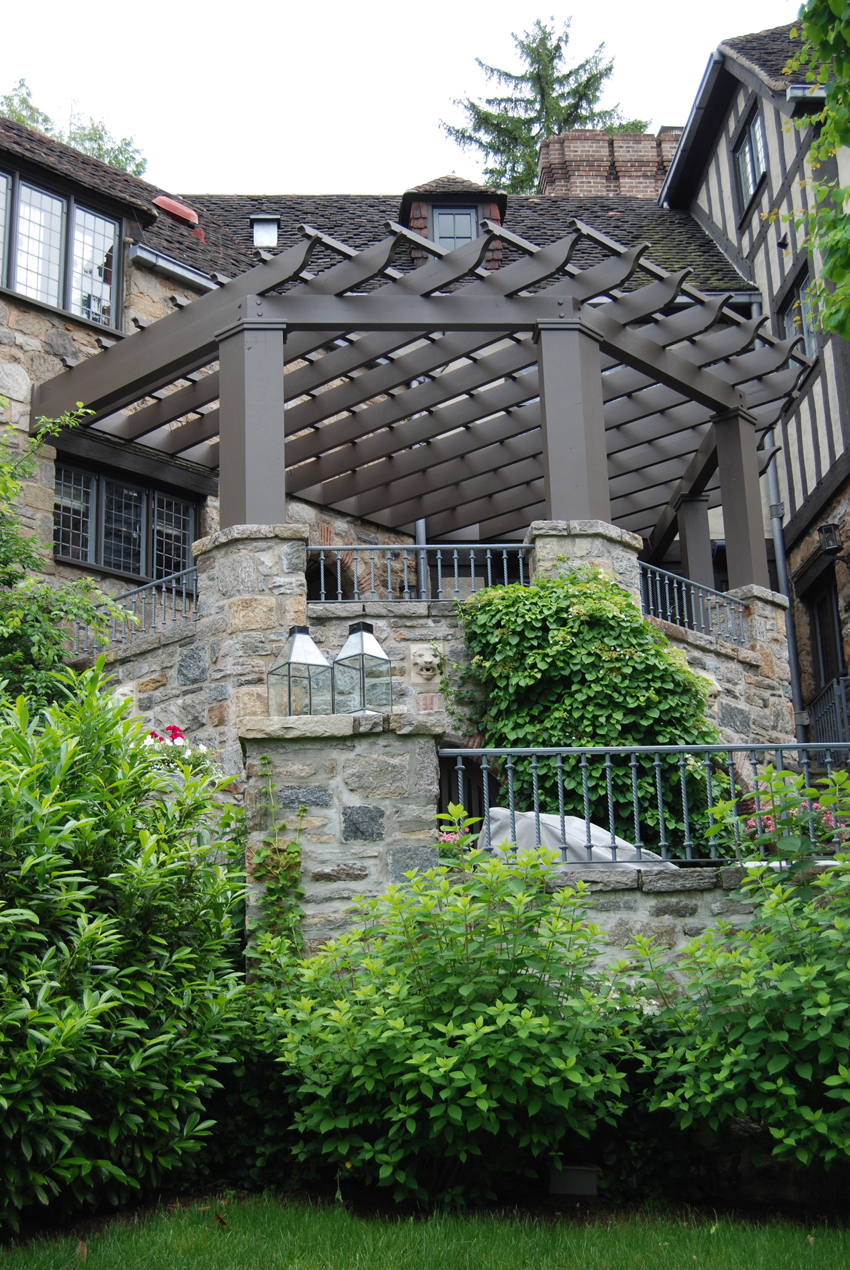 Crafted in western red cedar, this residential polygon-shaped pergola serves as an outdoor dining and entertaining area.
Today, Gillow describes pergolas as wonderful structures to incorporate into any outdoor living space, providing comfortable, dappled shade and acting as an aesthetic focal point from any angle. "When properly designed and incorporated into an outdoor space, pergolas enhance the surrounding architecture, further giving the living area a sense of depth," he says.
Because it can be challenging to provide trees on multiunit properties, pergolas are a great way to incorporate shade in these outdoor areas. Noting some other features, Leigh Lichtenberg, project manager, NAK Design Strategies, Toronto, says pergolas can create human scale in spaces; they can be used as a strategic design element to highlight, view, or create feature areas; and they can help protect against rain and mitigate wind challenges on higher levels.
Pergolas can have four posts, be cantilevered, or attached to a building. They can be solid or slatted, incorporate a fabric, and are commonly designed in numerous styles from Victorian to craftsman to contemporary.
For example, "modern-style pergolas do not incorporate overhanging rafters and purlins, and the edges are boxed-in to create a clean, finished look," explains Draughon, whereas, "traditional-style pergolas typically have custom-shaped purlins and rafters that overhang the structure by a foot or so."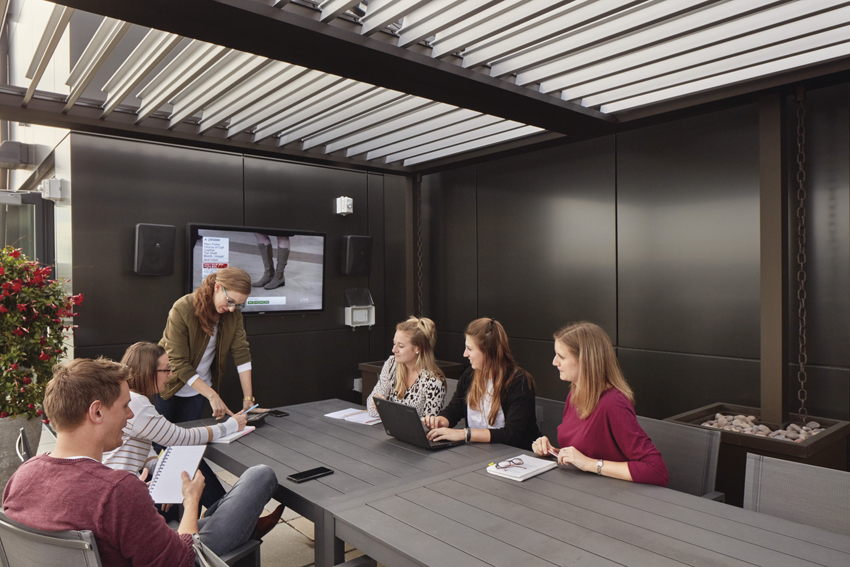 The remote-controlled louvered aluminum roof on this Massachusetts company's pergola outdoor meeting room provides both variable shading and light and protection from inclement weather.
"The function of these structures is equally limitless," adds Berger. "I have used them for outdoor kitchens, yoga space, workshops, office space, outdoor game space, and movie nights. Nonresidential uses are usually to shade an assembly area, an entertainment event, shelter a meeting, or define a beverage or dining space."
Material Options
When building a pergola, the traditional choice used to be wood, known for its high level of craftsmanship, detailing, and warmth. Other choices include aluminum, fiberglass, and solid cellular vinyl, also known as PVC polymer.
Unlike wood, aluminum does not warp. It can be painted in a variety of colors, does a good job of withstanding the elements, and is essentially a low-maintenance product.
"Pergolas are exposed to a full range of temperatures, precipitation, and ultraviolet rays, so durability and low maintenance are key," DuBois says.
Some brands offer variations and graining on the surface to make it look more natural; however, the material does not offer the same level of detailing as wood.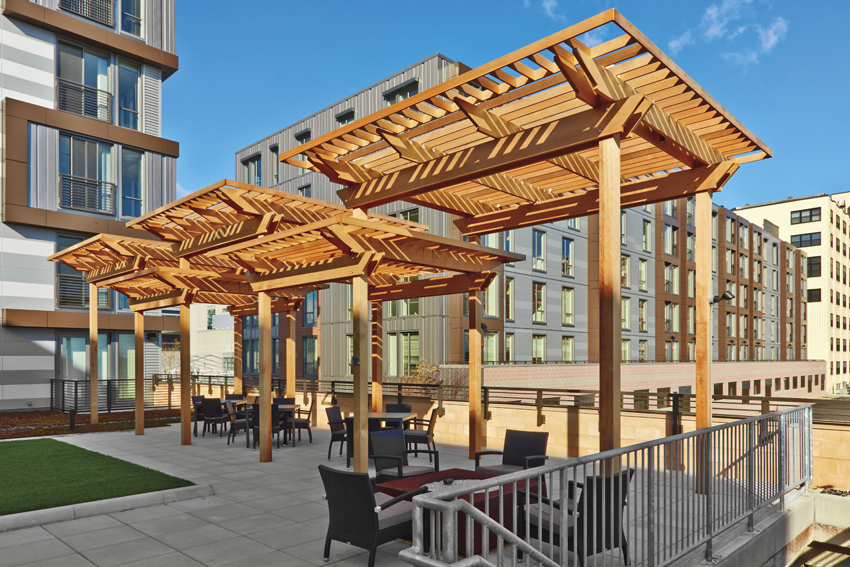 Made from hardy western red cedar, this eye-catching rooftop pergola provides semi-shade and unobstructed views while defining the outdoor recreation area of an urban apartment complex.
Available at a similar price point, fiberglass comes in a variety of appearances and textures. It is also a lower-maintenance material but does require occasional recoating.
Another attractive option is PVC polymer, particularly solid cellular vinyl, also known as PVC polymer. Unlike wood, the material is impervious to insects, water, and decay. Solid cellular vinyl is fabricated to recreate the feel and elegance of wood. It is easy to mill, shape, mold, and can be used with standard woodworking tools, including saws and fasteners. Further, it can be routed and cut without chip-outs, fasteners can be close to edges without splits, and it can be heat-formed for curved applications.
"PVC polymer is an excellent material selection when it comes to pergolas," Gillow affirms. "Unlike wood, this material is low maintenance in nature and is easy to clean when needed."
Similarly, the online informational resource LandscapingNetwork reports that vinyl is a durable, low-maintenance material that does not chip, warp, or rot and is resistant to insect damage and weathering.
The material is predominately made from polyvinyl chloride, which is derived from a common salt that is abundant in the earth. Compared to other plastics that rely upon nonrenewable resources such as petroleum, solid cellular vinyl carries a smaller carbon footprint. The high chloride content also serves to enhance the material's fire safety. Consequently, cellular vinyl is difficult to ignite, produces low heat, and chars as opposed to melting. It is self-extinguishing, which means that once the ignition source is removed, the product will stop burning.
Other "ingredients" include a forming agent to lower the density for workability, titanium dioxide for improved weathering, calcium carbonate for added strength, and acrylic.
Another plus of solid cellular vinyl is that paint adheres well to its surface, and color can be integrated into the material itself. "PVC polymer will last longer and hold its color over time," Draughon confirms. When the paint is applied in a climate-controlled environment, some manufacturers offer a 25-year warranty.
While white is the most popular color, designers will take cues from the landscape and adjacent home or property. Typically, softer colors lend a sense of warmth, while darker colors create a more intimate space.
Cellular vinyl is simple to clean, and repainting with any good, acrylic-based paint is easy. To optimize the color quality, it is important to use paint with a light reflectance value (LRV) of 55 or greater. With special attention to pigmentation, it is possible to match a range of colors not normally falling into the required LRV range.
Because the cellular polymer offers such a natural look, it is becoming a popular choice for historical landmarks and has been approved for use by a number of municipalities, particularly in the Northeast.
Because it is millable like wood, it can be made in any scale and proportion. Consequently, this makes the material ideal for historical reproductions.
Some PVC polymer products are produced in a hollow extruded form where the middle is hollow like a piece of pasta while the ends tend to be injection molded, making for dissimilar weathering characteristics and long-term instability. Because they are not structural materials, pressure-treated wood is often used as a filler webbing in the core.
"While hollow extruded PVC/vinyl is very cost-effective with the benefits of resistance to water, insects, and decay, it tends to look shiny and inexpensive as proportionality is lost and components like end cuts are added on to pieces of a different density, which have a propensity to show more and more over time," explains Gary B. Workman Jr., sales manager, Walpole Outdoors, Mineola, New York. "In the absence of coatings, they are very prone to algae and mildew buildup. Frequent cleaning is then required, which ultimately abrades the surface."
Design Tips
When embarking upon a pergola project, the first two objectives are determining the client/end user's goals and establishing context, which can be achieved with a site analysis.
"When a client asks to have a pergola designed as part of the landscape, my first question is always to ask what he or she envisions doing in the structure," Berger explains. "This simple or complex answer dictates the function and therefore the end design, shape, size, and siting of the structure."
The function also helps determine which construction materials will optimally produce the spans required to enclose the activity. For example, fiberglass can handle unsupported spans of 25 feet, while solid cellular vinyl can span up to 30 feet with steel reinforcement.
Included within this initial query is determining whether the pergola will be freestanding or attached to the house/building.
If the latter, Gillow's team works to ensure that the pergola's placement is strong and makes a statement. "We will typically follow a strong axial line from the center of a door, and peek or bump out of the principle structure to give it its own very strong presence in the space," he explains.
Prior to designing the look, color, and style of the pergola, Berger lays out a set of questions that must be evaluated:
How will the house/building be viewed from the pergola and vice versa?
Will the pergola architecturally match the house/building/campus or will it blend into the landscape?
Is the pergola to sit in the distance as a physical or visual destination in the overall yard/area design, will it be an extension of the classrooms/offices/residences/cultural areas, or will it serve other functions?
What aspect or feature of the pergola will attract occupants to come outside?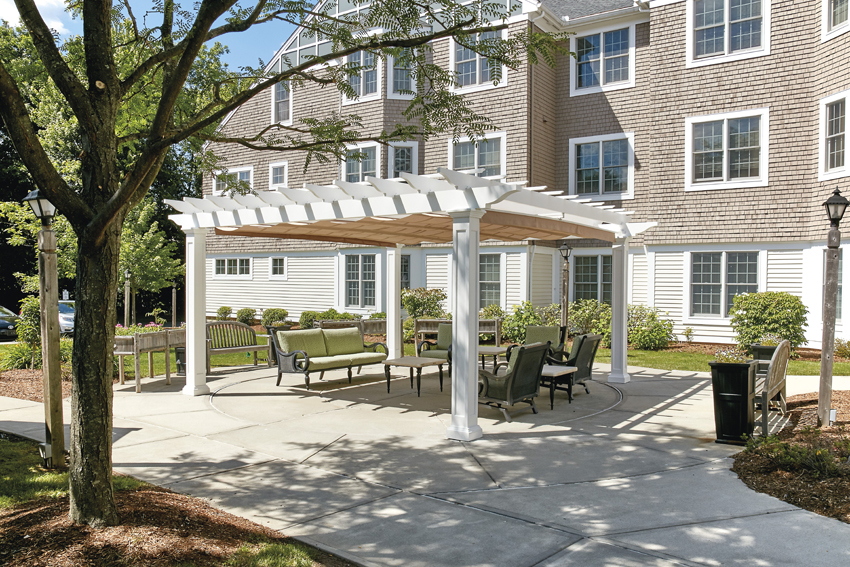 Residents of a senior housing complex in Connecticut are invited to enjoy outdoor relaxing and socializing in a courtyard area defined by a 15½ -foot x 15½-foot four-column pergola. Crafted in solid cellular vinyl, it has a canopy that provides shade from sun and shelter from light rain.
On the issue of pergola placement, in a LandscapingNetwork article, Arcata, California-based landscaper Genevieve Schmidt recommends considering where people will most enjoy spending time. For example, which area of the landscape offers the best views, and are there any areas sheltered from the wind?
Another key consideration is determining what time/times of day users will likely use the pergola, as the angle and position of the sun changes throughout the day. For instance, if users anticipate more frequently using the pergola at sunset, then the structure should be optimally sited to accommodate this.
In many cases, the pergola design will seek to pick up existing themes and match colors in the adjacent nonresidential building/buildings. For residential designs, the style and color of the trims on the home's exterior will often be transferred into the pergola design. In addition, the pergola will often replicate the arcs to speak back to the language and flow of the architecture of the main structure.
"Once we understand the programing and the client's desires, we will then start to lay out all the desired landscape elements," Lichtenberg explains. "Based on both the landscape and architecture design, we will then decide if a prefabricated pergola is best or if we need something custom. If prefab, we will need to check the sizing and the footing requirements. If we design something custom, we want to ensure it relates to the context and proposed architectural style."
In terms of design style, some additional considerations include determining if the pergola will be a simple post-and-lintel system, or if it will include arches or a colonnade.
Selecting an open versus a solid roof is yet another important determination. In hot climates, an open roof will not provide enough shade to make the space feel comfortable. But in milder climates, the open design affords the opportunity to enjoy the trees and sky and creates an airier feeling.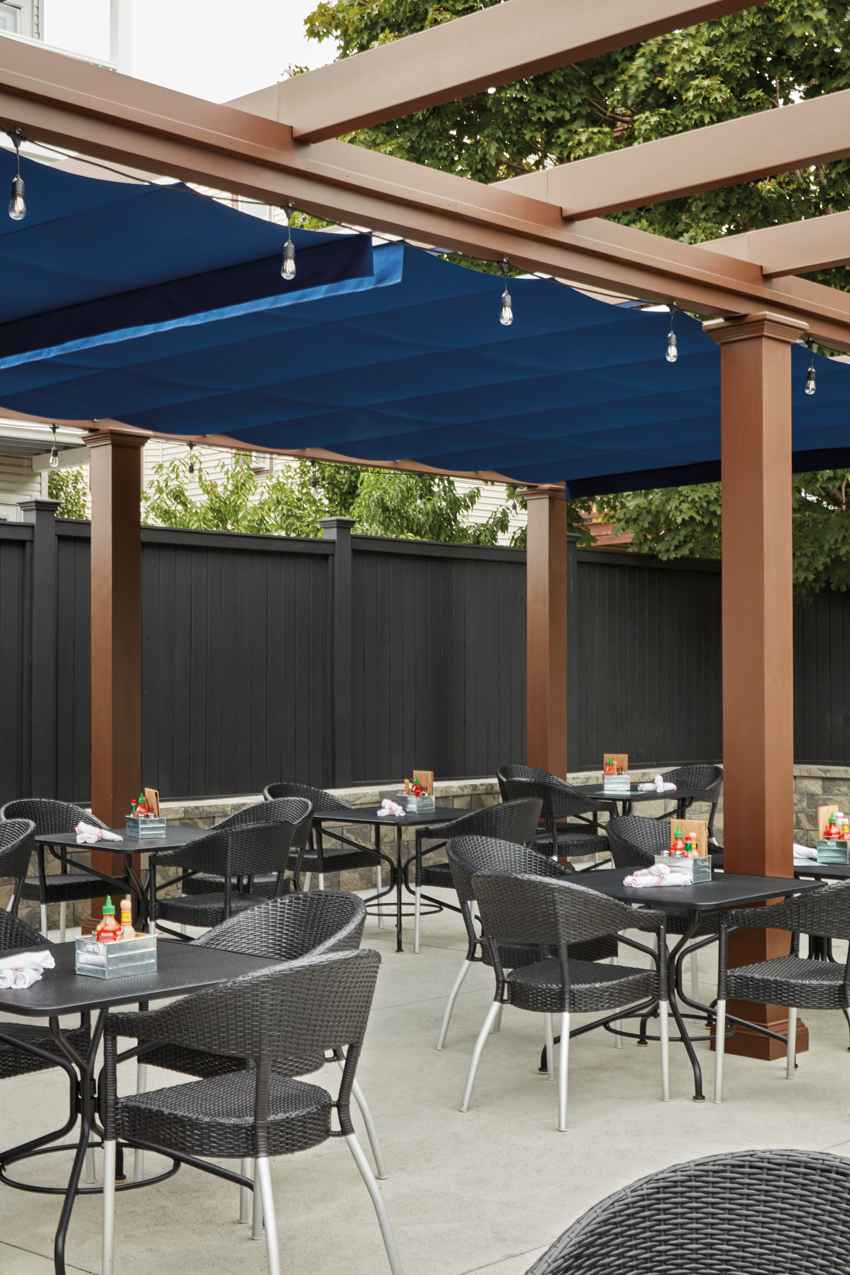 Covering the solid cellular vinyl pergola in this outdoor seating area, this Boston restaurant's owner chose tasteful manually retractable blue canopies.
On the other hand, a solid roof can enable the pergola to remain useable during warm rain showers. However, in the wintertime, the solid roof might collect too much snow, which is a weight load that most pergolas are not designed to handle. In addition, architects will take the surrounding architecture into consideration.
"The roof type is also based on the style of the home's architecture and whether there is precedent to lead us in the direction of a gable, shed roof, or if a detached cover will be the best solution," Terry says.
Attached Versus Detached
If the homeowner is interested in an attached pergola, for example, then an important aspect of the design is the issue of attachment. Typically, they are attached with a ledger underneath the roof overhang, but some older houses may have a very low roofline, in which case, the pergola would be too low.
"Sometimes the cover can be attached to the roof, but it is not the most aesthetically pleasing solution and involves flashing and reroofing the area," Terry says.
Another option is an open-gable attached patio cover, which involves building a new gable on the roof. While this is an added expense, an advantage is that this type of structure does not put any extra weight on the roof because it is built with an independent framework that supports itself.
Another possibility for low rooflines is "finding a location where a detached open roof cover could be placed on the property, still meet building code setbacks, and be functional and attractive from a layout point of view," Terry says.
Designers should also consider which door will grant access to the covered patio and if any of the house/building's windows will impact the placement of support beams.
An attached pergola might also positively or negatively influence the home's interior. For instance, south-facing windows may produce excess solar heat gain that can be mitigated by the pergola, resulting in a more comfortable environment. On the other hand, if that side of the house/building has a low roofline or does not receive much sun, then the attachment of a pergola could make that room feel dark.
On spacing the support beams, Mark Willard, R.L.A., director of planning, Daft McCune Walker, Towson, Maryland, relates that for a 7- to 8-foot-high pergola, an 8-foot on-center column spacing works well for architectural proportion. Additionally, an 8-foot x 8-foot plan area works well to contain a variety of furniture placement options. "If you spread the columns out too far, the structure does not feel structurally sound (visually) and begins to feel top heavy," he says.
Similarly, when mapping out the massing and proportion, the pergola should not dwarf the home in terms of member size, height, or overall size, nor should it appear too small.
Offering a rule of thumb, Mark Clement, a contractor and carpenter who runs MyFixItUpLife.com, suggests a ratio of 1:1.618. Consequently, if the overall pergola height is 96 inches, then the length would be approximately 155 inches.
He further advises that the pergola measures no less than 80 inches from the ground to the girder bottom, suggesting that structures built too short look like mesas, and if too tall, appear like towers. If the design includes a ceiling fan, then the pergola must be tall enough to allow at least 88 inches under the blades.
Further offering a sense of size and proportion, Terry's recommendation for a one-story, 2,500-square-foot house is a 14-foot-deep x 14- to 16-foot-long pergola. "If the home's rafters are 2 x 4, then I would use that sized member as a reference point. In general, the top layer of an attached patio cover, known as the lath or lattice, could be between 2 x 2 and 2 x 4 or 4 x 4, depending on the overall massing of the home."
As the spacing of the lattice determines the amount of sun that penetrates the cover, Terry likes to embed the lattice into the second level of rafters to create a more custom, built-in look.
Installation Tips
The girders are typically installed in each side of the main post with the rafters and optional purlins will be installed on top. Consequently, the two girders will support the weight of these members.
As builder Matt Weber explains in the article "How to be a Pergola" on the well-read Extreme How-To blog, "usually the rafters are slightly smaller than the girders and are installed vertically, bridging over the girders at 90 degrees and overhanging each side with the decorative rafter tails."
Size and design style will determine rafter spacing, but commonly this is done 16–20 inches apart. For a professional, uniform look, it is important to keep the distance consistent between all the rafters. Similarly, the rafters should be spaced evenly between the front and rear rafters, and each rafter should be perfectly square and vertical to the girder.
As a decorative enhancement more commonly used on larger projects, purlins are often installed vertically over the rafters at 90 degrees.
The pergolas structural design must take into account lateral resistance, uplift, and snow load to withstand the forces of nature and meet building codes.
Uplift capacity is of particular concern, so having a clear, established load path is critical. When setting these up, it is important to have a well-anchored foundation that both anchors the whole structure and bears the load of the top piece. It is best to use steel that travels through the entire post and can be bolted into the beam it supports.
Joists should be anchored with joist brackets, and lathing can be attached to the joists with stainless steel screws.
For an attached pergola, it is recommended to use a ledger which is anchored into the framing of the structure it is attached to.
Beyond the basic nuts and bolts of the structure itself, pergolas can incorporate a number of additional features, such as lighting, greenery, a ceiling fan, and/or a dynamic canopy.
Some manufacturers offer rain-resistant fabric, and the canopies can be motor or manually operated, and come in a number of mesh fabrics, densities, and colors.
Manufacturer Support
As a whole, architects prefer working with pergola manufacturers who provide a high level of support and guidance. For example, accurate, easy-to-read drawings, installation and maintenance guides, and informational videos are very helpful.
"Working with a company that offers in-house engineering and support services is actually a great benefit for both designers and homeowners," Gillow says. "The last thing you want to do as a designer is to create a structure that does not stand the test of time."
A high level of manufacturer support is particularly important for customized projects. In fact, Lichtenberg will only work with companies who offer in-house engineering/design support for these types of projects.
Along these lines, Draughon points out that pergolas have weight, wind, and distance tolerances that determine the design and placement. Consequently, manufacturers with in-house expertise can help designers ensure that the pergola will meet these requirements.
And because all pergola projects need to navigate the local building codes as well, manufacturer knowledge and support can be very helpful in establishing code compliance.
When building a pergola, homeowners may be tempted to build it themselves, as there are plenty of low-cost, in-store products on the market that can be assembled very quickly and easily. However, Matt Leacy, director and principal designer with the Sydney, Australia-based landscape architecture firm Landart, advises against this, pointing out that these types of products are often mass-produced with little consideration for quality and design.
Pergola Popularity
Overall, Willard defines pergolas as a great in-between space, not totally inside in a controlled climate nor totally outside exposed to the elements.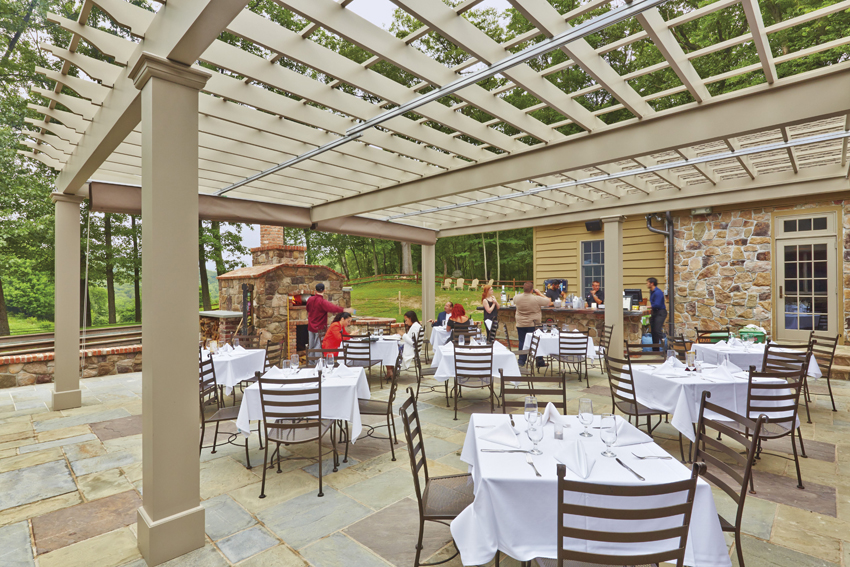 An expansive PVC polymer pergola creates an inviting area for diners to enjoy the outdoors while taking advantage of the visually appealing setting that this New Jersey restaurant affords.
"I think that they are popular because they respond to highly variable exterior conditions," he says. "Sometimes you want to see the stars, and sometimes you do not. Sometimes you want to feel the warmth of the sun, and sometimes you do not."
Wrapping up with a few more design ideas, some recent JZA+D projects have included a trellis that took on the curving, flowing form of butterflies in flight to create a focal point in a meditative memorial, a pergola to act as a centerpiece service station for an outdoor beer garden for a corporate office park, and a three-acre pool deck renovation with lattices for a major resort-casino.
Beyond public spaces, experts anticipate that residential pergolas will continue to gain traction, particularly as people spend more and more time at home at this unique point in history.
Barbara Horwitz-Bennett is a veteran architectural journalist who has written hundreds of CEUs and articles for various AEC publications. www.bhbennett.com
Originally published in Architectural Record