New and Affordable Surface Options for Housing
Paper-based high-pressure laminate surfaces make a comeback with improved quality and a flair for style
December 2017
Sponsored by Formica Group

Continuing Education
Use the following learning objectives to focus your study while reading this month's Continuing Education article.
Learning Objectives - After reading this article, you will be able to:
Understand the different surface options available when specifying for single-family and multifamily residential projects.
List the spaces and areas in residential buildings that are well suited for new and unique surfaces.
Describe the key characteristics and attributes associated with popular surfacing materials.
Explain why high-pressure laminate surfacing products are durable, on-trend, healthy, and affordable.
Warm. Modern. Professional. Whimsical. Whatever the design goal, interior surfaces establish a sense of place within the larger space, and surface materials play a huge role. A butcher-block countertop in a kitchen can present an upscale style, and colorful cabinetry mixed with custom ceramic backsplash tiles can offset a monochromatic countertop. Wood features may evoke the warmth of a traditional home. Newer, writable surfaces can turn a door into a chalkboard for children (or adults). The options and combinations are unlimited, especially with modern manufacturing techniques that can create engineered stone, thin ceramic, acrylic, and high-pressure laminate.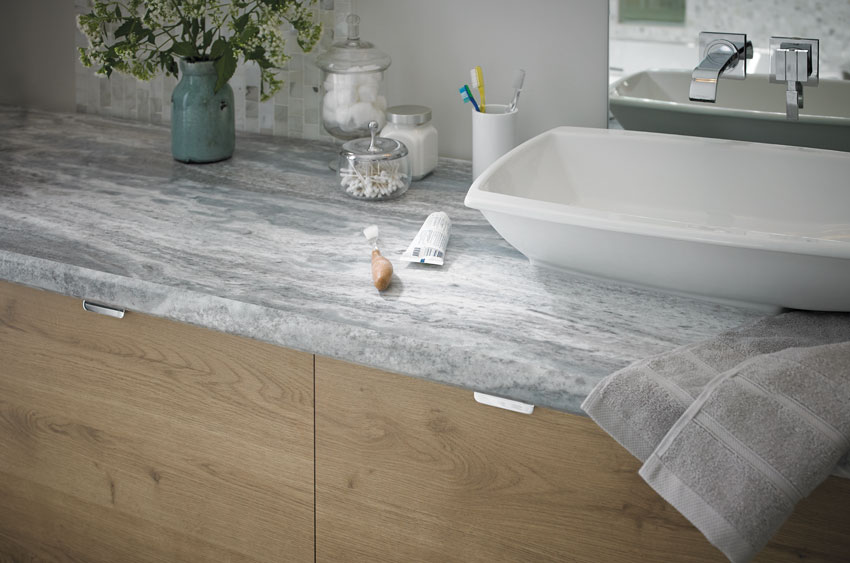 All photos courtesy of Formica Group
When it comes to specifying products for interior surfaces in housing, architects and interior designers have a wide range of choices. Paper-based high-pressure laminate surfaces have recently made a comeback in the market for several reasons, including improvements in quality and style.
With so many surface options available, choosing the right material for a project can sometimes be challenging. This decision can be even more difficult when designing for larger multifamily residential properties, where both affordability and aesthetics are often a priority for investors, owners, and tenants alike. Fortunately, there are some great high-quality products on the market that are easy to install and care for, last a long time, and won't break the bank. These products let designers bring their creative visions to life. In this course, we're going to walk through a few of the more commonly used surface materials and highlight the newer and more affordable options available to architects and designers for residential design.
Residential Projects
Specifying surfaces for residential projects can feel like an overwhelming task. Every material has its pros and cons, but once the client's needs and design goals are clear, architects and designers can have fun with the process. Not surprisingly, many clients may have a certain aesthetic goal in mind, but they also have questions about the cost, installation, durability, and even health features of common surface materials. These questions come into play for both single-family residential projects and multifamily residential properties, the latter of which incorporate multiple residential units as well as the public spaces within the property. After all, in multifamily residences, common areas such as entranceways and front lobbies are the first things prospective buyers or tenants see, and surface material choices can influence that first impression.
There's a strong case to be made for specifying durable, attractively priced surfacing products over more costly options in both single-family and multifamily residences. Surface choices are one area where costs can be reduced while keeping quality high. Where surface materials traditionally focused on more utilitarian purposes such as countertops and flooring, new materials mean designers have a wide variety of options for almost every room in the dwelling, including cabinetry, permanent shelving units and bookcases, backsplashes, and doors. Architects and interior designers now have access to a wide range of high-quality materials that are eco-friendly, aesthetically pleasing, durable, and affordable. Natural materials such as stone and wood are rooted in more traditional looks, but they can be prohibitively expensive. Man-made materials such as ceramics, acrylics, and high-pressure laminates provide more options, as some can be designed to resemble stone or wood at a fraction of the cost.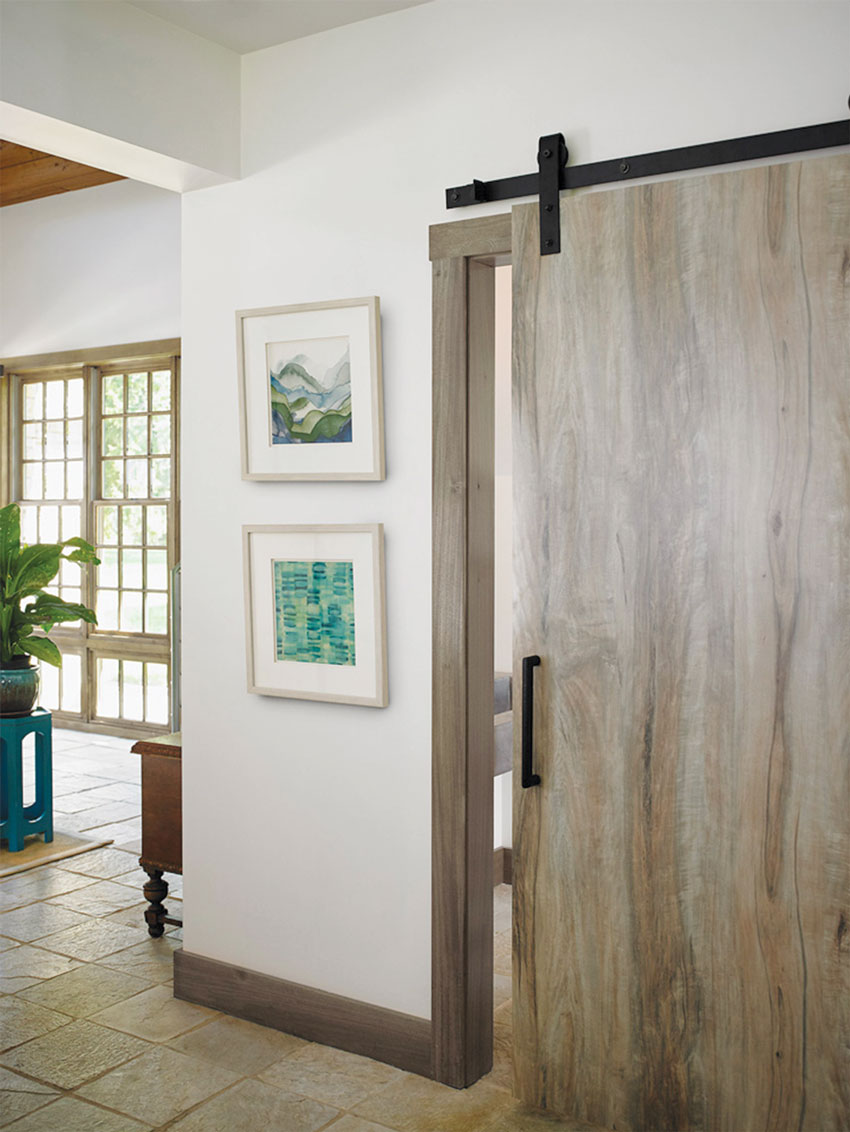 New or improved materials mean designers have a wide variety of options for almost every room in the dwelling, including countertops, cabinetry, permanent shelving units and bookcases, backsplashes, and doors.
Single-Family Housing Needs and Expectations
Single-family housing needs vary tremendously in regards to what people expect based on what they can afford and how they plan to use the space. It's safe to say most people value materials that offer a combination of style and durability whether they are investing in the hottest new trend in interiors or simply looking for an affordable way to meet their interior design goals. Products that easily lend themselves to the do-it-yourself (DIY) crowd can be very popular, even if contractors do the installation work. And with the advances in both materials and design options, single-family homeowners now have almost limitless options for their interior designs—many of which are very affordable. Moreover, a lot of the more affordable options such as acrylic and high-pressure laminate surfaces have such a wide variety of colors, patterns, and designs that they may rival more traditional materials. And, newer trends in high-pressure laminates offer patterns that are almost indistinguishable from natural products (e.g., wood or stone), all while being highly durable and often much easier to maintain.
These characteristics of durability, longevity, affordability, and easy maintenance are often at the top of the list for single-family homeowners. Regardless of the surface material they choose, they want it to look good for a long time, require very little maintenance, and be part of a clean and healthy home. Products that meet those characteristics—all while being affordable—open the design options in ways that were previously more limited.
From the standpoint of architects and designers, stylish and affordable surface materials mean they can help their clients have the interiors they want, whether with bright, modern color choices or with faux stone or wood. And if it's a natural wood or stone look, they can provide the look without the challenges of ordering and installing expensive, heavy surfaces that require specially trained installers. Meanwhile, homeowners get the interior style they want, along with the knowledge that the surface materials will last for years.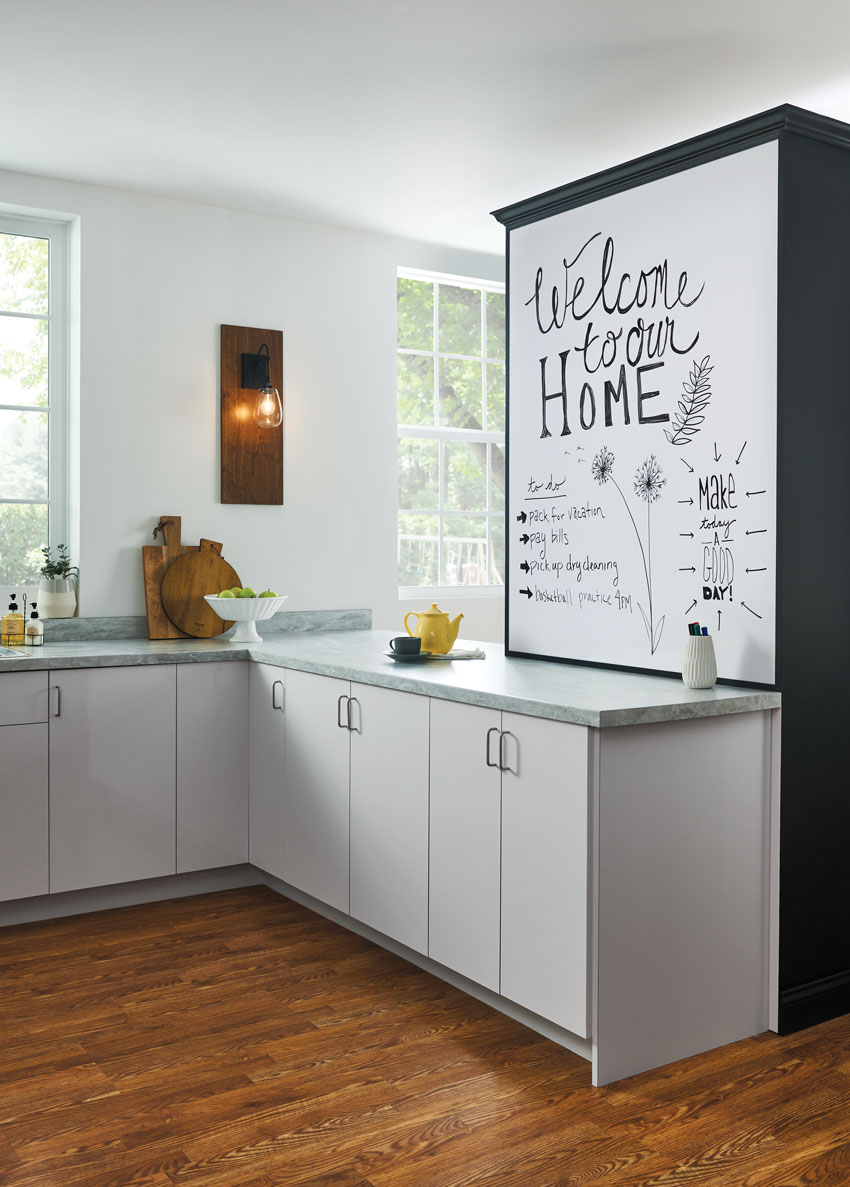 Multifamily residential projects can pose a challenge for property owners as they try to balance economics with the needs of the occupants. Writable surfaces made of high-pressure laminate are durable and allow renters to add a personal touch to their apartments.
Multifamily Housing Needs and Expectations
Multifamily housing, whether condos, townhouses, apartments, or senior care facilities, has recently been in high demand. These projects are filling urban areas across the United States. According to the National Association of Home Builders, the number of multifamily projects jumped 15 percent from 2014 to 2015, and around 383,000 multifamily units were started nationwide in 2016. While the growth rate dropped a bit between 2015 and 2016, the number of for-sale multifamily completions grew 225 percent, from 4,000 units to 13,000.1
Moreover, the aging population is having its own impact on this trend. According to 2016 numbers, approximately 1 million Americans were living in some type of senior living community. That number is expected to double by 2030.2 Architects and designers who focus on this design sector have their work cut out for them.
With this growing demand for multifamily residential project work comes a responsibility to consider the many challenges and opportunities common with these projects, such as balancing the needs of the investors and property owner with the needs of occupants. Property owners, for example, generally want the project's construction to be on schedule and on budget, with aesthetically attractive units that can be sold or rented quickly. They also need to address the inevitable wear and tear of rental units, which means easy and affordable maintenance is often a concern. Moreover, with so many luxury high-rise buildings being constructed, there is a growing need for developers to accommodate middle class housing, even in places where land and labor are expensive.
From an occupant's perspective, a new condo, townhouse, or rental unit is home, and so aesthetics, cleanliness, and comfort are important, especially in situations when they don't control the interior design of the space.
Surface Materials: Characteristics and Uses
Let's take a look at the various surface material options available, along with some of their benefits and disadvantages.
Natural Stone
Natural stone such as marble, granite, quartz, soapstone, and slate are often considered for mid- to high-end countertop design, but all can be used for surfaces in other spaces as well.
Marble is a beautiful surface material and is often coveted for high-end projects. While beauty may be its selling point, the material stains easily, and it is especially prone to the acid in wine, citrus, and vinegar. Even tomatoes can cause a stain. As such, marble may be best used for surfaces that don't involve food preparation, such as backsplashes, fireplace surrounds, and bathrooms.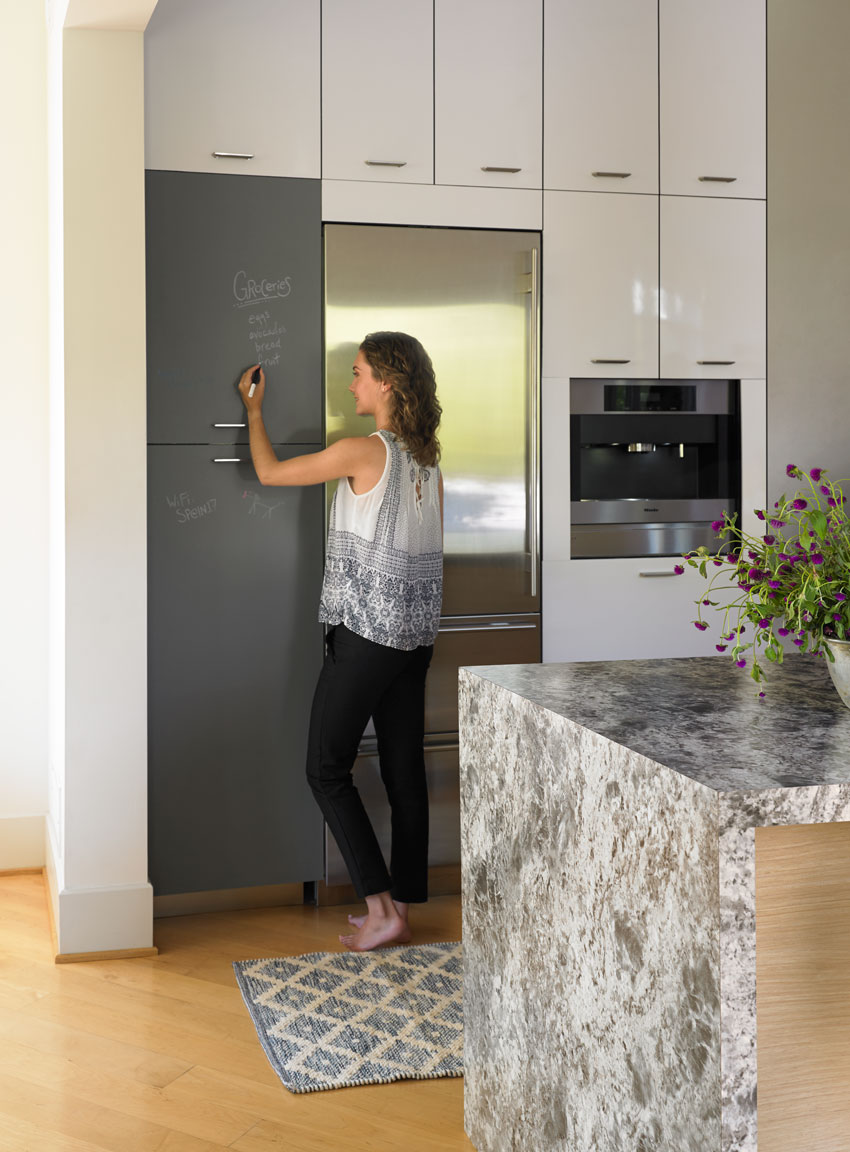 Natural stone, such as marble, granite, quartz, soapstone, and slate, are often considered for mid- to high-end countertop designs. High-pressure laminates can have high design that looks natural and allows for infinite options when it comes to coloration and creative edge design.
Granite is a more durable natural stone, which makes it a logical choice as a countertop. Unfortunately, because it is a natural surface, the designs and colors available can be limited. It also needs to be sealed and deep cleaned regularly as it is porous and susceptible to the growth of bacteria. The surface provides a sleek and reflective look, but it can carry a hefty cost both for material and installation, depending on where and how it is fabricated.3 Granite comes from a variety of quarries around the world, and not all granites are equal in terms of quality and durability.
Soapstone and slate are both limited in their color palettes, but they have other qualities that make them good choices for surfaces as long as they are treated. For example, soapstone, which is porous, needs to be sealed with a mineral oil in order to prevent staining. Slate, on the other hand, is a fairly soft stone, and so it can scratch easily—but those scratches can be buffed out with steel wool. Both materials rank in cost close to a mid-range granite, depending on their fabrication.
Wood
Wood offers a more traditional surface option. Between different wood types and finishes, this material is often used for surfaces such as cabinetry, bookshelves, and butcher-block countertops. Some of the key benefits of wood include its design flexibility, recyclability, heat resistance, and overall appearance. It is also naturally antibacterial, with studies showing 99.9 percent of bacteria die within three minutes of exposure to a wood cutting board.3 Though it should be noted that not all woods are as smooth as a cutting board, and cracks and fissures in natural wood can collect dirt and grime. Unlike materials such as concrete, it won't scratch glasses or dishes. Wood, however, does require considerable maintenance to keep it looking new: It must be kept dry and requires regular polishing. It is also easy to scratch and can be dented.
Other Surfaces
Stainless steel gained popularity in commercial settings for its low maintenance, easy cleaning, and antibacterial properties. In addition to the qualities that make it ideal for commercial kitchens, stainless steel is moderately durable, heat resistant, and nonporous—all qualities that make this surface type a good choice in residential properties as well. The downside for this material is it readily shows fingerprints, can be easily scratched and dented, and shows its age with time. While stainless steel may be a choice a family wants for its kitchen, it is not necessarily for everyone, making it a poor choice for rental spaces.
Concrete is another increasingly popular surface option, but again, its use is limited primarily to countertops. Concrete has the benefits of being customizable, recyclable, durable, and heat resistant. The negative aspects are that the porous nature of concrete means that even with sealants, it can be easily stained and hold moisture, the latter of which means the slabs can eventually crack. Concrete can also scratch glassware and dishes. So, while it can offer a unique style for a kitchen counter, it may not be the best choice for heavy-usage applications. For multifamily properties, concrete's bulky nature makes it more difficult to remove and replace.
All of the materials above fall into the higher end of the cost range and are generally limited to countertop surfaces. Other materials lend themselves better to a wider range of surfaces and offer more options for residential projects.
Manufactured Surfaces: Acrylic or Polyester
Acrylic, polyester, or a combination of the two can provide a lower-cost option in surfacing. These surfaces have gained popularity thanks to their incredible range of colors and patterns, including those that mimic natural stone. Solid surfacing sheets come in a variety of widths, as thin as ¼ inch, making it usable for a variety of applications. These surfaces are also stain resistant, and while they do scratch, they can be both renewable and repairable. For example, burned or scratched surfaces can be repaired through simple sanding, and more significant damage often can be filled in. Moreover, the nature of the material means installations can look seamless.
Manufactured Surfaces: Engineered Stone
As an alternative to more costly natural stone, engineered stone can provide almost an identical look but with virtually no maintenance required, making it a rock-hard, worry-free surface. Included in the engineered stone category are composite surfaces, such as those made with quartz. This engineered stone material is usually made of 90 percent quartz, and bound with 10 percent acrylic or epoxy. The material is impervious to water, very hard and durable, and available in both glossy and matte finishes. These characteristics mean it is stain and crack resistant, easily cleaned, and naturally antibacterial. The downside is that it isn't a heat-resistant material and has a seam, which can lead to chipping. Also, it is costly—again on par or slightly above granite.
High-Pressure Laminate
Laminate came into fashion in the 1940s and held its place in the surfacing world through the 1970s before other materials came into fashion. But high-pressure laminate has returned to the market with some innovative technologies that make it a strong contender for budget-friendly projects. As the most affordable surfacing option, designers may overlook this material, but it offers many qualities that make it an excellent choice in residential projects. It's lightweight, durable, and easy to install. And with new high-resolution printing technology, laminate offers a world of design possibilities to meet the aesthetic sensibilities of any designer. We'll look at this material in more depth later in the course.
Spaces and Areas Best Suited for High-Pressure Laminate Surfaces
High-pressure laminate surfaces can be applied to almost any room in a dwelling, from the traditional kitchen and bathroom locations to the living room, den, bedrooms, and playrooms. Designers can play with these materials in ways they can't with other surfaces.
Kitchens and Bathrooms
Kitchens and bathrooms have always been obvious places where designers need to consider surfaces. In kitchens, countertops and backsplashes are high-priority locations, and designers often think first about traditional stone or ceramics. Both require specialists to install, and ceramic tiles carry the added challenge of requiring grout, which can be troublesome to clean. Materials such as high-pressure laminates not only open up the options for a never-ending variety of countertop and backsplash designs, but they also can be applied to many other spaces in the kitchen: the vertical sides of kitchen islands, on table tops and cabinet fronts, and even on doors.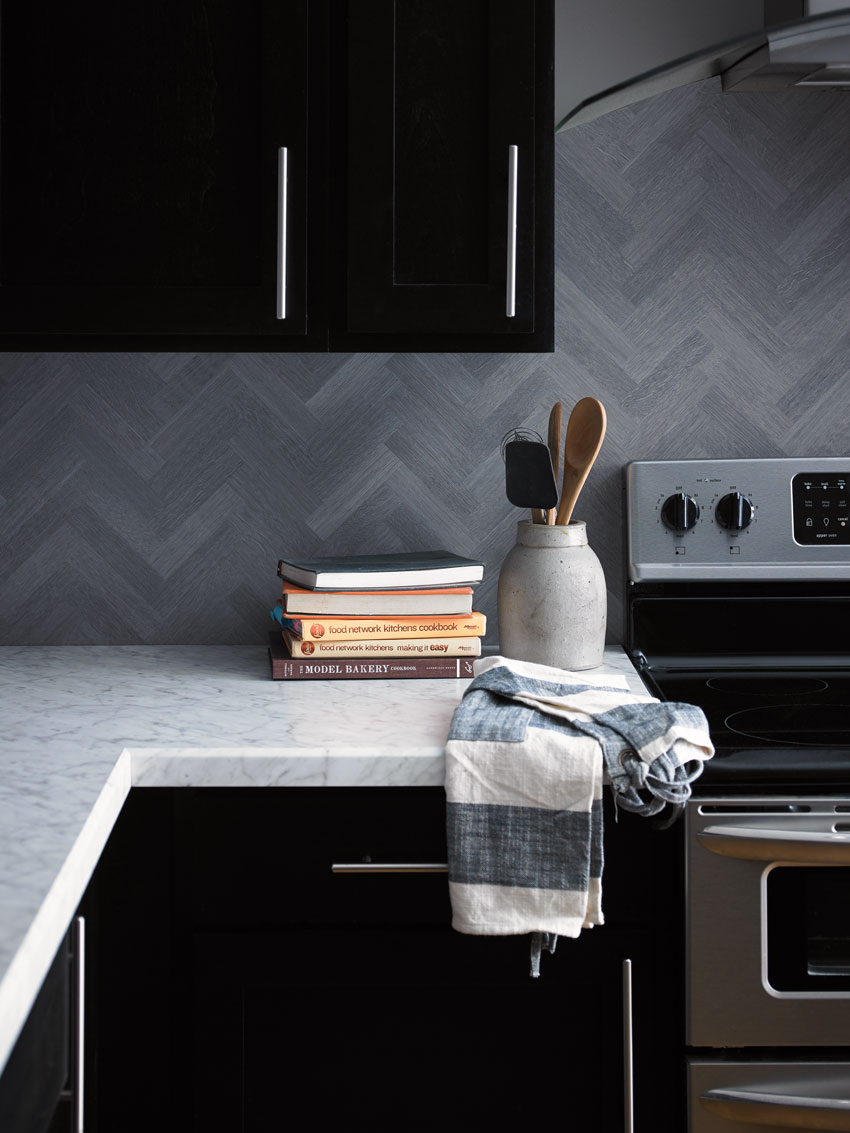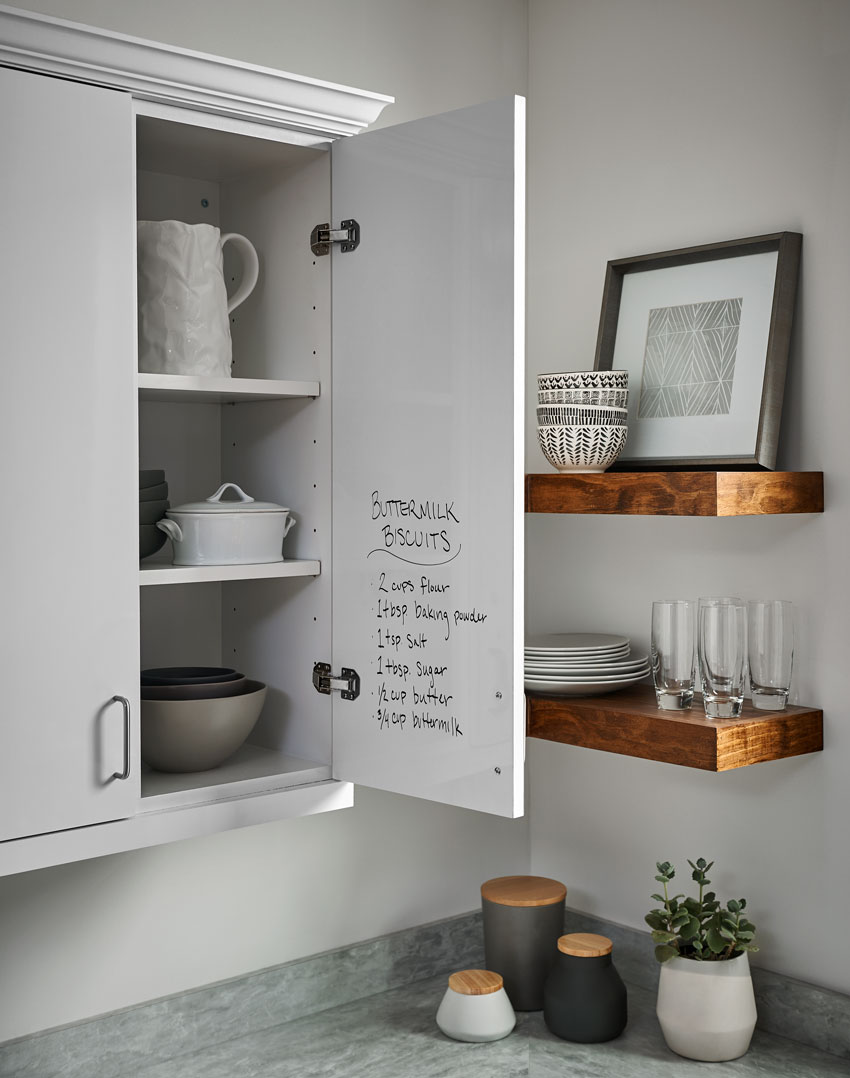 Kitchen cabinets make an ideal location to specify some of the more innovative surface materials available today.
Bathrooms also often lend themselves to stone and ceramic materials for sink and shower areas where water resistance is a priority. But, much like kitchens, they also can be livened up with more decorative materials on cabinet facings, permanent shelves, and vanity tops.
Living Rooms and Dens
Today, living rooms and dens can easily be customized with permanent bookshelves, sliding doors, and feature wall panels, all of which benefit from different surface options. Lighter-weight materials such as laminates and leather veneers can bring wall panels to life and drastically change the interior design of a room. For example, recycled leather veneer panels can add a feeling of traditional warmth and character to a den, or even provide an upscale look for tabletops.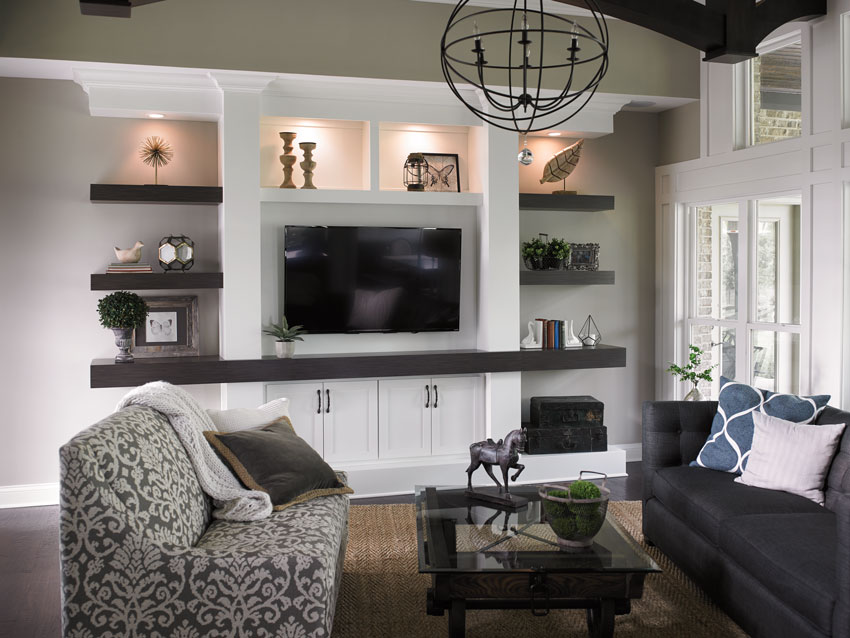 Bedrooms
Bedrooms lend themselves well to unique surfacing choices that help people personalize their space. Closet doors, for example, can be customized to bring colors and patterns into the room.
Kids' bedrooms in particular offer a great opportunity for designers to have some fun with new surface materials. Closet and room doors can instantly be transformed by fun and funky feature walls and doors, including writable surfaces, which we'll discuss in more depth later.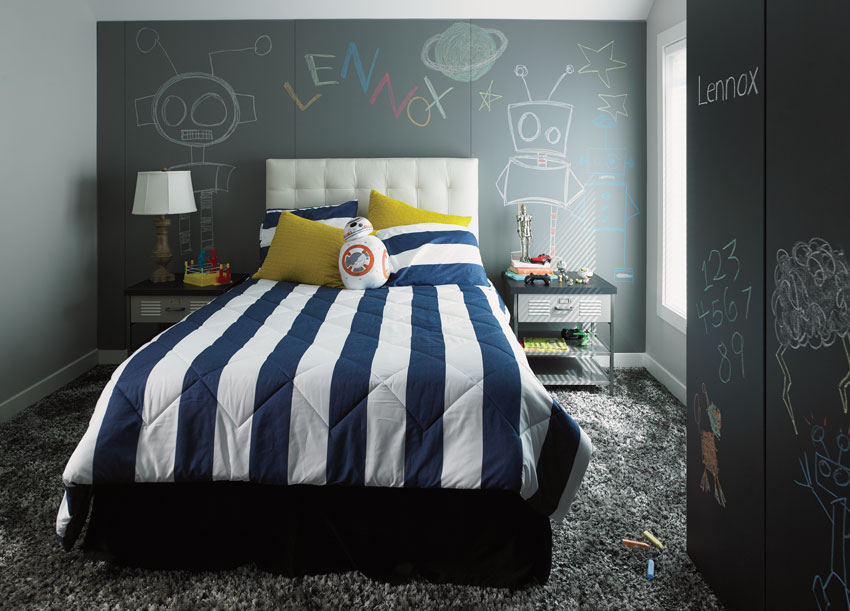 Laundry Rooms
In some dwellings, particularly multifamily residences, the laundry room may in fact be serving double duty with another part of the unit. Laundry rooms can be turned into a more usable space simply by applying less-expensive surfacing in nontraditional places. For example, with the right material, the tops of front-loading washers and dryers can easily be turned into a tabletop. With the addition of shelving and a few cabinets on the wall, the space can be transformed from a place simply to do laundry to a room with additional storage.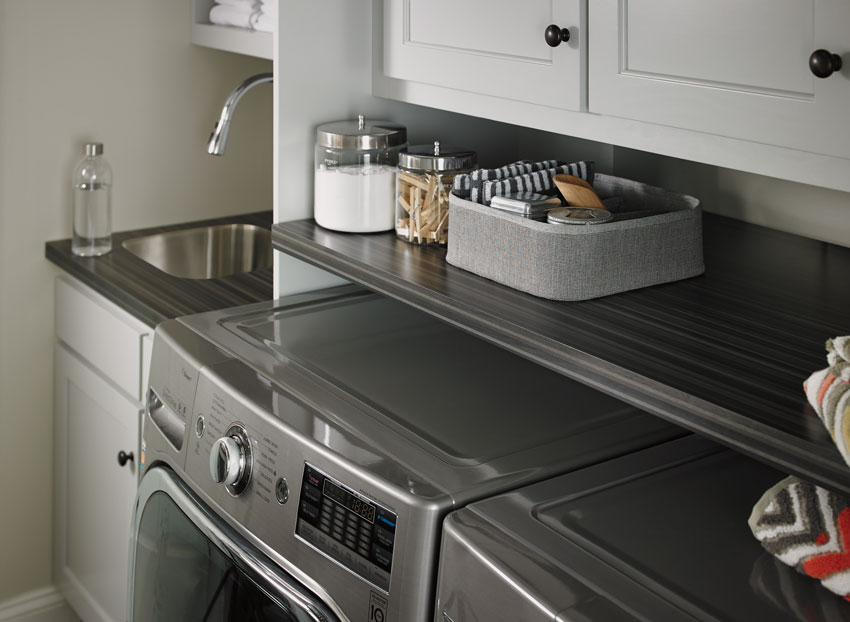 Characteristics and Attributes of Popular Surfacing Materials
With so many options available for interior surfaces, designers can sometimes feel a bit overwhelmed. An obvious tactic they can take for paring down their material choices is to focus first on the purpose. What are the requirements for the space or feature? How will it be used? Where is it in the building in relation to windows and UV light? The list goes on.
Once the use has been clearly defined, the following characteristics and attributes of popular surfacing materials can be considered to see how well they match with the proposed use: durability and strength, ease of installation and cleaning, aesthetics, and cost.
Durability
Durability is a must for any product, whether the item is a finish, furnishing, or piece of equipment. This is especially important in both living areas and public spaces of multifamily housing. For example, in larger condominiums or apartment buildings, hundreds of people can travel through the common areas every day. Repairs and replacements cost money and time for the property management company, and safety hazards are a liability. Surfaces such as countertops, doors, decorative wall coverings, and cabinetry in both residential units and common areas need to withstand daily use to minimize how often things need to be repaired or replaced.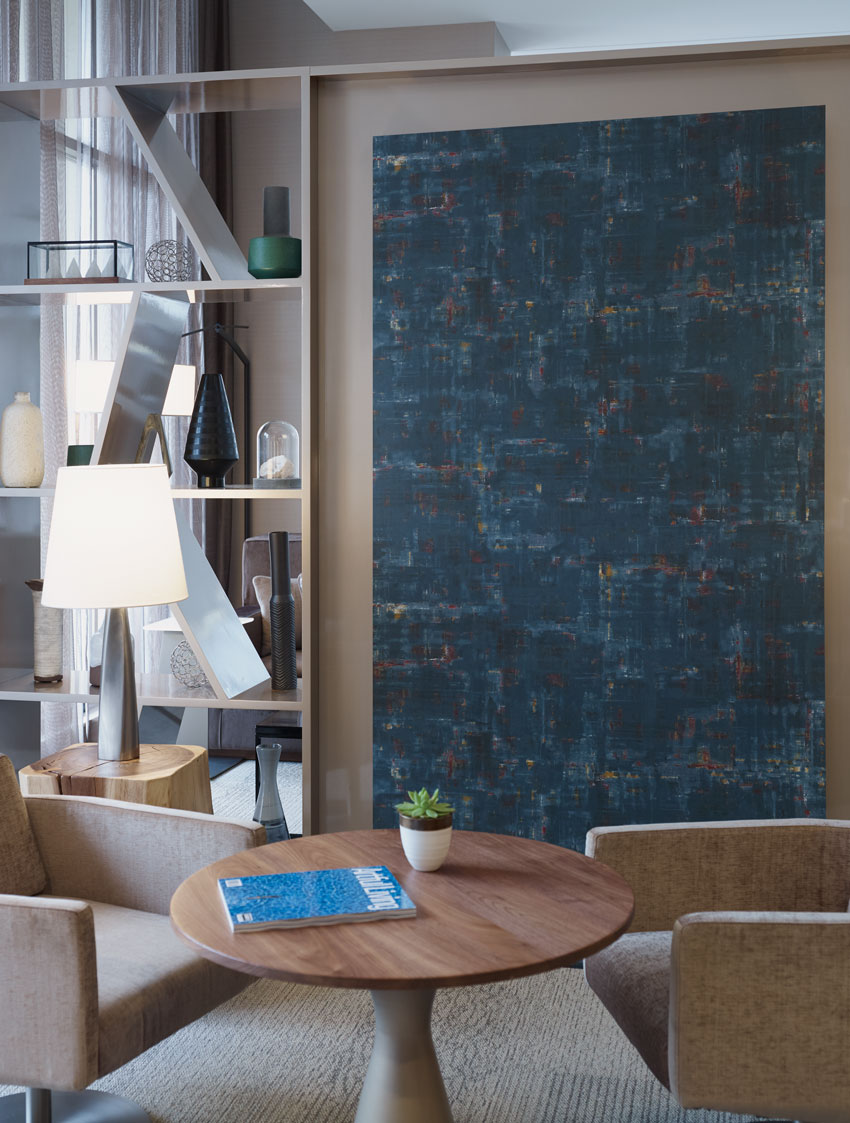 The common spaces of multifamily units can set the tone for the entire family of units. Durability, functionality, and appearance all play a role in making potential tenants feel at home.
Several properties define product durability, including:
UV resistance: This property is especially important with the growing popularity of glass in condominiums and apartment buildings. Constant exposure to sunshine—even for just a few hours a day—can discolor and degrade the quality of a material over time.
Homogeneity: In terms of surface materials, the term "homogenous" usually refers to a material with elements mixed together to give it a consistent, even look. In some products, the mixed materials, for example thermosetting resins, add to the overall durability and inherent strength of the product.
Scratch resistance: Durable materials should resist scratches and abrasions.
Porosity: Porosity levels determine whether a surface material will stain. Low porosity better resists stains, and thus protects the appearance of the surface.
Renewability: In the context of surface durability, renewability refers to whether the surface can be easily repaired or replaced.5
Ease of Installation
How easily can a surface be installed? Does it require certified specialists? A general contractor? Or can it be done as a DIY project? The answers to these questions can play a significant role in the overall cost of a project, especially in multifamily housing, where hundreds of residential units will need flooring, counters, cabinets, doors, and backsplashes, among other features. Natural stone products such as granite are far more costly and complicated to install than laminate surfaces, which can be done by just about anyone.
Ease of Cleaning
Regardless of where a surface is situated—whether in a kitchen, bathroom, or condo lounge—it needs to be cleaned easily. Surfaces need to look and be clean, and some materials handle that task better than others. High-end stone such as marble stains easily, while materials such as laminates resist stains and can even be antimicrobial. This is one case of many where the more expensive product may not necessarily be the best choice for a certain application.
Aesthetics
Aesthetics are always important for surface materials for central and frequently used rooms such as kitchens and bathrooms, but they can also make other features stand out as well. For example, unique surfaces on doors or even tabletops can impact the overall look and feel of a room.
Chances are good that clients will first consider what a surface looks like and how it fits in with the overall home and room design before they consider any other aspect. After all, the client will be using the space every day for years and engaging with the design on a daily basis, so the style matters. A new kitchen, for example, will include not only countertops and cabinetry but also backsplashes and other features to personalize the space. People tend to notice surfaces that convey a specific style. Questions concerning durability and cost certainly come into play, but the initial reaction is usually to the visual effect a material or design brings into the space.
Cost
Cost is usually a limiting factor for projects, and most people aim to keep costs down while selecting a nice-looking surface solution. For large-scale projects, cost can be especially important because material cost can add up quickly. But it's not just about the initial cost; ongoing maintenance costs are also important, which is why choosing durable surfacing materials is critical for many designers and property managers.
Laminate Products as a Durable, Healthy, and Affordable Surface Option
High-Pressure Laminate: A Brief Introduction and History
As a material, high-pressure laminate is just over 100 years old, but it has changed significantly in its lifetime. It was patented in 1913 by Westinghouse electrical engineers Daniel J. O'Conor and Herbert A. Faber, who were looking to find an alternative to the mineral mica, which was commonly used in electrical parts production. O'Conor and Faber discovered when plastic resins were treated under high pressure, the product was strong, durable, and resisted conductivity—and thus was safe for electrical parts.6
When it was first developed, high-pressure laminate was made of layers of fabric fused together with resin. However, later versions were made with thick pieces of paper laminated with melamine. Melamine can function as a thermosetting plastic, which is irreversibly cured through heat and high pressure from a soft or viscous state to a very hard, durable material. As such, it served as a perfect top layer to protect the decorative paper designs and patterns of high-pressure laminate.7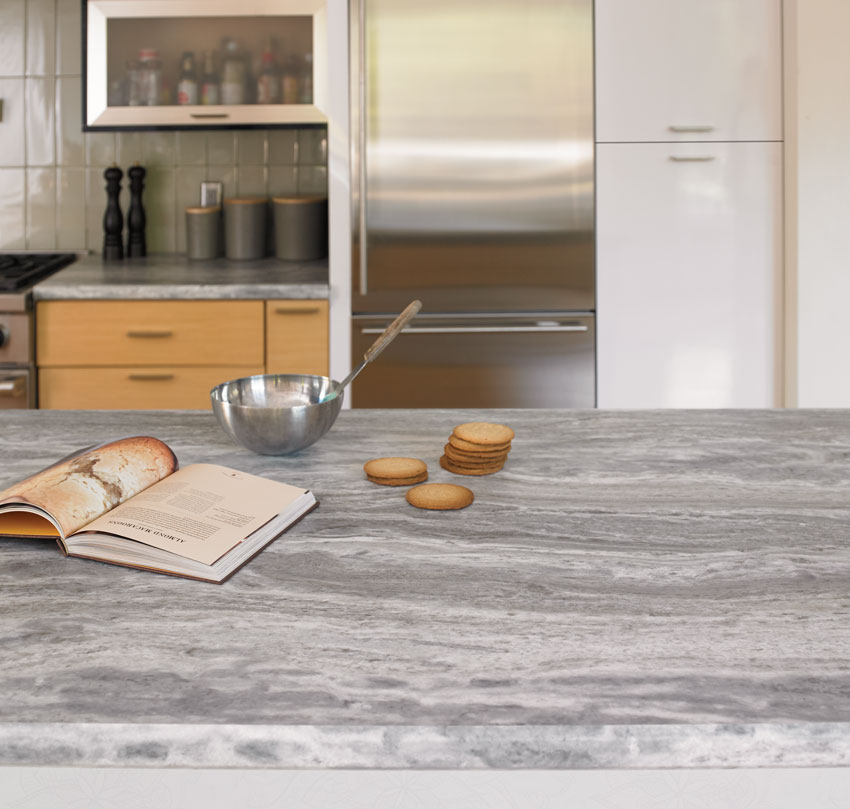 Today's laminates look more realistic and natural than ever before, particularly when paired with new edging styles that make seamlines virtually invisible.
Over the next several decades, high-pressure laminate increased in popularity as an affordable surface. Designers had the freedom to include bright colors and new and interesting design patterns. They could even mimic natural materials such as wood and stone. But products were limited in that many suffered from the "edge problem." Because high-pressure laminate is installed as a thin, flat sheet, the edges were the weak point. Not only did the edge seam give away the nature of the material, but it could also chip and eventually pull away from the surface to which it was adhered. These issues, combined with the growing popularity of solid surfaces such as marble and granite for countertops, meant laminate often was seen as a substandard product.
Today's high-pressure laminate surfaces are coming into their own again as a stylish alternative to more costly surfacing materials. Where materials such as granite, marble, or butcher-block wood all require treatments such as oiling or need to be cleaned immediately to protect against stains, high-quality laminate surfaces are highly stain resistant, durable, and easy to clean. More importantly, in some regards, the "edge problem" has been resolved with new edging options and improved installation methods.
A lot of people hear the term "laminate" and assume it's a plastic and thus not an environmentally friendly option. This incorrect thinking stems from laminate's popularity in the 1960s and 1970s, when plastic was very popular as a material. While it may share some qualities of plastic, high-pressure laminate is not plastic. In fact, modern laminates are often sourced primarily from paper and then sealed with melamine or phenolic resin. High-pressure laminate layers may include:
A top layer of hard, transparent melamine resin to seal and protect the product.
An overlay or wear layer of paper, which is usually quite thin, to help hold to the resin.
A decorative layer, which has the patterns, designs, and colors.
A bottom layer of kraft paper, which is a sturdy, usually brown paper made of some recycled content similar to what's used in paper grocery store bags. In this case, it is hardened with resins and forms the core of the laminate.8
The decorative layer gives designers virtually limitless options for patterns, textures, and colors. Many manufacturers are embracing the options not only by providing patterns that mimic natural materials but also by working with well-known artists and designers to create signature designs for their companies and clients. Even more interesting is that advanced printing technology lets clients choose their own images to be used as a laminate. For example, clients can design their own surfacing patterns or select a photo that highlights their brand and get it made into high-pressure laminate sheets.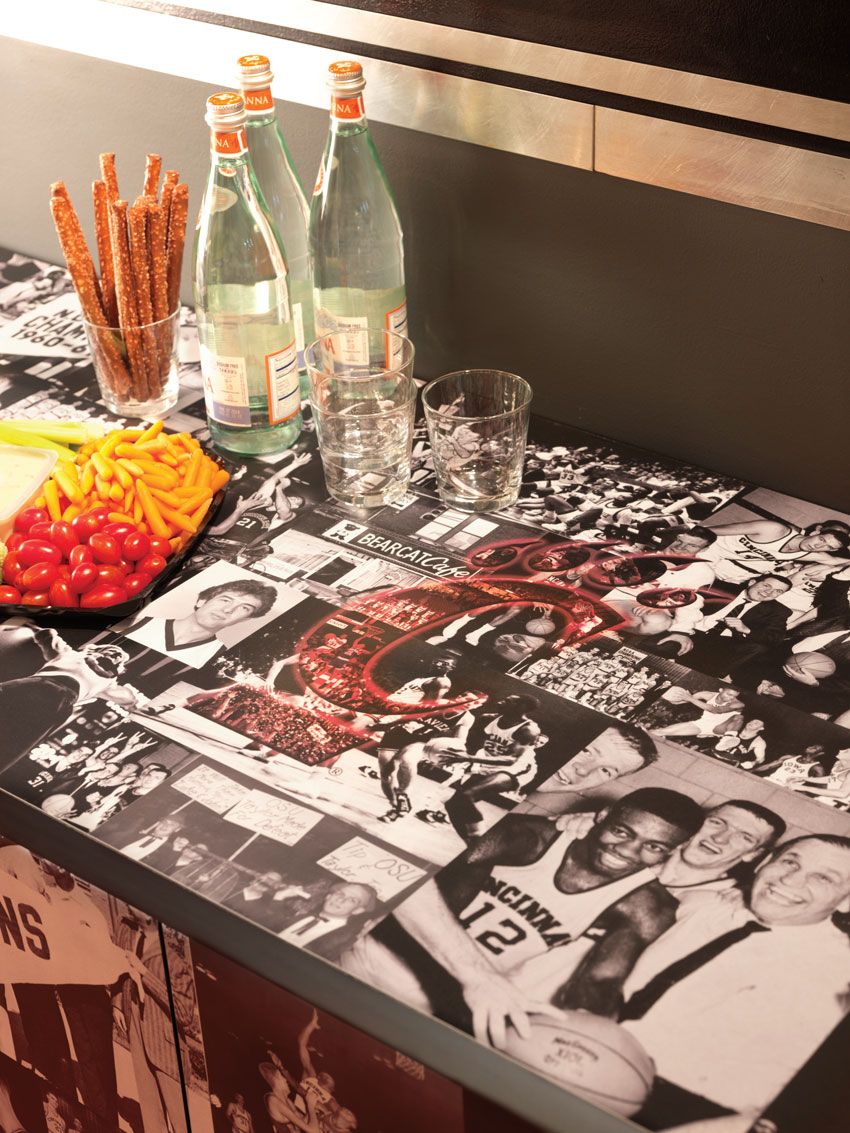 Personalized laminates can add local flair to entertainment spaces in multifamily housing.
General Benefits of High-Pressure Laminate
At first glance, high-pressure laminate's main benefit is that it is much less expensive than other surface options. But it has many other characteristics that make it an excellent choice for different interior surfaces. Gerri Chmiel, senior design manager, residential design lead, Formica North America, knows a lot about laminate. She has been working in the industry for 24 years, including 16 years with Formica Corporation. As an expert in the field, she knows just how versatile the material is. Chmiel explains that, "high-pressure laminate is a great option for a multitude of surfaces, not just for countertops—it's also a good solution for cabinetry, feature walls, or furniture. Laminate is lightweight and therefore easy to install, and after installation, it is easy to clean and care for. It offers great design in a variety of colors, patterns, and wood grains, and it won't break the bank." Let's look at some of these characteristics a bit more to understand the reasons homeowners and property managers may prefer high-pressure laminate surfaces:
Lightweight yet durable: As a material, high-pressure laminate is thin and virtually impact-resistant, which means products surfaced with it will have a long life. Over the years, improvements have been made to increase the overall durability and functionality of high-pressure laminate.
Non-Porous: Unlike surfaces that require continual treatment (think oiling) or immediate cleanup to prevent stains, high-pressure laminate's non-porous and homogeneous surface mean it can handle just about anything, all while maintaining its look for years. It's also easy to clean, adding to the health and safety of the home, especially when used for kitchen and bathroom countertops. Newer products even have antimicrobial properties, bringing yet another layer of cleanliness to the material.
Furthermore, high-pressure laminates do stand up to liquid. Any laminate fabricator will know how to seam the product correctly around the edges and sink basins to keep water at bay and the countertop looking great for years to come. There are even undermount sink designs that are made specifically to work with laminate that can stand up to water with the right installation.
Easy to install: High-pressure laminate is DIY friendly, and it can be installed as a new countertop or overtop an existing laminate. Professionals also can install it, usually at a lower cost than other materials.
Timelessly stylish: Laminate has been a popular choice for surfacing for decades, in part because of how versatile it is from a design standpoint. With a wide variety of finishes and colors, it's easy to keep on trend with new styles. Many manufacturers print annual collections that tie into what's in style that year. Between trendy colors, patterns, and textures, and natural-looking patterns, the options are endless.
Sustainable: It may come as a surprise that laminate is considered a green product. This comes from its wood-based components and long lifespan. Products often are made from Forest Stewardship Council (FSC) certified wood.
Of course, laminate does have a few disadvantages, namely that some products are not as heat or scratch resistant as materials such as treated stone, for example. And for some single-family homes, laminate on kitchen countertops may not add to the resale value. That said, high-pressure laminate surfacing may be a wise choice for numerous vertical and horizontal applications outside of the kitchen countertop in single-family homes. And for multifamily and light commercial projects, it's often an excellent choice on the kitchen countertop and throughout many other rooms.
High-Resolution Images and Printing
Perhaps the most compelling feature of high-quality laminate design is the decorative layer, and the versatility designers now have when it comes to producing product lines. In particular, advances in high-resolution digital photography and printing have made it possible not only to closely mimic natural materials such as marble, granite, and wood but also to print bright and creative patterns. As noted above, this is a huge benefit in that manufacturers can stay up to date on styles and trends.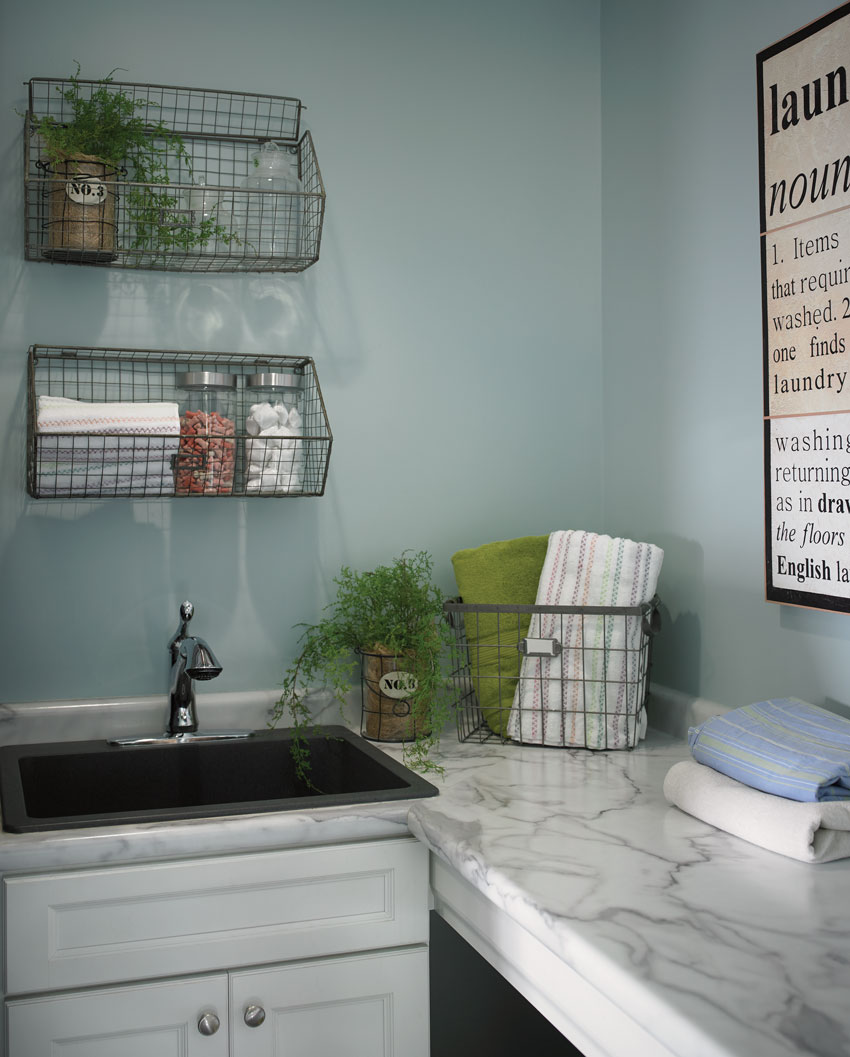 One option for achieving the high-end calacatta marble look in your projects is to use high-resolution laminate. It mimics the real stone but is more durable and maintenance free.
Some high-pressure laminate companies offer an even more premium product selection than standard white, black, maple wood, or ubatuba granite. True-scale designs, meaning the pattern reflects the size and scale of a natural material, have limited repeated elements. This makes the design look so realistic that you may not be able to tell it's laminate from a first—or even second—glance. Further, they are often paired with more upscale finishes (or textures) to complete the premium look and feel.
Soft, Fingerprint-Resistant, and Thermal-Healing Surfaces
One of the more innovative advances in high-pressure laminates is surfacing that feels soft to the touch and yet is highly durable. This matte surface resists fingerprints, and it has both chemical-resistant and thermal-healing properties that make it ideal for almost any setting. On top of that, these surfaces provide antimicrobial protection.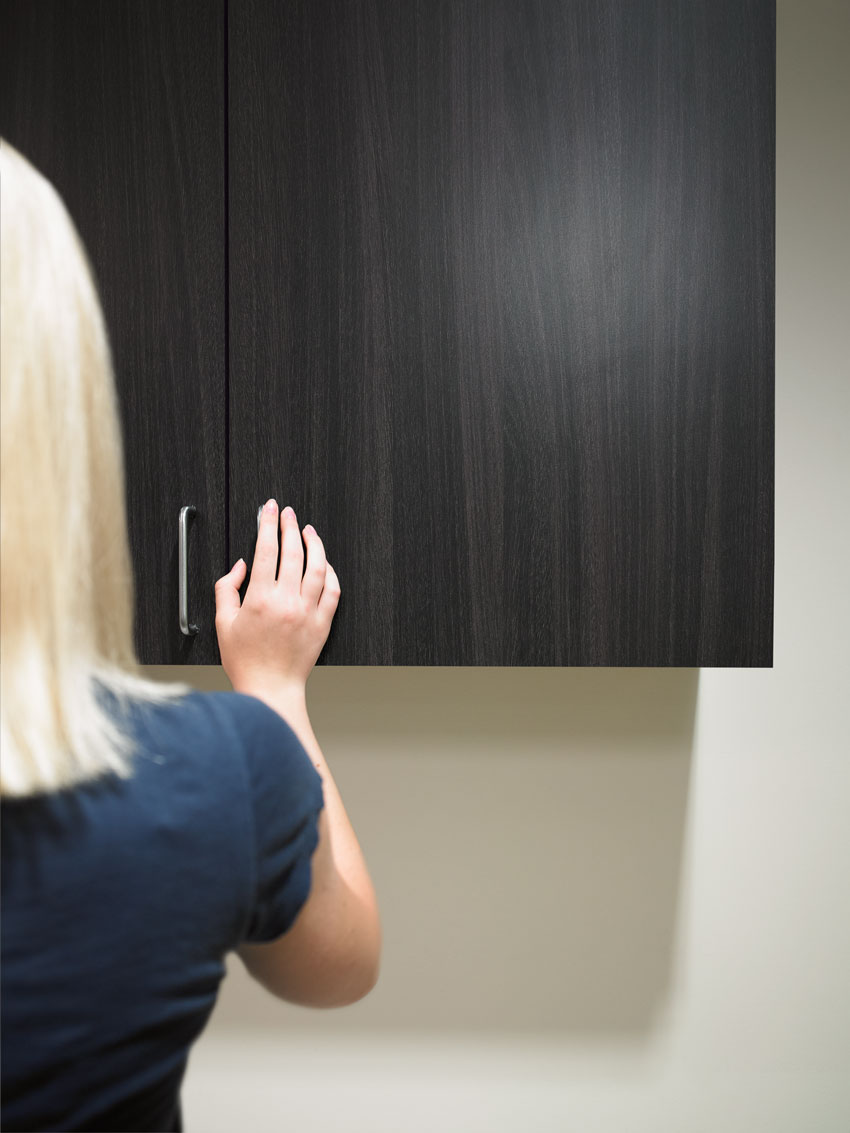 Cabinets can benefit from high-pressure laminates that resist fingerprints.
While other surfaces may resist fingerprints, chemicals, and bacteria, the innovations in thermal healing offer a unique solution to surfaces exposed to wear and tear, and in particular, burnishing. Let's say a countertop is heavily used in one particular area, and eventually the surface material loses its matte appearance and starts to show a bit of shine (burnishing). With certain high-pressure laminate surfaces, that shine can be removed easily with an iron, a paper towel, and a spray bottle of water. A hot iron placed on top of a wet paper towel will quickly change the polished look back to matte.
Writable Surfaces
The smooth, durable, and scratch-resistant nature of advanced laminate surfaces allows some creative uses in the home. One way is to install high-pressure laminate as a writable surface. Writable surfaces are not necessarily new—certain paints can be applied to wood or drywall to accomplish this. But both wood and drywall have small pits in the surface, and chalk and marker can become embedded. While writable paint can be washed to prevent ghosting, eventually the paint will wear down. Laminate, however, is perfectly smooth and flat, and thus works as a superior surface for writing, and more importantly, cleaning. Laminate writable surfaces can be cleaned easily with a cloth or eraser.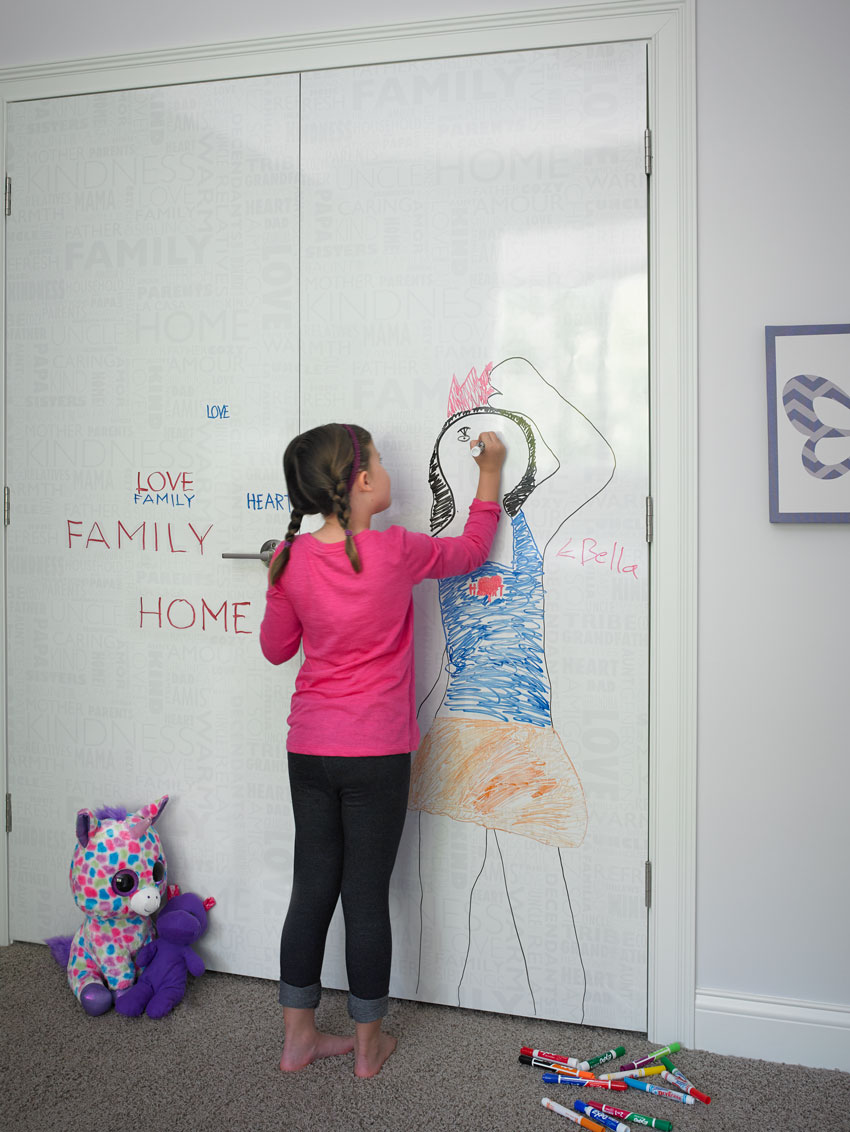 Writable surfaces are now available thanks to innovations with laminate and can be utilized on many surfaces in creative ways throughout the home.
In addition to the creative element a writable surface provides, it is also durable and scratch and impact resistant. These qualities are particularly useful when writable surfaces are installed in playrooms or homes where residents have children.
In terms of installation, laminate writable surfaces can be installed in places where writable paint simply wouldn't work. For example, a writable laminate surface can be installed across an entire wall, along cabinet fronts and counters, and on top of a table or desk. Great for single-family use and when it comes to rentals, writable surfaces allow inhabitants to personalize their homes in unique ways.
Conclusion
In conclusion, architects and designers are well aware that choosing interior surface options can be an overwhelming and potentially expensive prospect. This task can be streamlined by focusing on the project's purpose and needs, and by considering the advantages of using high-pressure laminate and other laminate products as an affordable alternative to more expensive materials.
End Notes
1Ford, Carmel. "2016 Multifamily Completions by Building Size." Eye On Housing. National Association of Home Builders. 24 Oct. 2017. Web. 10 Nov. 2017.
2"Assisted Living Statistics: A Deeper Dive into the Demographics." American Senior Communities. 23 Feb. 2016. Web. 10 Nov. 2017.
3Truini, Joseph. "The Best Countertop Materials." Popular Mechanics. 2 May 2017. Web. 10 Nov. 2017.
4Ascierto, Jerry. "Stat of the Week: Kitchen Considerations." Multifamily Executive. 8 Sept. 2016. Web. 10 Nov. 2017.
5Chua, Geraldine. "Five Durable Interior Surfacing Materials for Homes to Hospitals." Architecture & Design. 24 Nov. 2014. Web. 10 Nov. 2017.
6Karweik, Jordan. "The History Behind Your Laminate Countertop." Woodwrights Inc. Web. 10 Nov. 2017.
7"Melamine." Wikipedia. Web. 10 Nov. 2017.
8Wallender, Lee. "Why Laminate Countertops are Making a Comeback." The Spruce. 12 Dec. 2016. Web. 10 Nov. 2017.
Rebecca A. Pinkus is an independent communication consultant, writer, and editor focusing on the intersection of technology, environment, and human health. She has contributed to more than 35 continuing education courses and publications through Confluence Communications. confluencec.com
| | |
| --- | --- |
| | Formica Group is a leading provider of branded, designed surfacing solutions for commercial and residential customers worldwide. As the world's largest manufacturer of high-pressure laminate (HPL), an ongoing product design and development process underscores the Formica Group commitment to innovation. www.formica.com |
Originally published in Architectural Record